What Is the Retirement Savings Contribution Tax Credit?
It's a credit for qualified retirement savers to help offset their federal income taxes. The credit ranges from 10% to 50% of eligible contributions, with the highest percentage going to taxpayers with the least income.
This credit was introduced in the Economic Growth and Tax Relief Reconciliation Act of 2001 as an incentive to encourage retirement saving. The credit is nonrefundable, which means the amount you claim can never be more than the amount you owe for a particular year.
Who Can Take the Credit?
We recommend that you check with your financial or tax professional. However, for 2016 if you voluntarily contribute to a 401(k), 403(b), SIMPLE, SARSEP, government 457(b) plan or a traditional or Roth IRA and your modified adjusted gross income (MAGI) is less than $61,500 (filing jointly), you may be able to use all or part of the credit.
Depending on your MAGI, your filing status and other factors, you can claim as much as 10%, 20% or even 50% of your eligible contributions on your taxes. The maximum credit amount is $1,000 for single filers, heads of household, qualifying widowers and married couples who file separately. If you're married and file jointly, the maximum credit is $2,000.
Use this table to help determine how much credit you can take.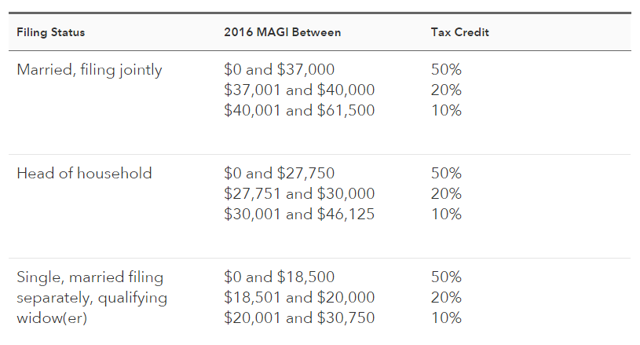 How Can I Learn More About the Tax Credit?
Your financial or tax professional can explain how the tax credit works and help you determine if you qualify. You can also find more information and a worksheet (Form 8880) to help you figure your credit amount (if any) on the IRS website.
Investments are not FDIC-insured, nor are they deposits of or guaranteed by a bank or any other entity, so they may lose value.
Investors should carefully consider investment objectives, risks, charges and expenses. This and other important information is contained in the fund prospectuses and summary prospectuses, which can be obtained from a financial professional and should be read carefully before investing.