Very good articles have been written about LEE (NYSE:LEE) in SA, but I think that after the run-up of the stock from August, the timing is right to re-examine the investment in LEE.
After the short run-up, some investors chose to sell the stock and take profits, but looking at the fundamentals, I believe it's too early to sell now and we're just at the beginning of the road, with significantly less risk.
Lee is like a public LBO (leverage buy out) - they have a high debt from the bad acquisition of Pulitzer in 2005, but since then the Company has been using the vast majority of its FCF to reduce debt.
It is true that revenues are declining but so are costs and interest expenses. The free cash available for reducing the debt is not declining, it may even grow slightly in the next few years.
In my thesis I don't assume a revolution in the newspapers industry, or selling real estate to survive; Lee just needs to continue the deleveraging process as planned.
Based on Lee's Notes yield, the bond market has already changed its mind, and I think now is the time for the equity market to give LEE a more realistic value. Lee's debt is one of the most critical issues in this investment, so I will focus on this point.
LEE Enterprises
Lee is a leading provider of local news, information and advertising, operating in 48 markets in 21 states. Most of the markets are mid-sized to small with a strong sense of community and very little print competition.
Lee's printed newspapers have circulation of about 900,000 households daily and more than 1.3 million on Sunday. Over 24 million unique visitors use Lee sites monthly, and its web and mobile sites are the number one online local news source in nearly all of its markets.
Debt reduction
In 2005, Lee financed the acquisition of Pulitzer primarily with debt. In September 2005 Lee's debt consisted of $1,688 million. The Company didn't succeed in refinancing its heavy debt and filed for relief under Chapter 11 at the end of 2011.
After emerging from bankruptcy in 2012, Lee continued to reduce its debt and in March 2014 the Company succeeded in refinancing its debt, dramatically reducing the refinancing risk.
Paying off the Pulitzer notes in June 2015, almost two years before scheduled, simplifies the Company's capital structure and enables rapid repayments of debt.
Today, the Company has 3 different loans: 1st Lien term, 1st Lien Notes and 2nd Lien term. The 2nd Lien term loan is the most expensive with 12% annual interest rate. The Company will obviously try to pay off this loan first if the lenders accept the early payments (after March 2017 the 2nd Lien lenders no longer have the option to decline excess cash flow payments). If the payments are declined by the lenders (until march 2017), the cash will be used to pay down the 1st Lien term Loan or to repurchase the 1st Line Notes at the open market if the price is attractive.
Debt structure and maturities ($million)
| | | | | | | |
| --- | --- | --- | --- | --- | --- | --- |
| | Interest Rates | Maturity | March 2014 Refinancing | June 2015 | June 2016 | September 2016 |
| Pulitzer Notes | | April 2017 | 45 | - | - | - |
| 1st Lien Term Loan | 7.25% | March 2019 | 250 | 195 | 119.5 | 101.3 |
| 1st Lien Notes | 9.5% | March 2022 | 400 | 400 | 385 | 385 |
| 2nd Lien Term Loan | 12% | December 2022 | 150 | 150 | 135.7 | 130.9 |
| Total | | | 845 | 745 | 640.3 | 617.2 |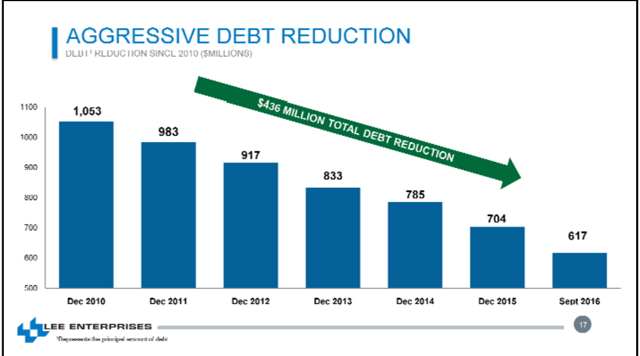 Source: Investor Presentation
Debt maturities:
Many investors are afraid that Lee will go bankrupt in the near term, but we examine the debt maturities and it's obvious this isn't the case. Lee needs to pay only $25M a year in FY2017 and FY2018 and $51.3M in FY2019. LEE's strong FCF enables them to pay off debt before maturities. Even in a very bad scenario, Lee won't have any problems or need to refinance before March 2022. Every good quarter, like the last one, reduces the risk of investing in Lee.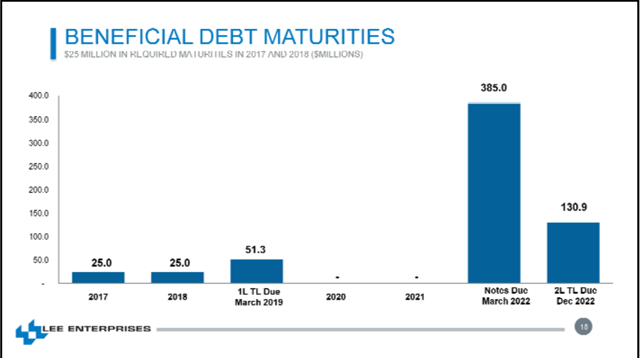 Source: Investor Presentation
Everyone knows that the newspapers industry is losing print ad revenue - their main source of revenue. If the company has debt, many investors don't even start to model the situation and check if there is real value, like I think there is in LEE.
Take a look at a very important chart from the Company's last presentation. Most investors sees only the decline in the EBITDA, but I think the most important number in this chart is the number that is missing - the dark blue part of the chart:
Source: Investor Presentation
I created a table that explains why the dark blue is the valuable number ($million):
| | | | | |
| --- | --- | --- | --- | --- |
| | 2013 | 2014 | 2015 | LTM June 2016 |
| Adj EBITDA | 176 | 169 | 163 | 157 |
| Interest + CAPX + Pension | 100 | 91 | 86 | 78 |
| Free Cash to reduce Debt (dark blue) | 76 | 78 | 77 | 79 |
Revenue declined and EBITDA as well, but the most important number, the cash that can be used for deleveraging has not declined, it even increased slightly.
In addition, Lee has a real estate monetization program. Substantially all proceeds from real estate sales net of transaction expenses will be used to reduce debt. I didn't take this in to account in my model, any proceeds from real estate sales will be a bonus.
FY2017 could be a key year of value transfer between debt and equity holders.
Of course no one can predict the future, but my estimate is that we will see in FY17 quarterly debt reduction of $19M to $20M.
In addition, when the stock price will be traded above $4.19 per share the warrants' holders will exercise their holdings. In this event, the number of shares outstanding will go up to 61 million, but the debt could be reduced by another $25M. The Debt to EBITDA ratio could be reduced to 3.44, very close to the point where LEE can start paying dividend (3.25 ratio).
Additional good news for FY17 is that after March 2017 the 2nd Lien lenders no longer have the option to decline excess cash flow payments. This is significant because the 2nd Lien Loan is Lee's highest cost debt (12% annual interest rate).
Valuation:
2017E

(September 2017)

2017E

(September 2017)

Conservative Valuation 2017E

(September 2017)

Adj EBITDA

150

150

150

EV/EBITDA

6X

5.6X

5.5X

EV

900

840

825

Cash

10

10

10

Total Debt*

516

516

516

Equity Value

394

334

319

Diluted Shares Outstanding

61

61

61

Value Per Share

$6.46

$5.48

$5.23
*Total Debt = 617 - (19*4) -25 = 516
$19M quarterly + $25M from warrant exercise
Summary:
Each $10M reduction of debt, transfers to ~$1M reduction in interest expenses, which in turn increases the amount of FCF available for more debt reduction, even with a decline in adjusted EBITDA.
My estimate is that Lee will be able to pay off its 1st Lien Term Loan and 2nd Lien Term Loan before their maturity. Lee has to pay call premium for early repayment of Notes before 2020. I believe they will refinance the Notes, or the Company will be bought and the new owner will refinance the Notes in 2020. The Notes are traded now above par - this shows that the bond market believes in Lee's ability to pay off all of its debt.
Lee is a good stock for long-term investors that have the time to enjoy the benefits of the deleveraging process.
I believe Lee should be traded at ~$6 per share in 2017 and can reach to $9-$10 per share in 2020.
What are investors worried about?
1) High debt - I believe the debt is manageable and even in a very bad economy it won't be an issue before March 2022.
2) Rising rates - 83% of LEE's debt is fixed and after 2019 it will be 100% - this isn't a real risk.
Main risks:
1) Changes in the aggressive debt reduction policy - This is a low risk in my opinion. I haven't been able to persuade management to buyback shares at these low prices, since they are highly committed to pay down debt with every available dollar of FCF.
2) Rapid decline in revenue and EBITDA - may increase the refinancing risk in 2022, not before.
Disclosure: I/we have positions in LEE. I wrote this article myself, and it expresses my own opinions.
Disclosure: I am/we are long LEE.
I wrote this article myself, and it expresses my own opinions. I am not receiving compensation for it. I have no business relationship with any company whose stock is mentioned in this article.