On September 8th, Wells Fargo (NYSE:WFC) announced USD185mn in settlements with the Consumer Financial Protection Bureau (CFPB), the Office of the Comptroller of the Currency, and the Office of the Los Angeles City Attorney, regarding allegations that "some of its retail customers received products and services they did not request."
Wells Fargo's stock has underperformed the KBW Bank index (BKX) by 10% since the announcement of the settlement.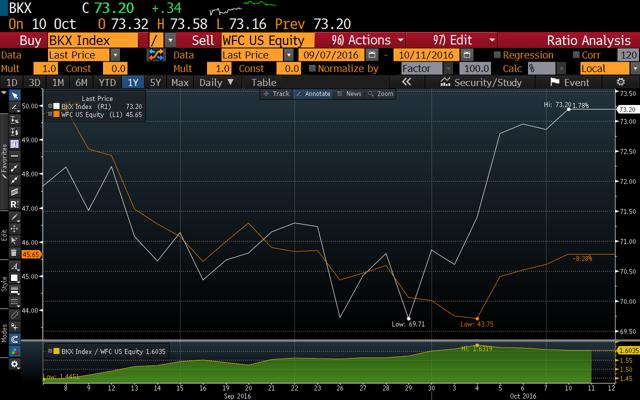 Source: Bloomberg
This 10% underperformance is in addition to the 7% underperformance in 2016 pre-announcement. Investors wonder if the timing is right to become more constructive on the stock.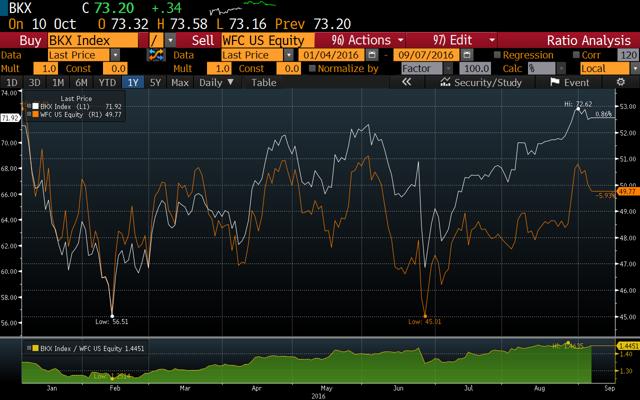 Source: Bloomberg
In this article we discuss the bear arguments on the stock.
#1: The underperformance still seems modest
Although WFC has underperformed the KBW Bank index by 10% since the announcement, the lag still seems modest given the past underperformance of WFC's peers, which have been negatively affected by an unexpected material event. We look at the following instances:
The chart below shows that JPM's underperformance vs the BKX peaked at 20%. Moreover, the stock did not actually bottom until two months after news broke.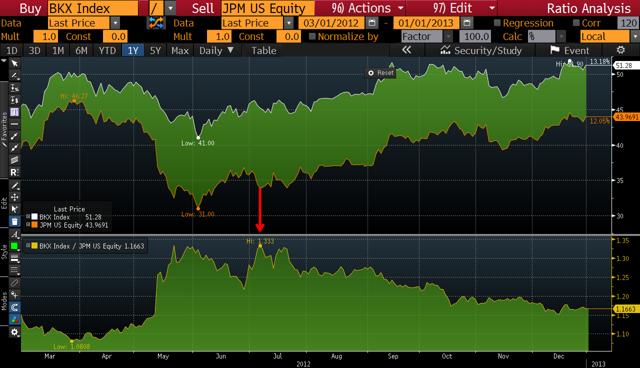 Source: Bloomberg
In this instance, underperformance peaked at 15% and occurred within the first month.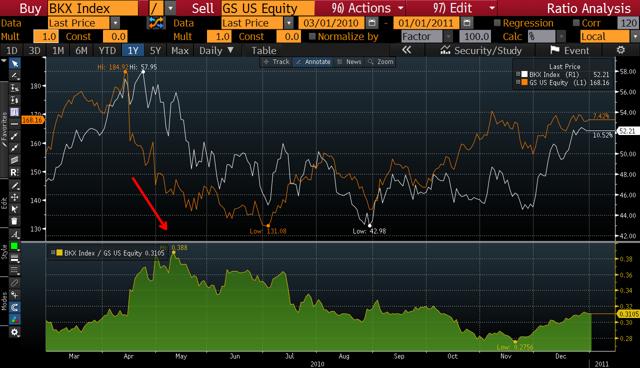 Source: Bloomberg
The below chart shows that underperformance peaked at 10% in BAC's case.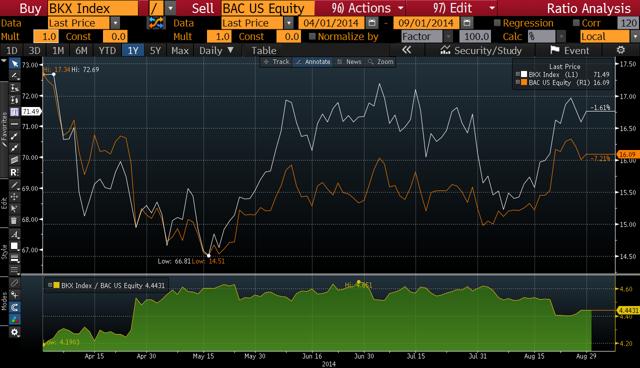 Source: Bloomberg
MTB's underperformance lasted longer compared to JPM, GS and BAC's cases.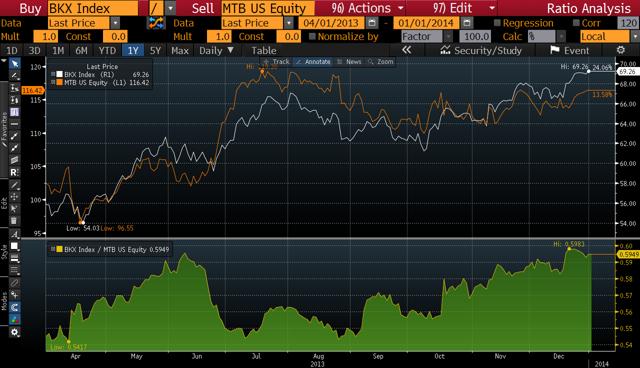 Source: Bloomberg
USB did not actually underperform much.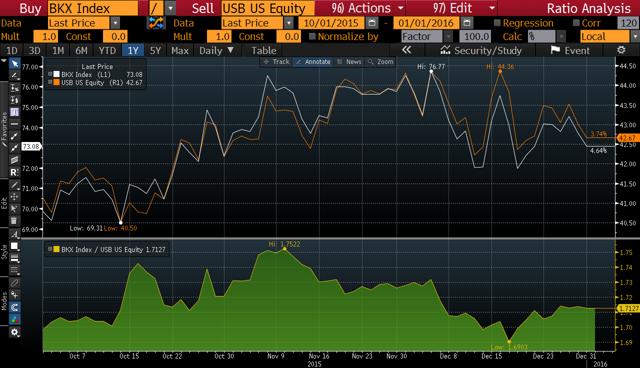 Source: Bloomberg
We do acknowledge that the above cases are not exactly comparable to WFC's situation. Moreover, one could argue that the WFC settlement is a much bigger deal since it was from a retail issue and included the fraudulent opening and closing of accounts, while JPM, GS and BAC's cases were from a more institutional issue. We also note that WFC enjoyed premium multiples prior to the settlement and was thought of as a classic safe-heaven stock. As such, WFC's underperformance versus the sector may persist longer than a couple of weeks.
#2: Additional litigation charges cannot be ruled out
While additional fines on this issue are likely to be limited, given that the CPFB has closed the matter, Wells Fargo is still among several banks facing RMBS probes by the U.S. Department of Justice (DoJ). As a reminder, WFC has already settled its RMBS case with the Federal Housing Finance Agency for $335mn. The table below shows that a ratio between DoJ fines and FHFA settlements for RMBS has averaged 2.8x.

Source: Societe Generale Research&Analytics
A multiple of 2.8x implies that the DoJ should levy a USD1bn fine on WFC. However, there are no rules of thumb for estimating penalties levied on banks by the DoJ and Deutsche Bank's (NYSE:DB) saga is a perfect example. A multiple of 2.8x implies that the DoJ should have levied a USD5.4bn fine on Deutsche Bank, not a shocking USD14bn, corresponding to a multiple of 7.4x versus DB's FHFA settlement. If we apply a multiple of 7.4x to WFC's FHFA settlement, the DoJ fine would be USD2.5bn. Should that happen, WFC's stock will come under more pressure, in our view.
We also note that, prior to the CPFB settlement, WFC had been one of the most successful large-cap US banks in navigating the tough regulatory and legal environment. As such, additional litigation charges could have a longer-term negative effect on Wells' valuation.
#3: More EPS downgrades to come
Sell-side analysts have already cut earnings estimates for Wells Fargo.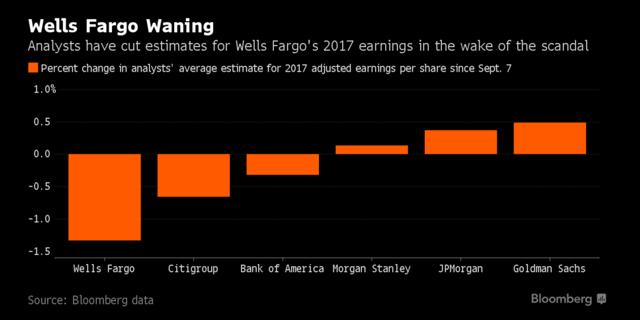 Source: Bloomberg
However, we believe investors are still concerned how much EPS could be hit going forward. Sell-side analysts will likely adjust their estimates further given increased WFC's spending on compliance/regulatory matters. According to our estimates, each 1% increase in expenses would reduce EPS by 1-2%.
#4: A "Conditional Pass" in 2017 CCAR
There is a risk that the Fed finds qualitative issues with WFC's compliance systems and gives the bank a "conditional pass" under the 2017 CCAR. We do acknowledge that this event, while possible, has a very low probability. That being said, a "conditional pass" would likely result in higher legal expenses. It is also worth mentioning that WFC could be more conservative with its capital deployment plans and request a lower buyback under 2017 CCAR.
#5: Higher RWAs would hit capital ratios
Several analysts have recently suggested that higher litigation risk could force WFC to increase its operational RWAs (risk-weighted assets), hitting capital ratios. That would likely have a negative impact on the company's capital returns policy.
#6: The stock is not cheap
The stock is trading in line with valuations of comparable peers.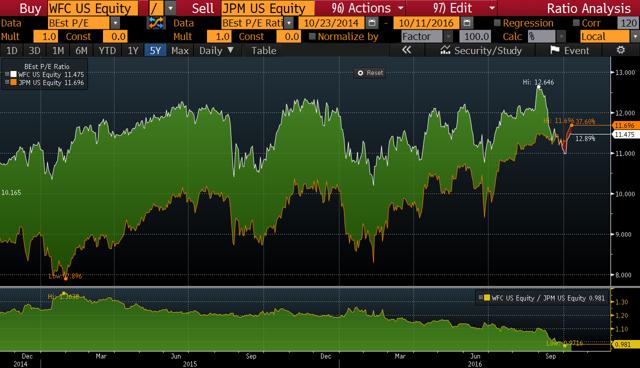 Source: Bloomberg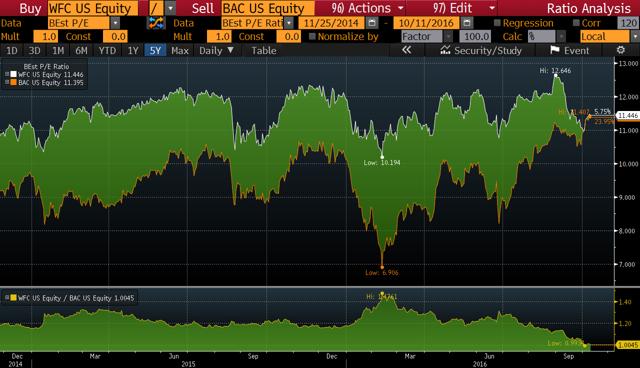 Source: Bloomberg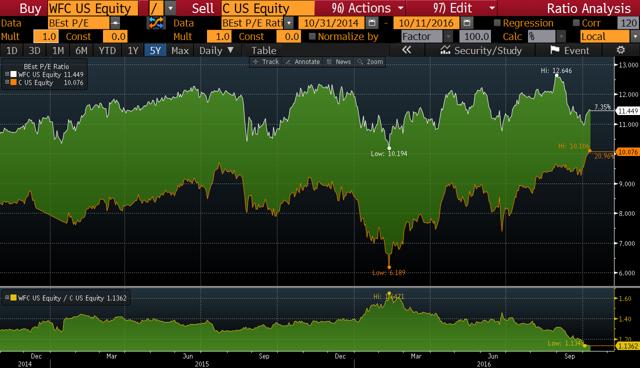 Source: Bloomberg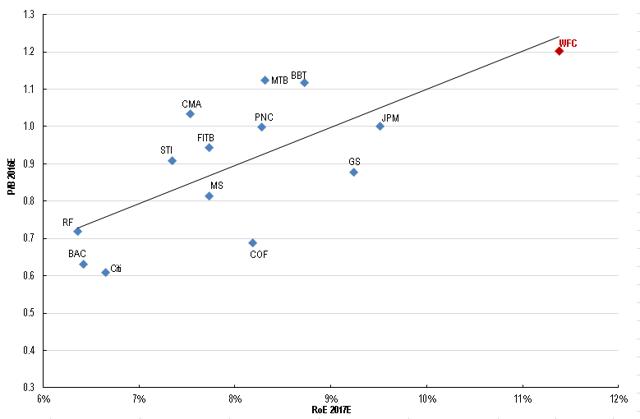 Source: Bloomberg, Renaissance Research
One can argue that WFC has typically traded at a c10% premium to its large-cap bank peers on a forward P/E basis. However, given that a core part of the WFC strategy and investment thesis on the stock are called into question, we believe this premium may not be warranted anymore.
In the next article, we will focus on the bull arguments, illustrating that Wells Fargo offers a once-in-a-lifetime buying opportunity. If interested, click the "Follow" button beside our name on the top of the page.
Disclosure: I am/we are long JPM.
I wrote this article myself, and it expresses my own opinions. I am not receiving compensation for it (other than from Seeking Alpha). I have no business relationship with any company whose stock is mentioned in this article.