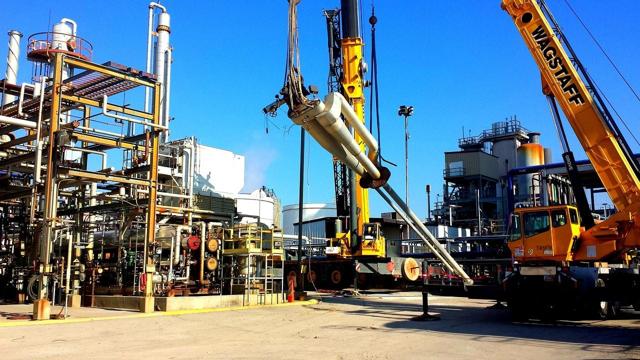 Source: Stock Photo
The share price of Devon Energy Corp. (NYSE:DVN) has been on a tear since February 2016, as it has easily more than doubled from a little over $18 per share, to about $44 per share as I write. This was impressive because it was able to maintain momentum during unfavorable price conditions for oil, natural gas and natural gas liquids.
Even though it has soared, I believe it still has more room to move up, although the seasonably warm October weather may temper its momentum in the short term, along with the uncertainty of whether or not OPEC will meaningfully cut oil production, if it does it at all, and if Russia, which has sent mixed signals, joins in lowering oil production.
Internally, it has now completed its series of asset sales, and is using the bulk of it to pay down debt, which it has managed well whether or not it used the additional capital to shrink it down. It also doesn't have debt maturing until 2021, which has positioned it strongly against numerous competitors that face debt maturing in 2017.
Until the end of November when OPEC meets again, oil prices are probably going to maintain support unless inventory level surprise on the upward side and oil rigs continue to climb on a weekly basis.
Further out as organic demand for oil and gas grow, Devon is positioned strongly to outperform many of its peers.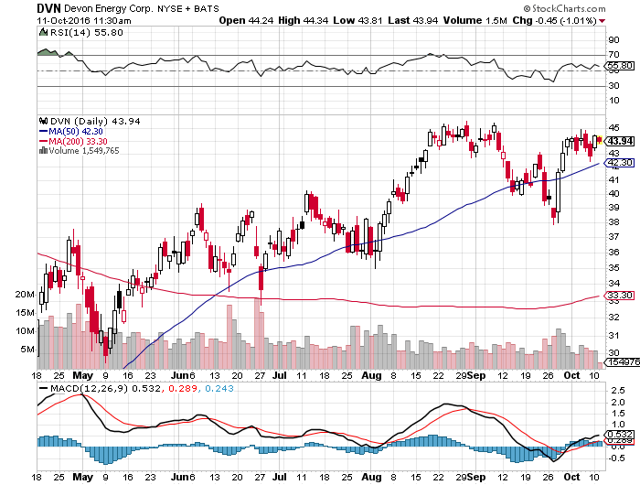 Source: StockCharts.com
Devon's energy mix
As of the fourth quarter of 2015, Devon had a production mix of 20 percent natural gas liquids, 39 percent natural gas, and 41 percent oil. It looks like after asset sales and other factors, its oil as a percentage of production has climbed to 44 percent. That's a positive for the company because crude is the product with the highest margins for Devon.
For that reason, it looks like Devon is going to continue to increase oil as a percentage of its product mix, as over time, it will definitely rebalance and margins continue to grow. To show how it has changed over the last five years, at the beginning of 2011, crude oil accounted for only 18 percent of Devon's product line.
With crude and natural gas moving gradually closer to rebalancing (to me the length of time it'll take to achieve that goal will depend on the upcoming recession and its impact on demand for both). It also depends upon, in the case of oil, the terms and viability of what type of production cut agreement comes out of OPEC - if one is agreed to at all.
Since natural gas is going to find support in the years ahead, I'm not sure how much Devon is going to increase its oil assets, but it's possible it'll add to both, which under that scenario, it wouldn't matter what the percentages are if the proved reserves of both are growing.
Devon completes its current divestiture phase
Devon announced that it has completed its divestiture program with the sale of its 50 percent stake in Access Pipeline to Wolf Midstream for $1.1B, which generated $3.2 billion in revenue for the company.
About 66 percent of its total sales is targeted for paying down debt, with about $1.2 billion repurchased at this time.
Per the Access Pipeline to Wolf Midstream, it also has the right to receive a C$150M payment from Wolf Midstream in relationship to a new thermal oil project on its Pike lease in Alberta, Canada.
The overall goal of Devon was to sell off the assets for the purpose of becoming cash flow neutral.
With lower net debt (down 45 percent YTD), improved cash flow and gas and oil prices finding support for now, it appears Devon still has a lot of room left to have its share price continue to climb.
What's impressive about this in my view is its balance sheet allowed it to maintain its debt level and pay it down incrementally, but it has instead, chosen to improve its debt load quicker via the asset sale revenue.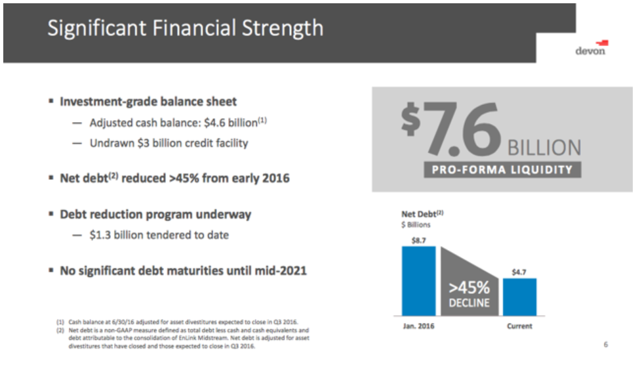 Source: Investor Presentation
Oil and gas prices
The price of oil and gas, at least for now, have found support, although I am concerned at how quickly they have risen and the strong probability of it correcting in the near term - at least in the case of natural gas, where weather conditions in November have made it likely to lower demand for natural gas, because of a warming trend.
Oil demand has been downwardly revised for 2017, with global demand climbing by a fairly modest 1.2 million barrels per day. Again, whether or not OPEC really cuts production, and if it's only a cut commensurate with the seasonal decline in production that happens annually, will determine the impact on supply and demand through the end of 2017.
The other factor for both oil and gas is the upcoming recession, which the market hasn't priced in yet, and could come as early as the second half of 2017.
Concerning natural gas, I want to mention a couple of things. The first is natural gas supply continued to climb since 2014, partly because it was produced in conjunction with shale oil fields, which had seen output come in at high levels. That came even as a growing number of rigs were removed from production. Not only did the high level of shale oil production keep gas supply moving up with it, but technical improvement, along with improvements in methodology, resulted in significant increases in efficiencies.
All of that could only offset so much of the loss of rigs, and in February 2016, natural gas hit a high level of 92 million cubic feet per day, and has since then dropped by 5 percent.
At a time when natural gas supply is declining, a group of new gas-powered plants are being opened. Since 2012, in the U.S., the amount of electrical capacity coming from gas-powered plants is up by 25 gigawatts. By the end of 2017, that's expected to climb by another 11.5 gigawatts.
It remains to be seen how much more gas may come to the market as U.S. shale producers increase the number of rigs in response to what appears to be a sustainable oil price range of about $45 to $50 per barrel. It may climb higher than that if the market is convinced OPEC is really going to lower production levels in a way that can be confirmed. Its historical track record is dismal in that regard.
After the seasonably warm October, it looks like weather in the U.S. is going to plunge, which will, along with decreasing supply and growing demand, be a boost to gas prices, which may have found support above $3/MMBtu.
Although there is some concern over the weekly inventory level of natural gas as reported by the U.S. Energy Department, which exceeded expectations, it still represented an increase that was below historical averages for the 22nd week in a row.
Conclusion
Devon has outperformed most of its peers by most measures, and it is positioned, after its asset sales, to improve its balance sheet while increasing its exposure to oil as a percentage of its product portfolio. That means higher margins even as price trends for oil and gas appear to be on the upswing.
I would still be careful in regard to counting on oil continuing to climb, even with the announced OPEC production cuts, as it's already been priced in, and anything that disrupts expectations will cause the price of oil to plummet, probably dragging down the price of natural gas with it.
Further out, I see Devon doing very well, as the market, without the interference of OPEC, organically rebalances, providing a strong, positive catalyst for oil and gas prices.
Even with the upcoming recession, Devon will be able to endure and come out on the other side stronger, as it won't be weighed down with debt maturities for another several years, even as it lowers its debt load by paying it down with capital coming from its asset sales.
With increasing exposure to higher margin oil and both natural gas and oil prices sure to rise sustainably over the next several years, Devon has a lot of momentum left before its share price settles down.
It of course won't continue to climb at the pace it has been, but it should do very well for shareholders for a long time to come.
Disclosure: I/we have no positions in any stocks mentioned, and no plans to initiate any positions within the next 72 hours.
I wrote this article myself, and it expresses my own opinions. I am not receiving compensation for it (other than from Seeking Alpha). I have no business relationship with any company whose stock is mentioned in this article.