By Parke Shall
Yesterday, after a long halt, MGT Capital Investments (NYSEMKT:MGT) came out and announced the long awaited conclusion to the company's previously disclosed inability to issue shares in order to make its D-Vasive acquisition.
As shares were halted during the middle of the day yesterday, MGT came out and explained that they were unable to continue going forward with the original asset purchase agreement they had drawn up to take control of D-Vasive. The company's press release read,
As previously disclosed on September 20, 2016, the NYSE MKT informed the Company that it would not approve for listing on the Exchange the 43.8 million shares required to be issued to complete the closing of the D-Vasive merger. Since that time, the Company has had discussions and negotiations with all parties involved, in an effort to reach a revised agreement on acceptable terms.

Specifically, the Company plans to terminate the current Asset Purchase Agreement with D-Vasive. However, the Company has reached tentative agreements with John McAfee and Eric Anderson to execute employment agreements as Chief Executive Officer and Chief Technology Officer, respectively. In addition, the Company has reached a tentative agreement to exclusively license or acquire the Demonsaw source code and technology platform from D-Vasive.
As you can see, the company stated in its press release that they were going to look for ways to license the software in order to make sure that they have access to it. The market's reaction was tremendously positive, and shares shot higher by more than 40% in late day trading.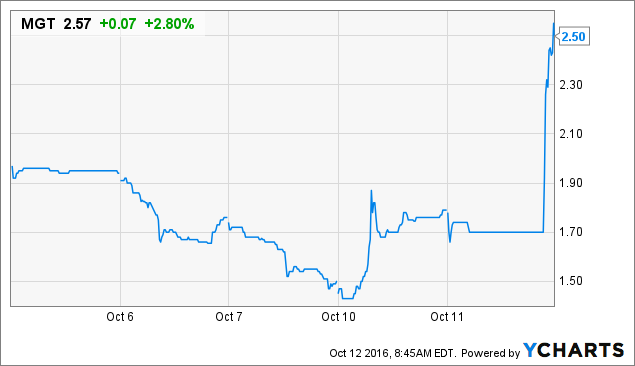 MGT Price data by YCharts
We are guessing the run up in shares was due to several factors. First, people were likely relieved that the news wasn't anything overly negative. Second, investors were likely happy that new shares won't be issued in conjunction with the acquisition. And third, investors likely applauded the fact that the company seems to have a plan in order to keep Demonsaw one way or another, even if it's through licensing.
We thought it was important to point out one part of this press release. The part states that the company only seems to have a plan for licensing and it looks as though it would still need some sort of regulatory approval that it has not received yet. Note the part of the press release that says,
MGT believes that such a revised deal structure would be acceptable under NYSE MKT rules.
This says to us that nothing specific has been approved by NYSE yet with regard to this transaction.
The other thing that's worth pointing out is that one way or another the company is going to have to issue shares. Although it may not be such a large amount of shares as it would have issued under the original asset purchase agreement, a licensing deal is going to require some form of cash and the company right now does not have a consistent profit center to its business that will supply it with the cash necessary.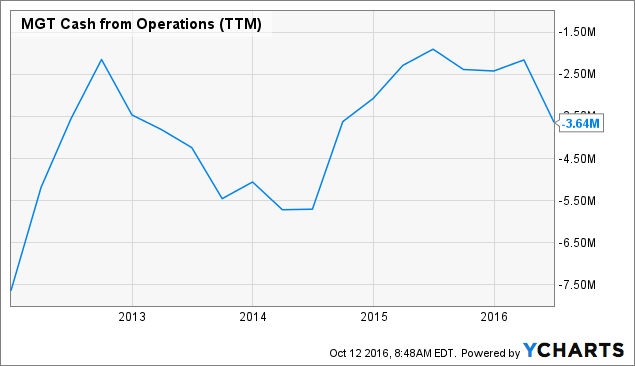 MGT Cash from Operations (TTM) data by YCharts
This leaves the likely scenario of the company still having to perform an equity raise as it moves forward.
Third, we saw this press release is a reminder that the company really seems to be under regulatory scrutiny. When we think about the number of ugly deals that have been done in the world of the market where companies have issued tons of shares for very little in assets, we are hard pressed to remember a situation where the NYSE actually stepped in and prevented a company from doing this. This case seems to be unique and it leads us to believe that regulators have a very close eye on MGT.
We continue to be skeptics on MGT for the time being, but we are watching. We will continue to watch how business operations are run going forward and we will continue to watch how the company develops its Bitcoin business, which we wrote about just days ago because it has the potential to intrigue us. For right now though, MGT has several hurdles to get over, not the least of which is dealing with regulators in addition to trying to put together a consistent cash generating portion of its business.
Disclosure: I/we have no positions in any stocks mentioned, and no plans to initiate any positions within the next 72 hours.
I wrote this article myself, and it expresses my own opinions. I am not receiving compensation for it (other than from Seeking Alpha). I have no business relationship with any company whose stock is mentioned in this article.
Editor's Note: This article covers one or more stocks trading at less than $1 per share and/or with less than a $100 million market cap. Please be aware of the risks associated with these stocks.