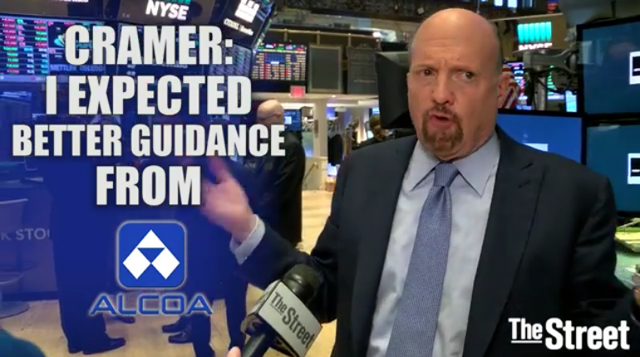 Aerospace Woes Weigh Again As Alcoa Misses
Concerns about weakness in aerospace hurt Honeywell (NYSE:HON) last week, as we mentioned in our article about United Technologies (NYSE:UTX) recently (United Technologies After Honeywell's Weak Guidance). On Tuesday, Alcoa (NYSE:AA) shares crashed after the aluminum company reported weak earnings and guided lower, noting weakness in Aerospace.
Recall that in our UTX article, we quoted macro trader Dividend Master about the broader impact of industrials offering weak guidance:
Pseudonymous macro trader Dividend Master wondered why the broader market wasn't more shaken by the weak guidance from Honeywell as well as PPG Industries (NYSE:PPG), as both companies can be considered leading economic indicators:

Perhaps if another industrial posts weak guidance in the near future, the market will re-evaluate in light of the cumulative effect.
Perhaps Tuesday's downbeat session was the start of such a revaluation. Time will tell. The Street's Jim Cramer, who holds a position in Alcoa in his charitable trust, seems less concerned about the broader implications. On Tuesday, he said he expected Alcoa's weak earnings but was surprised by the company's weak guidance, particularly the warning about aerospace, which he had seen as a bright spot. Cramer said he might add to his Alcoa position after the stock's crash.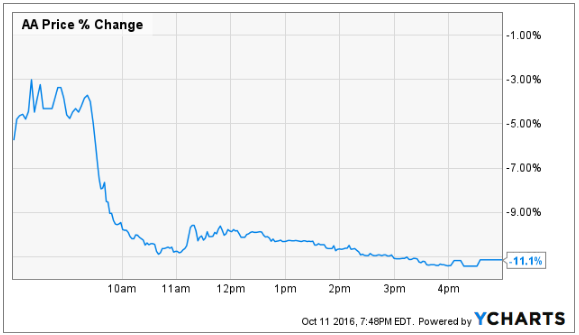 Had Cramer been hedged, he would be able to use the proceeds from closing out his appreciated hedge to add to his Alcoa position. Before Tuesday's crash, it was extremely expensive to hedge Alcoa with puts (which itself can be a sign of risk). But it was possible to affordable hedge Alcoa with an optimal collar. Let's look at an optimal collar hedge from Monday and how it softened the blow for Alcoa longs on Tuesday.
The October 10th Optimal Collar Hedge:
As of October 10th's close, this was the optimal collar to hedge 1,000 shares of AA against a greater-than-15% drop by late April while not capping an investor's upside at less than 11% by the end of that time period (screen captures via the Portfolio Armor iOS app).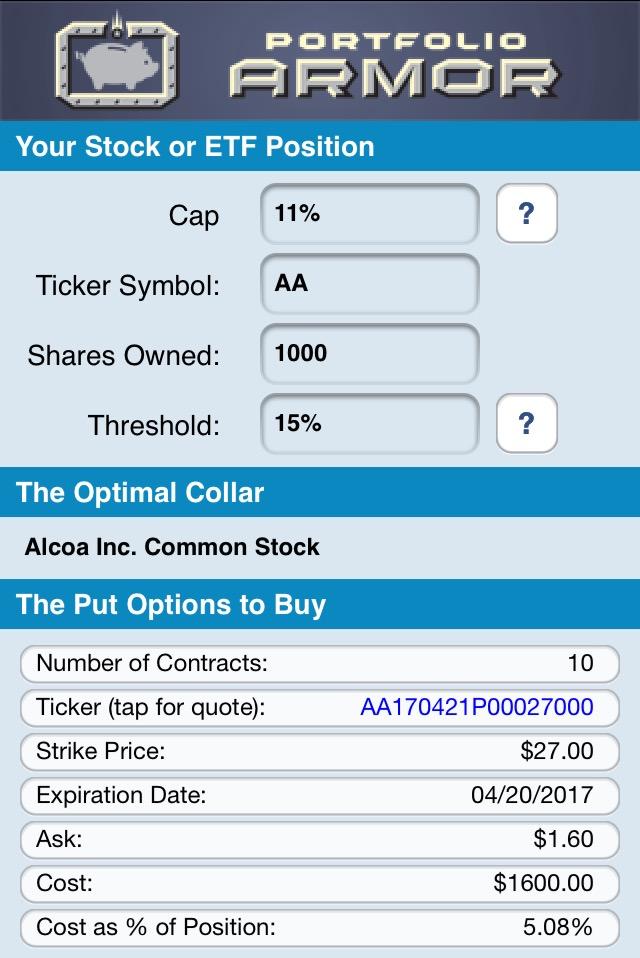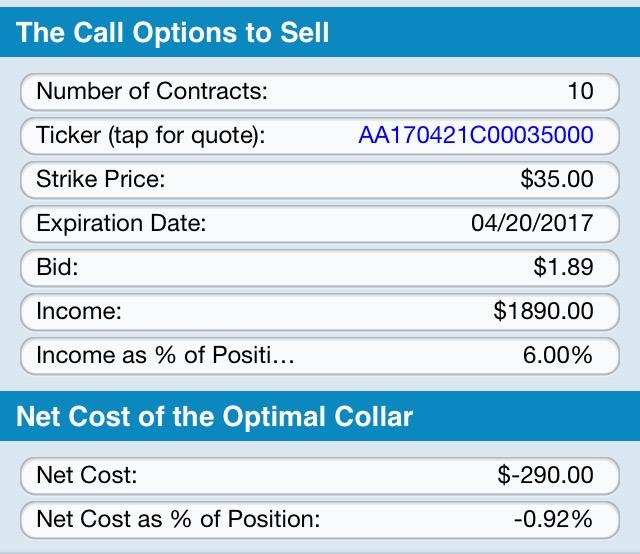 As you can see at the bottom of the screen capture above, the cost was negative, so an investor would have collected an amount equal to $290, or 0.92% of position value (calculated conservatively, using the ask price of the puts and the bid price of the calls) when opening the hedge. By way of comparison, if you just hedged against a >15% drop over the same time frame using puts, it would have cost you over 14% of your position value to do so. Let's see where you'd be had you hedged on Monday and held through Tuesday's collapse.
How The October 10th Collar Responded To AA's Drop
Here's an updated quote on the put leg as of Tuesday's close:

And here is an updated quote on the call leg:

How That Hedge Ameliorated AA's Drop
AA closed at $31.51 on Monday, October 10th. A shareholder who owned 1,000 shares of it and hedged with the collar above then had $31,510 in AA shares plus $1,600 in puts, and if he wanted to buy-to-close his short call leg, he would have needed to pay $1,890 to do that. So, his net position value on October 10th was ($31,510 + $1,600) - $1,890 = $31,220.
AA closed at $27.91 on Tuesday, October 11th, down about 11.4% from its closing price on October 10th. The investor's shares were worth $27,910 as of 10/11, his put options were worth $2,560, and if he wanted to close out the short call leg of his collar, it would have cost him $885, using the midpoint of the spread, in both cases. So: ($27,910 + $2,560) - $885 = $29,585. $29,585 represents a 5.2% drop from $31,220.
More Protection Than Promised
So, although AA had dropped by about 11.4% at the time of the calculations above, and the investor's hedge was designed to limit him to a loss of no more than 15%, he was actually down 5.2% on his combined net hedge + underlying stock position by this point. As with the Gold Miners crash earlier this month, this illustrates the impact of time value on a hedge designed to protect based on its intrinsic value alone.
What Now?
If you're long and share Jim Cramer's bullishness on Alcoa, you can sell your appreciated puts, buy-to-close your calls to eliminate your upside cap, and use the net proceeds to buy more shares of Alcoa. But if you share Dividend Master's concerns about the broader economy, you may want to hold on to your Alcoa puts to limit your downside risk over the next several months.
Disclosure: I/we have no positions in any stocks mentioned, and no plans to initiate any positions within the next 72 hours.
I wrote this article myself, and it expresses my own opinions. I am not receiving compensation for it (other than from Seeking Alpha). I have no business relationship with any company whose stock is mentioned in this article.