In a previous article, we looked at how emerging market equities had gone from undervalued, with extreme negative sentiment, and strong technicals to less undervalued, extreme bullish sentiment, and less certain technicals. We argued that this presents a short-term hurdle to performance, particularly if it was just a case of a sentiment and positioning driven rally.
Thus, the logical next step is to examine the economic and monetary policy backdrop to assess whether the rally is just a rebound - an unwinding of underweights - or the start of something more enduring.
Monetary policy
A key development for emerging markets is more broader cuts in interest rates as the monetary policy game has become less divergent and more one-sided (14 cuts vs. 5 hikes in 2016 for the top 10 EM countries, compared to 23 cuts and 23 hikes across the 2014-15 period).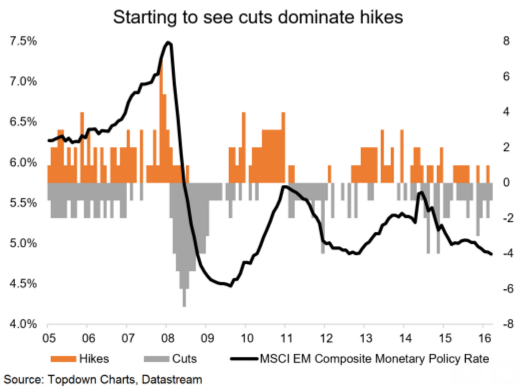 Part of the reason why emerging markets have been able to turn to broader cuts is that the US dollar bull market has paused, thus taking the pressure off places like Brazil and Russia to hike rates in the face of currency-driven inflation. Indeed, many emerging market economies were forced to hike interest rates to try and defend their currencies (at a time of slowing growth and slumping commodity prices) - a suboptimal outcome if there ever was one.
Monetary policy impact
While many are questioning the efficacy of monetary policy, particularly in developed economies, for emerging markets, there is still ample scope to cut interest rates. What's more, the historical experience is that cuts in interest rates do have an impact on the economic cycle as the chart below shows.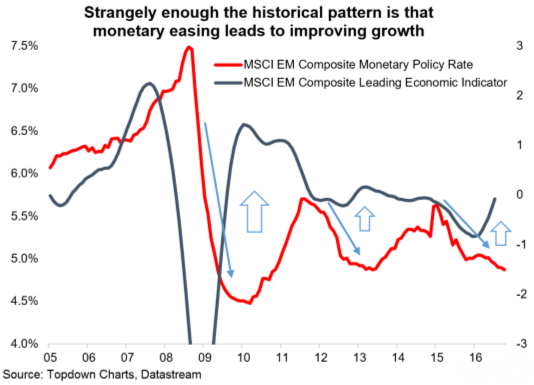 We've also already started to see the impact of these cuts on other economic indicators such as the manufacturing PMIs.
Economic cycle
So that leads us to the key piece to the puzzle, the economic outlook. Along with broader monetary easing documented above, the turnaround in commodity prices sparked by the pause in the US dollar bull market, and China stimulus (fiscal, monetary, and macro-prudential) has helped change the outlook for emerging market economies from recessionary to recovery.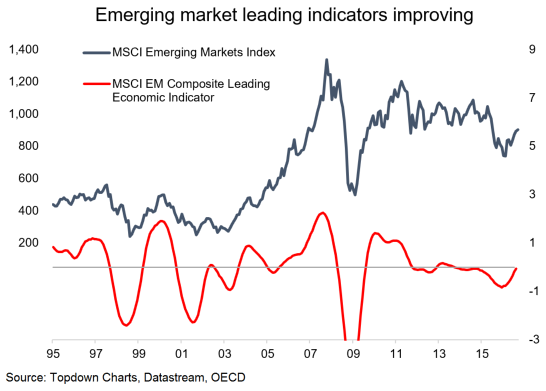 Historically, an upturn in the weighted average OECD leading economic indicator for emerging markets has coincided with a major market bottom e.g. 1998, 2002/03. So why would this time be any different? One answer to that question would be the structural challenges that emerging market economies broadly face, but these can be overcome in the short term by the cycle. The other thing that could derail it would be a renewed US dollar bull market, but that seems less likely in a world where the Fed is on the go-slow and global growth vs. US appears to be improving.
Summary
As long as emerging market economies remain predominantly in monetary policy easing mode and as long as commodity prices continue to recover, then the fundamental case for emerging market equities is probably sound; meaning extremely bullish sentiment isn't necessarily a hurdle... Of course, the astute observer will point out that emerging market monetary policy and commodities are the other side of the US dollar coin. Which is to say emerging markets remain at the mercy of the US dollar - which in an environment of a slow-going Fed and better global growth outlook should remain stuck in the range. Any change to that view would warrant revisiting EM positioning.
Bottom line: The economic outlook has improved for emerging markets on the back of stimulus and rebounding commodities which should be supportive for emerging market equities; (but) these factors are reliant on the US dollar remaining range-bound if not slightly weaker.
Disclosure: I/we have no positions in any stocks mentioned, and no plans to initiate any positions within the next 72 hours.
I wrote this article myself, and it expresses my own opinions. I am not receiving compensation for it (other than from Seeking Alpha). I have no business relationship with any company whose stock is mentioned in this article.