In this article, I will be detailing why I believe Starbucks (NASDAQ:SBUX) is worth considering for dividend-growth investors. Starbucks has been trending down ever since the stock made an all time high of $64/share at the end of October 2015. There are two reasons for this decline, the first is Starbucks has only beat earnings estimates once this year and met estimates the other two occasions. Meeting and slightly exceeding earnings alone would have not caused this large decline in the stock, however, as the table below shows, when paired with the fact that Starbucks has missed revenue estimates by an increasing amount over the last three quarters, that is the real reason for the decline.

Starbucks will be reporting earnings after the market closes on October 27th and as I will show Starbucks is worth considering for dividend-growth investors because Starbucks will likely increase its dividend for the upcoming quarter, the stock is undervalued and the stock is sitting at a critical level of support.
Dividend Increase
If you look at the dividend history for Starbucks, you can see that they have historically increased their dividend in the 4th quarter of each year, which is why I expect them to announce a dividend increase when they report earnings later this month. As you can see in the table below, Starbucks has a weighted dividend growth rate of 23.87% and I expect the dividend to continue growing over the next 5 years. Specifically, for the coming quarter I expect that Starbucks will increase its quarterly dividend from $0.20/share to $0.24/share.
To determine if that rate of dividend growth is sustainable over the next five years, I conducted an analysis to see if dividends paid as a percentage of cash flows from operations was less than my self-imposed threshold of 80%. For my calculations, I used the weighted dividend growth rate I calculated of 23.87% and I used the ttm cash flows from operations excluding discontinued operations for my starting point for projected cash flows and applied a Long-term growth rate of 18.13%, which was retrieved from Zacks. The table below shows if Starbucks continues growing its dividend at its current pace that it will continue to be well below my 80% threshold. Based on my estimates, by 2020, Starbucks could be paying an annual dividend of $1.98/share or about $0.494/quarter, which is over 147% above the current quarterly dividend.
Div Growth Rate

Weight

Div Rate*Weight

5 Yr

24.84%

20.00%

4.97%

3 Yr

23.62%

30.00%

7.08%

1 Yr

23.64%

50.00%

11.82%

Weighted Dividend Growth Rate

23.87%

Current Quarterly Dividend

0.20

Shares Outstanding

1479.3

LT Growth Est. [Zacks]

18.13%

Calendar Year

Est. Div/Share

Shares

Divs $ Paid

Proj. CFFO

Proj. Div as % of CFFO

2016 est.

0.84

1479.3

1242.61

4428.69

28.06%

2017 est.

1.04

1479.3

1539.22

5231.62

29.42%

2018 est.

1.29

1479.3

1906.64

6180.11

30.85%

2019 est.

1.60

1479.3

2361.75

7300.56

32.35%

2020 est.

1.98

1479.3

2925.50

8624.15

33.92%

`

2020 Div

1.978

2020 Quarterly

0.494

Current Quarterly

0.200

% Dividend Upside

147.20%
[Dividend data: Dividend Channel, CFFO data: Gurufocus, Growth estimate: Zacks]
Valuation
To determine the upside opportunity for Starbucks, I conducted a discounted cash flow analysis [table below] and found that shares of Starbucks have a fair value of $68/share, which is just over 28% above the current price. I used data from Starbucks financials on Gurufocus, growth data from Zacks and to determine the discount rate & terminal growth rate, I used the following calculators.
CF/Share: $4237/1479.3 shares = $2.86 CF/share
LT Debt/Share: $3202/1479.3= $2.16
Proj. Long-term growth rate: 18.13%
Terminal growth rate: 1.51%
Discount rate: 6.47%
Calculator Assumptions
Cash flow grows for next 5 years.
After that, growth levels off to the terminal rate for 15 years.
SBUX

DCF Calculations

CF/Share

PV

Year 1

1

3.38

$3.18

Year 2

2

4.00

$3.53

Year 3

3

4.72

$3.91

Year 4

4

5.58

$4.34

Year 5

5

6.59

$4.82

Year 6

6

6.69

$4.59

Year 7

7

6.79

$4.38

Year 8

8

6.89

$4.17

Year 9

9

7.00

$3.98

Year 10

10

7.10

$3.79

Year 11

11

7.21

$3.62

Year 12

12

7.32

$3.45

Year 13

13

7.43

$3.29

Year 14

14

7.54

$3.14

Year 15

15

7.65

$2.99

Year 16

16

7.77

$2.85

Year 17

17

7.89

$2.72

Year 18

18

8.01

$2.59

Year 19

19

8.13

$2.47

Year 20

20

8.25

$2.36

Year 1-5 Growth Value

$19.77

Terminal Growth Value

$50.39

LT Debt/share

$2.16

Value

$68.00

Current Price

$53.05

Upside/Downside

28.18%
Technical Outlook
The technical outlook for Starbucks is very appealing as long as it can hold around the $52 level [Red Line]. This level is important because this level is where shares broke out above in mid 2015 and have retested multiple times since that breakout. With shares at the time of writing this at slightly under $53/share and with general market weakness due to rising rates and uncertainty over the election, the $52 level will be something to watch as earnings approach on the 27th of October. As long as Starbucks is able to hold the $52 level, it will be a strong sign that the bottom is in and Starbucks share price can rebound.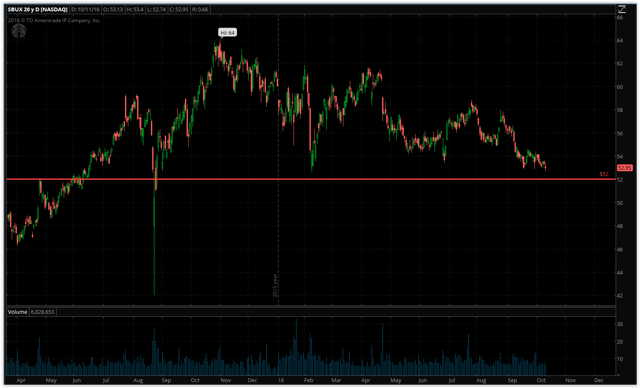 (Image from the ThinkorSwim Platform)
Closing thoughts
In closing, I believe shares of Starbucks are worth considering for dividend-growth investors because they are highly likely to increase their dividend for the upcoming quarter and they have the ability to keep increasing their dividend at a significant pace over the next five years. In addition, based on my DCF calculations shares of Starbucks are undervalued at their current levels and the technical outlook is appealing as long as Starbucks can hold around the $52 level.
Disclaimer: See here.
Disclosure: I/we have no positions in any stocks mentioned, but may initiate a long position in SBUX over the next 72 hours.
I wrote this article myself, and it expresses my own opinions. I am not receiving compensation for it (other than from Seeking Alpha). I have no business relationship with any company whose stock is mentioned in this article.