Yesterday's financial market activity surely had members of the Fed scratching their heads, perplexed as to what their next move should be, if they move at all. As the dollar (NYSEARCA:UUP) strengthened, stocks (NYSEARCA:SPY), bonds (NYSEARCA:AGG), and commodities like oil (NYSEARCA:OIL) and gold (NYSEARCA:GLD) all declined. It is typical to see investors rotate among asset classes in order to increase, or mitigate, the risk profiles of their portfolios. This year has been an exception, as the flood of global liquidity has driven valuations higher across the board, leading to what more recently appears to be a "sell everything" or "buy everything" mentality, depending on the day of the week. Yesterday investors sold everything.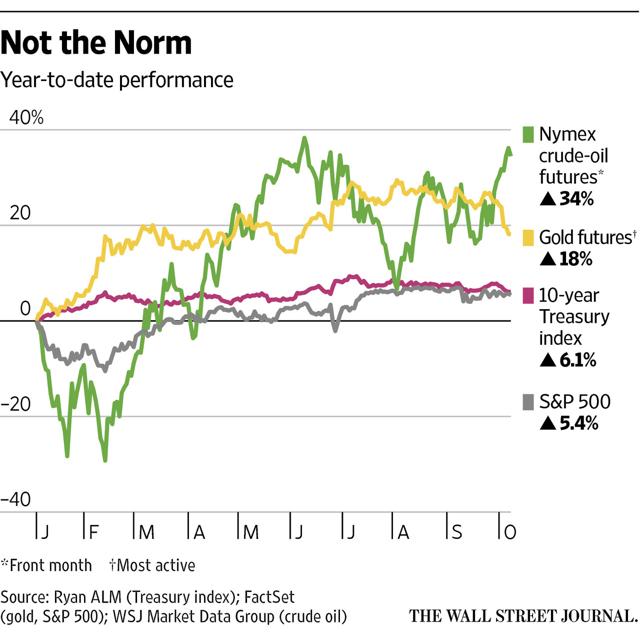 The linchpin to this market is clearly interest rates, which is why, unfortunately, the Fed remains so relevant. Based on Fed fund futures prices, the market sees a 63% probability of a rate increase at the Fed's December 14 meeting, which is up quite dramatically from the probability a couple of weeks ago. I think this expectation has more to do with rhetoric by Fed governors, as we have seen before, than it does with strengthening economic data.
As the expectation for a rate hike has increased, the dollar has strengthened and bonds, stocks and commodities have declined in price, with the exception of oil. Oil has bucked the strengthening dollar on the back of falling inventory reports in recent weeks, but that seems unlikely to continue. There has been a noticeable rotation within the stock market out of high-yielding sectors and into more cyclically oriented growth sectors. The reason for this is more difficult to discern.
Perhaps investors perceive a rate hike to mean faster rates of economic growth on the horizon, hence they are investing in cyclical sectors that would benefit. I think a more likely reason for the recent outperformance of cyclicals is the anticipation of proposals for fiscal stimulus in some form early next year. Yet I think we are likely to see a reversal of the recent strength in the dollar, and as a result, one more rally in risk assets before year-end, because I expect that the probability for a rate hike in December will decline in the weeks ahead. We may learn more this afternoon when the minutes from the Fed's September meeting are released.
Fed officials realize that if they raise short-term interest rates the dollar will strengthen further. As a result, not only will stocks, bonds and commodities decline further in price, but also corporate profits will suffer and exports will weaken. A decline in financial asset prices will have the deleterious effect of slowing the rate of consumer spending growth, and a continued decline in profits will halt any recovery in capital spending. Both lead to a slower rate of what is already snail-speed economic growth.
There is one more reason why I think the market is misguided in its anticipation of a December rate hike. Next week the Consumer Price Index will be reported for September, and I think it will surprise to the upside. From that reading we will be able to determine how much real incomes are rising on a year-over-year basis. The rate of real income growth, as measured by average hourly earnings, has been weakening over the past year. I think this is a primary concern of Janet Yellen's, and I think she is willing to allow the rate of inflation to rise above the Fed's 2% target in the hope that the rate of income growth increases further.
For these reasons, I continue to see little chance of a rate hike in December. This still presents an exceptionally difficult investment environment for individual investors who are leaning on diversification as a tool to mitigate risk. The only viable option in a market where investors sell everything is cash, which has no appeal on days when investors are buying everything else. Still, there will be a time when liquidity and preservation of capital are valued above all. The task at hand is to determine how much cash to maintain between now and when the next significant long-term investment opportunity presents itself in the broad market, while still having enough capital invested to meet our respective long-term return objectives.
Disclosure: I am/we are long GLD.
I wrote this article myself, and it expresses my own opinions. I am not receiving compensation for it (other than from Seeking Alpha). I have no business relationship with any company whose stock is mentioned in this article.
Additional disclosure: Lawrence Fuller is the Managing Director of Fuller Asset Management, a Registered Investment Adviser. This post is for informational purposes only. There are risks involved with investing including loss of principal. Lawrence Fuller makes no explicit or implicit guarantee with respect to performance or the outcome of any investment or projections made by him or Fuller Asset Management. There is no guarantee that the goals of the strategies discussed by will be met. Information or opinions expressed may change without notice, and should not be considered recommendations to buy or sell any particular security.