Our team at Macro Ops does our best to track risks around the world. One of those risks is Italy.
Italy in many ways encapsulates everything that's wrong with Europe. It suffers slow growth due to mountains of bad debt, uncompetitive labor markets, and a constrained fiscal and monetary policy that do not fit what the country needs.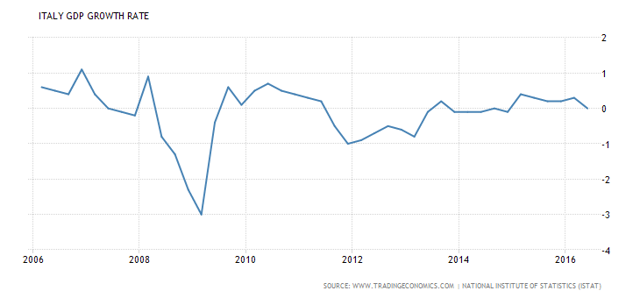 Italy's debt to GDP ratio continues to climb and now sits at 132%. That makes it the second most indebted country in the entire Eurozone after Greece.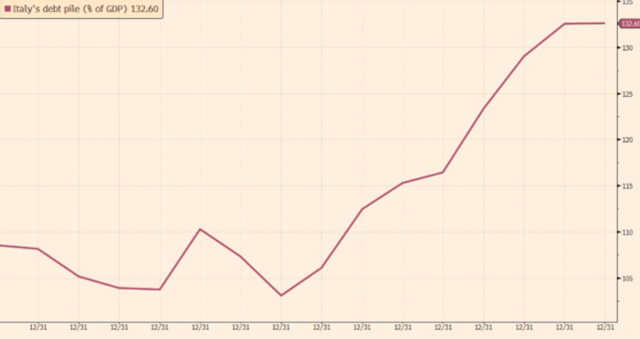 Italy has what macro analysts call a "denominator problem" - weak growth inhibits the country's ability to keep up with debt servicing costs. High debt burdens like these make it hard for a country to maneuver in the case of a recession or any type of economic contraction. You can't apply aggressive stimulus when you're broke, and unfortunately for Italy, they are at that point.
Their banks are in dire straits and no one knows what to do. Non-performing loans are skyrocketing despite the low rate environment.

And stock prices have been massacred. Unicredit (OTCPK:UNCFF), the nation's biggest bank, has been tanking this year and is already down about 60%. But believe it or not, the biggest problem is actually Italy's oldest bank, Banca Monte dei Paschi (BMPS).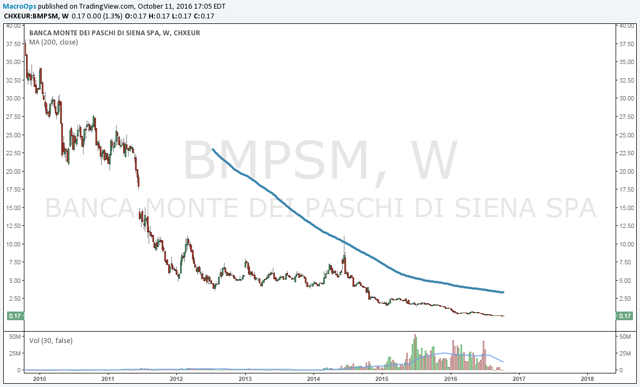 It's down 80% this year and trades for a quarter a share. We're actually surprised the institution is still around. The bank is the world's oldest lender and has been lending money for 544 years! The first year of business was in 1472.
Italy is caught in a "damned if you do, damned if don't" situation. Low rates keep the debt load manageable for the government and are stimulative for the rest of the economy, but they also crush banks' net interest margins and put the whole system in jeopardy. A higher rate environment would helps banks, but may also send the Italian government spiraling into a fresh debt crisis.
Since the sovereign's balance sheet takes precedent over banks, it looks like policy makers have decided to keep rates low while trying to figure out a bank bailout. But this is difficult to do because under new European Union rules, there is a mandatory bail-in of 8% of total liabilities before public capital can be used. This means bondholders have to take a nasty haircut before the government can provide a backstop. The problem is that Italian household retail investors own a third of all bank bonds. If the bail-in occurred, uninformed families would immediately see a reduction in their hard earned savings, for reasons they likely don't even understand.
Imagine a populous, already struggling, waking up to find their "safe" savings evaporated. Events like these catalyze massive action. And this is exactly what the rest of Europe fears. Italy's populist party, the 5 Star Movement, is already gaining traction. They've called for a referendum on Eurozone membership and something like a bailout with its resultant backlash would just pour gasoline over their push to leave.
The precedent for breaking up has been set with Brexit. And now Italy is next up to the plate.
You can see the uncertainty in Italy taking its toll on Italian markets (NYSEARCA:EWI).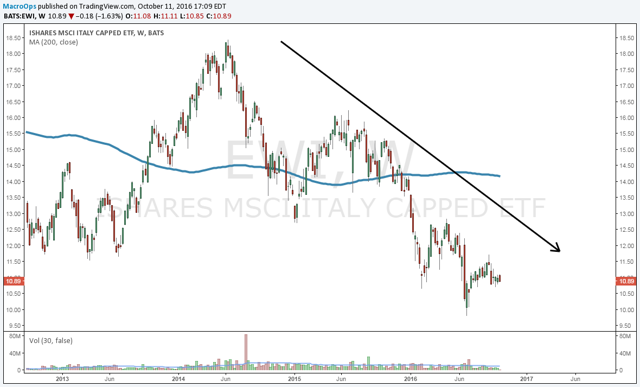 Our strategy is to stay away from playing the Italian markets directly. But they key here is to watch for any big changes that may trigger problems across global markets, especially something that can end the US equity (NYSEARCA:SPY) bull market. The banking crisis could be that trigger.
Disclosure: I/we have no positions in any stocks mentioned, and no plans to initiate any positions within the next 72 hours.
I wrote this article myself, and it expresses my own opinions. I am not receiving compensation for it (other than from Seeking Alpha). I have no business relationship with any company whose stock is mentioned in this article.