Quick, what are two things people don't bring up at cocktail parties? I'll give you a minute… okay that's enough time. Religion and community banks. The former typically isn't brought up due to differences in thought. The latter isn't brought up due to the dullness and lack of interest.
The one place where community banks are brought up is at CompleteBankData. We at CompleteBankData enjoy talking about banking, and to some extent, think the community banking world is exciting.
I know what you are thinking; why the heck does this guy think community banks are exciting? I know, I know, I am probably a dull guy for getting excited about community banks. But the business model itself isn't the exciting part of community banking. My excitement is a function that you don't think they are exciting - the ultimate contrarian.
A community bank that I know you haven't heard of is Pinnacle Bankshares (OTCQX:PPBN). Pinnacle Bankshares is your typical community bank. The bank's assets are almost at $400 million, the market cap is trending around $30 million and the bank has a handful of locations in the Virginia area. Even though the bank is relatively unheard of, there is quite a lot to like as an investor.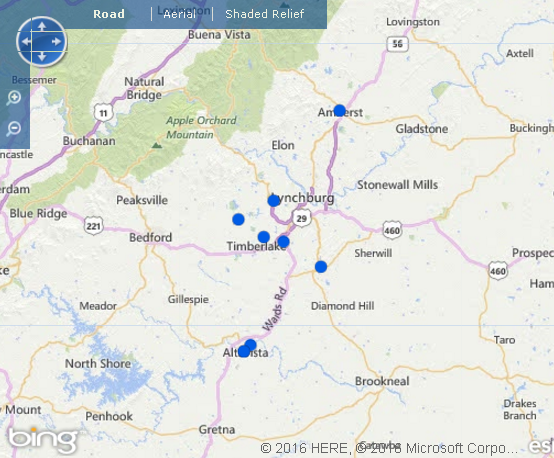 Source: Branch Location
The thesis for an investment is a value play with a growth option. The bank is trading around 88% P/TBV and has double-digit top and bottom line growth. Furthermore, the company is well-capitalized and clocked in ROA and ROE of 0.72% and 7.67% in the most recent quarter. Likewise, the asset quality of its loans continues to improve - driving the NIM. Best of all, nonperforming loans are at a new low.
The function of growth resides within its Lynchburg Market Plan. According to the plan, the bank plans to expand its footprint in the Lynchburg market via branch openings and relocations. The best part about the plan, the company is ahead of schedule. Thus far, the bank has opened its newly renovated Timberlake Branch and opened its newly renovated Old Forest Road Branch. In the future, the construction of the Odd Fellows Road Branch will begin some time in Q3. All in all, this market plan should increase the visibility and presence across Central Virginia.
But the growth isn't just coming online. In fact, there have been notable improvements in the operating structure since at least 2011.

Since 2011, earnings, book value, assets, loans and stockholders' equity have increased at a CAGR of 20%, 4.9%, 1.62%, 2.57% and 5.23%, respectively. Similarly, the bank has continued to increase its capital ratios.
Fortune has continued at Pinnacle. In the first six months of 2016, higher interest income and higher loan volumes drove net income, increasing to $1,357,000 or diluted EPS of $0.88/share. This is a 16% increase Y/Y. ROA and ROE also increased to 0.64% and 7.67%, respectively. And before I forget to mention, the NIM expanded from 3.46% to 3.82%, while nonperforming loans fell to a low of 0.41%.
The main reason for the expansion of the NIM in this low interest rate environment is a function of improving core deposits. The bank is effectively focusing on its core deposit relationships, which has lowered the cost of funds and decreased the dependency on time deposits. Likewise, the sale of the James River Conference reduced the nonperforming assets by $1,075,000 and resulted in OREO falling to less than $800,000.
The bank recently paid its sixteenth consecutive dividend, increasing it to $0.10/share or an annual rate of $0.40/share. This puts the yield around 2.00%. With a relatively low payout ratio <25%, it's likely to assume there will be continued increases as earnings grow.
Pinnacle has also recently invested in Bankers Insurance, LLC, allowing the bank to offer a full service, independent insurance agency. I don't think the insurance side of the model will contribute to a ton of growth; however, this investment aligns the bank with other community banks in the area who offer similar services.
If you are interested in the bank, I would keep an eye on the efficiency ratio (trending around 76%). This isn't terrible, although it could use some improvements. Furthermore, if the bank continues to open new branches noninterest expenses may get out of control propelling the ratio higher.
I would also focus on the loan portfolio. The loan portfolio is well-diversified and nonperforming loans are at historical lows. However, the consumer, auto and other individual loans are higher than what I typically tend to deal with.
Finally, the bank is illiquid and effectively a micro-cap.
Overall, the bank is well managed and growth should continue with the recent relocations. With a P/TBV of 88% and a P/E of 10.68x, I think a margin of safety is well contained. I will continue to keep an eye on this bank and let readers know of any improvements/updates.
Disclosure: I/we have no positions in any stocks mentioned, and no plans to initiate any positions within the next 72 hours.
I wrote this article myself, and it expresses my own opinions. I am not receiving compensation for it (other than from Seeking Alpha). I have no business relationship with any company whose stock is mentioned in this article.
Editor's Note: This article covers one or more stocks trading at less than $1 per share and/or with less than a $100 million market cap. Please be aware of the risks associated with these stocks.