IntelliPharmaCeutics (NASDAQ:IPCI) announced a second positive catalyst during the after hours session on Tuesday, coming only a day after announcing its FDA tentative approval for its generic Seroquel XR tablets. The company took quick advantage of its FDA guidance by inking an exclusive license agreement with Mallinckrodt Pharmaceuticals (NYSE:MNK). The agreement provides exclusive license to Mallinckrodt for IntelliPharmaCeutics' generic formulations of Seroquel, Prestiq and Lamictal XR. All three indications have abbreviated new drug applications filed and are under final FDA review for market approval.
Under the terms of the agreement, Mallinckrodt will provide a non-refundable payment in the amount of $3M, which was paid to IntelliPharmaCeutics on October 1, 2016. The agreement further entitles IntelliPharmaCeutics to a long-term profit sharing arrangement as well as reimbursement of up to $11M of cost recovery associated to the development and manufacture of the generic medications.
Additionally, and as part of the agreement, IntelliPharmaCeutics will be the sole manufacturer and distributor of the licensed products and will be compensated on a cost-plus basis, with Mallinckrodt agreeing that IntelliPharmaCeutics will be its sole provider of all licensed products marketed in the U.S.
The news of both the FDA tentative approval, followed by the quick license deal with Mallinckrodt is indicative of the focused and determined strategy of management to move its products from the clinic to the market, working to drive additional revenue as they progress toward additional milestones scheduled to occur prior to the end of 2016.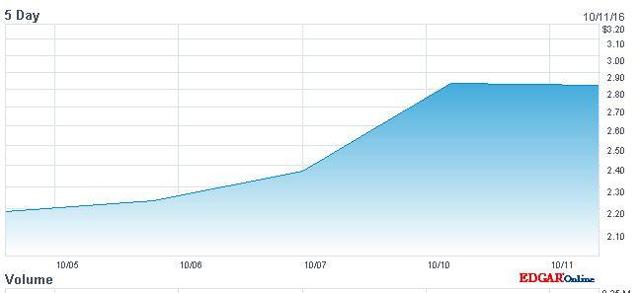 Investors in IPCI should be pleased about the new and unexpected deal, which provides immediate and accretive revenue and shores up the short-term cash requirements as the company prepares to undertake its year 2017 initiatives
Prior to the Mallinckrodt deal, investors in IntelliPharmaCeutics have been patiently focused on two pending milestones, the publication of a PODRAS patent and an NDA filing for its lead product candidate, Rexista. While each of the two events are expected to have value impact for IntelliPharmaCeutics, the news revealed by the company during the prior three trading sessions adds fuel to the thesis that IntelliPharmaCeutics is a company that is taking the appropriate and prudent steps to build a generic juggernaut, with a structural foundation that beams itself to abuse deterrent compounds as well as generic versions of popular and successful drugs already marketed throughout the world.
In a prior article, I noted the fact that IPCI was much more than a one trick pony, comparing the relative safety from a catastrophic collapse similar to that of Pain Therapeutics, the difference based on their broad landscape of clinical trials currently being studied at the company. Now, only a few days later, the company is helping to deliver my thesis for me.
The company is in a enviable position and is receiving support from some regulatory agencies. The FDA, for instance, has abated a $1.2M NDA filing fee for Rexista and will not require a Phase III trial for that indication due to its already submitted documentation of specific data requested by the FDA. The data included proof of bioequivalency to oxycodone as well as having proof of "no food effect", meaning that the bioequivalency is similar with or without the intake of food. This benefit has the potential to reduce clinical trial cost by over $20M and save 18-24 months of additional clinical trial time.
In a 6-K filing on Tuesday, IntelliPharmaCeutics highlighted certain terms of the Mallinckrodt agreement.
The agreement contains customary terms and conditions for an agreement of this kind, and is subject to early termination in the event the company does not obtain FDA approvals of the licensed products by specified dates, or pursuant to any one of several termination rights of each party. Investors should feel relatively confidant in the approval of all three products, although there is never a 100% guarantee of success when working through the regulatory hurdles imposed by the FDA. However, with the FDA already well aware of the efficacy, performance and safety profiles of each compound, the likelihood of not getting approval is fairly remote. The process for an ANDA differs from other regulatory application filings in that in a ANDA filing, the generic drug applicant is generally not required to provide preclinical data from either animals or humans.
Instead, the FDA is looking for the applicant to provide proof of bioequivalency, meaning that it performs in the same manner as the original drug in several key metrics, inclusive of time taken for the medication to reach the bloodstream, rate of absorption and attributes related to bioavailability. The data is then compared to the innovator's drug and made sure that the generic candidate delivers the same amount of active ingredients into the patient's bloodstream with an acceptable safety and tolerance profile. Thus, while some pessimistic investors may argue that additional human testing will most likely be required, the rebuttal is that it is highly unlikely that the company will need to present any additional data to substantiate its application and determination for approval. This is substantiated by the sheer definition and requirements within the ANDA application itself.
Notably for IntelliPharmaCeutics, the generic candidates licensed by Mallinckrodt combine for an annual sales figure of over $2.5B per year in the U.S. alone, representing a significant and substantial opportunity for the company to fortify an extremely large footprint in the generic arena. The potential revenue windfall could also provide relative assurance of their ability to retain the funding for additional NDA applications and trials either with or without a partner.
This agreement immediately provides leverage for the company to seek out better terms and conditions for its next partnership candidates, and based on the quick Mallinckrodt deal, the company may already be looking for a partnership deal for Rexista. The company has guided toward its intent to seek mutually beneficial partnership deals that both enhance shareholder value and gets its products quickly to market.
In regard to the Mallinckrodt deal, CEO Dr. Isa Odidi, said:
"We are very pleased to establish this long-term commercial partnership with Mallinckrodt, which follows last week's tentative approval for our generic Seroquel XR. Mallinckrodt is a respected pharmaceutical company with significant market presence in the U.S. This partnership provides further recognition of IntelliPharmaCeutics' technology platform and pipeline. We look forward to the commercialization of generic Seroquel XR with Mallinckrodt following final approval."
For their part, Dr. Frank Schols, Executive VP, Global Operations and President, Mallinckrodt, stated:
"This agreement aligns well with our strategy of strengthening our Specialty Generics business and expanding our pipeline. If approved, these drugs will provide patients with alternative treatment options for central nervous system disorders,"... "We look forward to working with IntelliPharmaCeutics to bring these products to market."
All in all, IntelliPharmaCeutics appears to be firing on all cylinders. With the upfront payment of $3M, which was received last week, the company has additional breathing room to formulate the most lucrative partnership or licensing agreement for its next leading candidate, Rexista.
Many investors were rightly concerned with a declining cash balance, projected only to last through the end of 2016. Now, buffered with additional capital, the company has at a minimum, an additional quarter's worth of cash on hand, excluding further potential receipts from the Mallinckrodt deal. Investors should further be encouraged at the speed at which this deal was consummated, demonstrating that management is working proactively in advance of expected approvals. Based on the quickness of the Mallinckrodt deal, perhaps investors can be assured that management is taking proactive steps to take advantage of the Rexista NDA filing, as well as to recognize the potential licensing possibilities that the PODRAS patent can bring in value.

IntelliPharmaCeutics remains a speculative buy, but during the prior three trading sessions, a good portion of that blind speculation has been eroded away. Investors should clearly have more confidence today than they did last Thursday, prior to the FDA tentative approval, which was then followed by this afternoon's Mallinckrodt deal.
I am keeping IntelliPharmaCeutics as a focus one stock and remain committed to my belief that two additional milestone events, PODRAS and Rexista, will be market moving events for the company, justifiably adding shareholder value based on the importance of each.
I maintain a favorable risk/reward rating for the stock and anticipate additional analyst comments in the coming days reflecting their views on not only the Mallinckrodt deal but as to the inherent value of PODRAS and Rexista. While deliberately leaving out Regabatin as a third potential milestone for the next ninety days, I leave the door open for additional shareholder value to be awarded the stock, perhaps yet another early surprise opportunity for the company to release.
With two shots already on goal this week, the chances of IntelliPharmaCeutics pulling out a hat trick is not out of the question. With the stock tightly held and with the absorption of several million shares since Friday, shares might have the technical ability to snap higher, as day and momentum traders appeared to have left the position during early morning trading on Tuesday, causing the stock to retreat by over 7% in early trading.
The news from IntelliPharmaCeutics is far from over for the quarter and the company has guided toward an NDA filing for Rexista during the Q4 period. The Notice of Allowance for the PODRAS patent has been published and I expect a final publication of that patent to be awarded relatively soon, literally on a day to day expectation.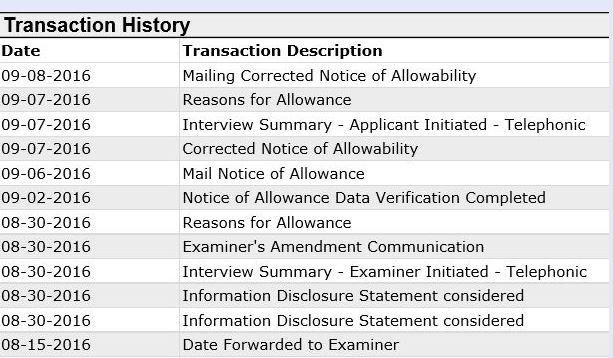 Does IntelliPharmaCeutics have a few more early surprises in store for investors during the next few weeks? Based on what investors have seen recently and taking into account what management has told investors to expect, I believe that it does.
As always, invest wisely, my friends.
Disclosure: I am/we are long IPCI,INO,ARTH,IGXT,ABEO,CTIX.
I wrote this article myself, and it expresses my own opinions. I am not receiving compensation for it (other than from Seeking Alpha). I have no business relationship with any company whose stock is mentioned in this article.