Wingstop (NASDAQ:WING) is a high growth franchiser and operator of restaurants which specializes in chicken wings. Recently, we discussed some components of our short thesis and outlined why we initiated a short in Wingstop, but since then analysts continue to publish bullish reports on the stock despite it falling substantially from the $32 per share we shorted it at a month ago. We outline some of the issues we have with the bullish and many times bias sell-side reports below and why we believe this is still a good short opportunity.
Unproven Model In New Geographies: In order to derive a price target above $30 per share, analysts are creating financial models based on Wingstop opening 2,500 domestic units over the next ten years. Obviously, as a franchise business, Wingstop is looking to create a national footprint.
However, Wingstop's model has only really been proven at scale in two states: California and Texas. Approximately, 60% of Wingstop's locations are located in Texas and California with Wingstop having very little relative exposure to typical fast casual franchise oriented states such as New York and New Jersey.
Investors who believe the long case are exposed to the major risk that these new geographies will experience the similar attractive economics and growth Wingstop has experienced in California and Texas. This risk is clearly listed in the company's prospectus: "Our expansion into new markets may present increased risks due to our unfamiliarity with those areas."
Various metrics which franchise owners in those states look at such as payback period and return on investment may not be as favorable. Additionally, consumer tastes in states such as New York and Washington differ from Texas and there may not be as much demand for a wing chain.
Average Unit Volume Growth Highly Vulnerable: In order value shares above $30 per share analysts also are projecting higher average unit volume (AUV) on these new franchised locations, but we feel this will be challenging to achieve given Wingstop's competitors offering the same product. When performing a Google search to order wings online (see below), Domino's (NYSE:DPZ) and Papa John's (NASDAQ:PZZA) both appeared higher in the search results offering nearly identical selections. As Wingstop expands to its 2,500 unit target and increases its digital marketing spend, we expect Domino's and Papa John's will increase advertising for their Wing offerings.
Domino's and Papa John's also offer highly rated and highly downloaded mobile applications (see below), and have access to greater engineering resources given the much larger size of their organizations. Wingstop management touts their implementation of online ordering, but its competitors already do this and have a much longer track record of executing online transactions as they have been doing it much longer.
Given that Wingstop's same store sales growth fell substantially year over year in their second quarter (3.1% compared to 9%), we see betting on high same store sales growth as a big risk for long investors to be taking.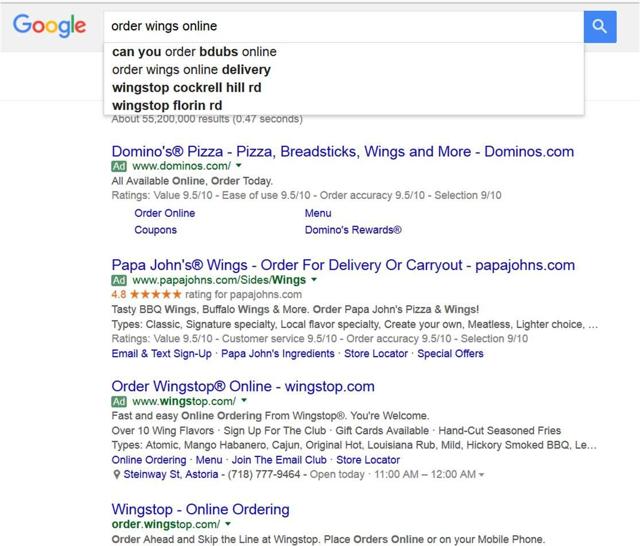 Source: Google Search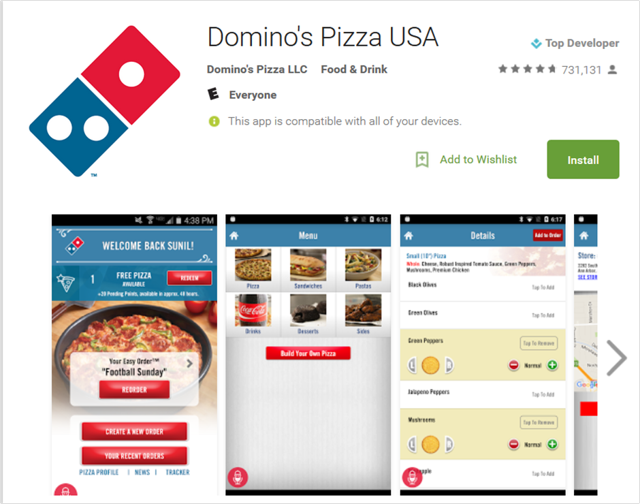 Source: Google Play Store
Valuation Is Crazy: Wingstop does deserve a premium valuation to its peers in our view given its asset light, high franchise model. However, a wing chain trading for over ten times revenue is way out of line with its peer set which trade in the two to four times revenue range. Furthermore, creating a very optimistic discounted cash flow which assumes margin improvements and a terminal multiple using Wingstop's existing ten times revenue still yields a price target way below the current price.
In our model, we also used a 7% WACC based on the capital asset pricing model and a 37.5% tax rate. We arrived at a price target of $18 per share, which was where the stock was originally priced at its initial public offering a year ago. We are not looking for the stock to pull back to its initial public offering price to close our short, but we feel the substantial valuation discrepancy provides us confidence that the stock cannot stay at its current level for long.
The sell side price targets we have seen utilize projected EBITDA going out a few years and apply a ridiculous multiple to it to derive a bullish price target. This multiple is not derived in any manner from comparable companies and is more or less hand chosen by the analyst.


Source: Author Analysis and financial filings
Key Risk Factors: There are various key risk factors to our short case. First, is that hyper growth may continue and investors continue to disregard any fundamental type of analysis. We feel investors are generally becoming more cautious (shown by record low yields) and that in the near term, there will be some pullback on the frothy valued high growth U.S. equities. Another risk is that Wingstop could be acquired. We see this as very low risk given the limited competitive moats around its business and asset light model.
Overall, we feel very confident in our short Wingstop position. Wingstop is a classic example of a good business model but at an absurd valuation. The major insider Roark Capital has already sold a large component of their shares at substantial gains from their private investment and we see no reason public investors should purchase their shares. We feel shares can easily fall to below $25 per share over the next 12 months and will be monitoring the stock closely, specifically their November 1st earnings.
Disclosure: I am/we are short WING.
I wrote this article myself, and it expresses my own opinions. I am not receiving compensation for it (other than from Seeking Alpha). I have no business relationship with any company whose stock is mentioned in this article.