According to Der Spiegel, on Friday the 9th of October, Qatari investors that already own circa 10% of Deutsche Bank (NYSE:DB) are pondering increasing their stake to 25% with other Middle East partners, likely through an equity injection.
In 2014, with Anshu Jain being the arranger of the operation, Sheikh Hamad Al Thani, former Prime Minister of Qatar invested €1.75bn in a circa 10% stake in the German lender.
Jain killed two birds with one stone: He reinforced the always precarious capital position of Deutsche Bank with fresh resources from the Gulf and brought on board a core shareholder fully committed to the idea of Deutsche Bank as the only Pan European investment bank with global reach, thus reinforcing his own position as the lender.
Things did not work out as expected for the Middle East investor though: During 2015, €7.6bn provisions were booked at the bank, and in 2016, the proposed DOJ $14bn fines from the US regulator threaten the actual viability of Deutsche Bank.
The value of the lender has fallen 61% since a maximum in 2014 and Al Thani is said to have lost - at least on paper - at least €1bn. Hardly a successful investment.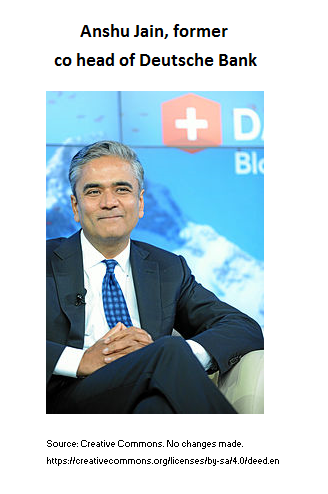 Still, allegedly Qatari investors and their partners are thinking of increasing their stake in the German lender to 25%, considering an ambitious plan to boost Deutsche Bank investment banking activities globally, and in return, asking for a high degree of control over the lender.
Several winners and losers may be spotted in the short term if the described investment goes through.
Current managers headed by John Cryan would be the big losers here as new investors would likely change the strategy of the bank and maybe the CEO himself.
The German Government would be the short-term winner as it would get rid of this politically "hot potato" one year before general elections; the price: losing control of Deutsche Bank. But given how close the German elections are and how toxic the issue of a public bailout of the biggest bank of the country may be in Germany, this could be a price worth paying.
The strategy of the Qataris could make sense too: According to Der Spiegel, Al Thani could get 25% and the control of a Pan European global investment bank on the cheap. Furthermore, an investment bank whose businesses can be fixed and expanded riding the incipient economic recovery in the Western world that would multiply the value of his holdings in 5 to 10 years.
Only if it is possible to restructure Deutsche Bank and make it grow; but is that really possible?
The problem with Deutsche Bank is that it is not only an issue of capital - which is a concern - but of a fundamentally flawed strategic design (See article "Will Deutsche Bank survive its fines?").
Assuming a capital injection from Gulf investors that could increase the CTE1 level of the bank to 12.25% or above by 2018 - the level required by the EBA - after discounting the huge DOJ proposed fine of $14bn DB would have still circa 7,000 open legal cases around the world, some of them very serious and with the potential of generating crippling fines.
Thus, a potential injection of a maximum of 15% extra capital could add to prices of today circa €2.5bn pure equity to the balance sheet, something like a drop in the Ocean.
The strategic design is worse than the capital position though: The different cultures of DB's components (New York's derivatives trading Bankers Trust style, London's Morgan Grenfell advisory and asset management and the old ways of Germany's Deutsche Bank operations) do not seem to fit easily together.
Furthermore, Deutsche Bank is not the top in any of the esoteric investment banking businesses in which it competes. That makes revenues volatile, prone to structural "one offs charges" and generally suboptimal from the organizational perspective.
These dynamics are something an injection of capital cannot sort out, even coming together with deep changes in the senior management of the bank.
Finally, the lack of a secure commercial banking deposits basis to finance this heterogeneous collection of sophisticated assets increases the instability of the whole construct. This cannot easily be solved and options are rather limited after the failed acquisition of PostBank.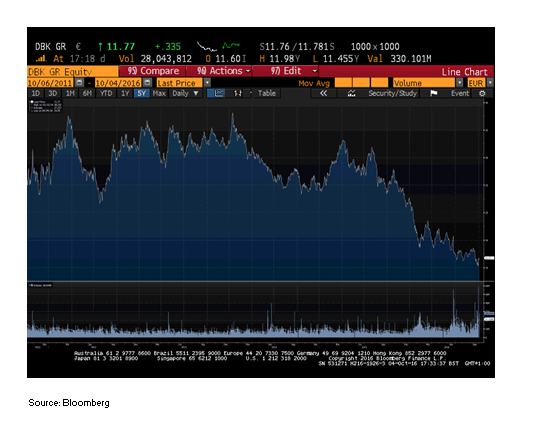 In terms of stock price, any rights issue would be good news for a short investor: Any equity injection at this point of mistrust towards Deutsche Bank would likely require a significant discount, thus diluting the positions of current shareholders and bringing down the price of the stock even more.
Over the last few days, Deutsche Bank stock price has bounced back slightly from its minimum of €10.25, but this looks like a purely technical phenomenon certainly not backed by fundamentals. If/when information that fresh capital will be injected in the lender is disclosed, the market will assume it is at a notable discount. This will make the stock price crash again and thus, generate more profits for short investors.
On the fundamentals, a prudent bank's short investor should not worry: Deutsche Bank's design is flawed and turning it around is a task that probably nobody is willing to fully consider at this point.
Summing up, with Qatari investment or not, Deutsche Bank is a great place to sell upside volatility on.
Disclosure: I/we have no positions in any stocks mentioned, and no plans to initiate any positions within the next 72 hours.
I wrote this article myself, and it expresses my own opinions. I am not receiving compensation for it (other than from Seeking Alpha). I have no business relationship with any company whose stock is mentioned in this article.