Investment Thesis
FitBit (NYSE:FIT) is a company that has designed, manufactured and marketed wearable activity trackers since 2007. The company's IPO was in 2015, after which the share price was inflated to the high 40s. The stock traded in the 30s until the end of 2015 and in early 2016 a lawsuit claimed that FitBit's heart rate monitors were dangerously inaccurate, although it was quickly determined that when properly worn FitBit's devices are extremely accurate. In addition, FitBit unveiled the Blaze in early January 2016, and the Blaze was quickly compared to the Apple (NASDAQ:AAPL) Watch and dismissed as a failed competitor. This combination of events sent the share price well below $20, a level it has not come near for the entirety of 2016. The share price has since bounced mostly between $12 and $16, with some temporary excursions outside those bounds. Despite this, the company is profitable, growing revenues and operating within a burgeoning market. As earnings approach and the share price approaches the magic number for buying ($12), my only major concern is the bar that has been set for Q4 and the guidance that FitBit will give with the next earnings report.
Unrealistic Expectations

In Q4 2015 analysts expected FitBit to earn $0.25 per share, and for Q4 2016 they have tripled their expectations to $0.75 per share. Should FitBit plan to invest more in R&D in Q4 as they projected in Q2, they may guide lower and send the share price tumbling even further.
However, at present analysts' expectations are in line with FitBit's guidance for Q3 and 2016.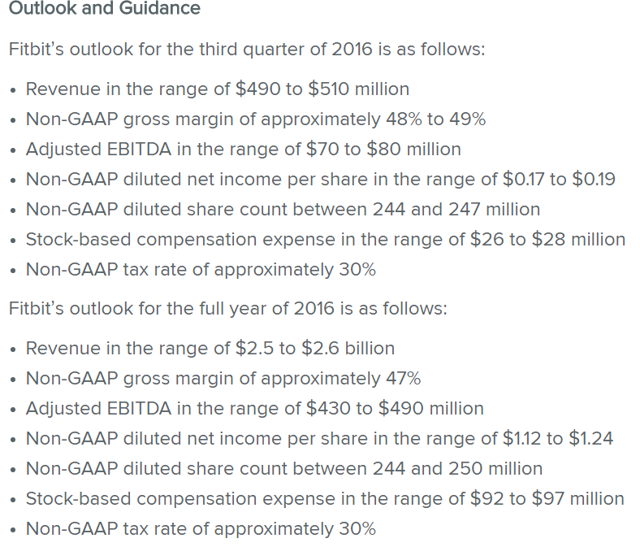 Although expectations for Q3 are at the upper end of FitBit's guidance, the expected EPS for Q4 is actually at the low-mid range, coming in at $1.16 for the year should FitBit hit the $0.19 mark for Q3.
Recent Downgrade
Another author astutely demonstrated that Pacific Crest's downgrade of FitBit from sector weight to underweight was made by an analyst with a remarkably poor track record. Furthermore, the downgrade was made primarily on the fact that stores have FitBit products in stock and that sometimes people who own fitness trackers stop using them, which suggests that Erickson's method of research going into his downgrade was to google "Bear thesis FitBit" followed by exercising his pinky and index fingers by repeatedly typing "ctrl-c" and "ctrl-v". However, the sensitivity of the stock to negative sentiment is such that this "news" sent the share price down from near $17 to its current value of around $13.50. As annoying as this is for FitBit investors, it's a perfect illustration of why you should be trading options if you own FitBit shares.
Making Money with Covered Calls

FitBit doesn't pay a dividend and likely will not for the foreseeable future. However, investors with an unrealized loss (or who are interested in income) can still make money by selling covered calls. First, it's important to answer a few questions.
1. Am I willing to sell my shares at the strike should the options be exercised?
2. If my shares are called away, do I fully understand the tax implications of the IRS Wash-Sale Rules?
3. Does the option expiration date fall after any important date, such as an earnings report or major court date?
For the trade that I showed above, the strike was higher than my cost basis for the shares so I was willing to sell them for $17. As for number 2, the account is an IRA so gains and losses don't apply. For number 3, the next earnings report is estimated to be November 2nd, so the option should expire at least a full week before an expected large positive movement in share price should occur. Negative share price movements, as happened with the Pacific Crest downgrade, can happen at any time with FitBit. So, the calls that I sold for $0.31 about a month ago now have an ask price of $0.02 and will almost certainly expire worthless. FitBit was trading at ~$16 when I sold the calls, which I'll have held for 39 days by op-ex for a little better than 19% APY. In the worst case scenario, the share price would have gone much higher than $17 and the calls would have capped my upside. However, an awareness of the boom-bust cycle of FitBit guided by extremely high short interest and perpetual rehashing of the bear thesis ensures that won't happen.
FitBit Short Interest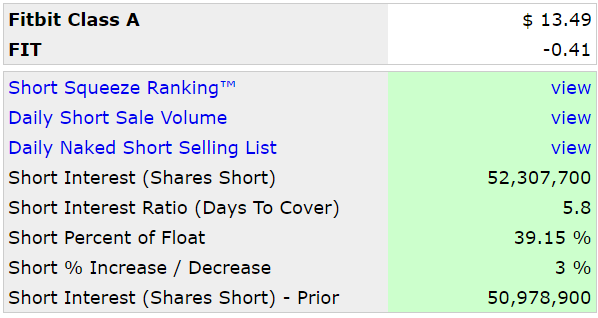 52.3M is a lot of shares sold short. Institutions own 66% of Fitbit's 164M shares, leaving ~54M shares to be owned by retail investors. What's interesting about short selling is that brokers can only borrow shares from margin accounts, not cash accounts. If you're tired of the ridiculously high short interest for FitBit, simply open a cash-only account with your broker and move your FitBit shares into it and your broker (and short sellers) will no longer be able to borrow your shares. If this were executed on a large scale, for example by institutional FitBit investors, it would immediately force a short squeeze as brokers force short-sellers to return shares by buying on the open market. For now, however, the number of shares sold short paints a grim picture. One of two things is true.
1. Almost every share that is owned by retail investors is also being shorted by retail investors.
2. The institutional investors that own 66% of the shares are shorting FitBit.
To be quite honest, the second scenario makes a lot of sense. Just as I was able to make income with covered calls, an excellent hedge against a decrease in share price is to short a stock that you own. Retail investors and traders will enter and exit at different points providing liquidity while institutional investors generate income trading options and carefully managing their short portfolios.
What About Earnings?
When it comes to earnings, FitBit has consistently guided soft then exceeded expectations. The current situation has analysts expecting FitBit to come in at the low-mid range of their own guidance. The only way FitBit goes wrong here is if they suggest that they are going to miss in Q4, which I find doubtful. I hate anecdotal evidence, but in every store that could conceivably stock a FitBit, I've seen one. I've seen them recently in Costco, and I saw them in the jewelry section of Macy's before they released the fashionable version of the Flex 2. Their spending on advertising approaches $200M, and the products are practically everywhere.
So, how do we trade earnings? First off, let the shorts guide you. As a profitable company with little need for debt, strong revenues growth and a high likelihood of beating their own guidance and thus analysts' expectations, nobody is expecting the company to go to zero. Short sellers are taking advantage of the boom-bust cycle, and you absolutely should too. The safest way to do this is to guess where the bottom is and sell some cash-secured puts.
At present, you can sell Oct 28 puts with a $13 strike at the bid of $0.41. If you think the share price is going to continue to fall, you can hold off, but I will be very surprised if those puts are in the money at op-ex. There will probably be a run-up in the share price as earnings approach. And even if they are in the money, you only lose on the trade if FitBit closes below $12.59 by Oct 28th. Anything higher and you've made money by selling those puts. You can even go for the $12.5 strikes with a bid of $0.23. Either way, even if they are exercised you will own shares at a low cost basis before earnings, which will likely boost the share price allowing you to either exit your position or sell calls for even more income.
Conclusion
FitBit's stable revenues growth and consistent ability to beat earnings estimates have failed to break it out of a boom-bust cycle where it cyclically trades between $12 and $16. However, by following the patterns in share price, investors and traders can generate profits and income from selling options at a premium such that even if the options are exercised shares are either sold or owned at a price that is acceptable. In the best case, and as often happens, sold calls and puts expire worthless so long as the seller pays attention to important dates such as upcoming earnings reports.
Disclosure: I am/we are long FIT.
I wrote this article myself, and it expresses my own opinions. I am not receiving compensation for it (other than from Seeking Alpha). I have no business relationship with any company whose stock is mentioned in this article.