The past week has not been a enjoyable one for those in junior gold miners. While gold (NYSEARCA:GLD) has seen a 10% decline from its 52-week highs, the VanEck Vectors Junior Gold Miners ETF (NYSEARCA:GDXJ) has seen a much sharper decline. The index currently sits nearly 30% off its 52-week highs, while some stocks have been halved. At the beginning of September I had nearly 20 junior miners across my 3 investment accounts, and have since stopped out more than a third of them. Despite the fact that I think gold goes much higher long term, I have been forced to let go of my weakest miners as their uptrends have been jeopardized. I let go of Yamana Gold (NYSE:AUY), Detour Gold (OTCPK:DRGDF) and Guyana Goldfields (OTCPK:GUYFF) last month, and this proved to be a very timely move. The stocks have since been crushed and are now trading 20% lower than my exits.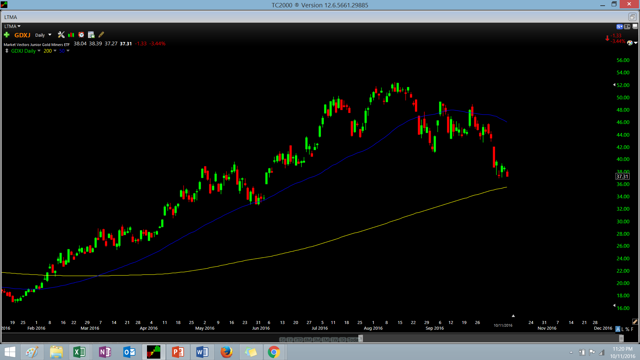 Fortunately for those in the junior space, the juniors continue to look better than the gold majors. While most of the gold majors are trading below their 200-day moving averages, several of the juniors are still fighting to hold onto them. I believe many are overlooking the fact that the junior gold miners are not just on sale for investors. The junior miners also have 30% off stickers on them for all of the majors that have been looking at them all year. This means that takeover targets that majors were anxious about paying top dollar for, are now sitting in the bargain bin. For investors who have positioned themselves in the best of breed juniors, we could be on the precipice of a feeding frenzy.
Given the decline in the price of gold as of late, my main focus now is on junior producers with industry leading cash costs. I believe we have seen the worst for gold and are near the bottom, but if I'm wrong the junior producers are a safer bet. While some of the gold juniors will be taken out no matter what the gold price due to having world class gold projects, the junior producers are de-risked. This is because not only are they takeover targets for majors licking their chops, they're also great value propositions after this current sell-off.
Finding the next takeover target
After studying acquisitions of the past 6 months, I have settled on a criteria, which I believe will aid in uncovering the next junior takeover target. Instead of looking at all acquisitions over the past 5 years, I believe it makes much more sense to look at recent acquisitions as they are much more indicative of what future M&A deals should look like. Given the fact that gold is trading at the lower end of its 5-year range, I find it more relevant to look at gold companies being acquired at current levels, than those acquired with gold near record highs. The table below shows all of the acquisitions of the past 6 months, in addition to the two junior producers I have chosen to highlight.

Source: Microsoft Excel
As we can see from the table above, the acquisition price per ounce is moving up substantially. The average numbers are based on all acquisitions prior to the Newmarket Gold (OTCQX:NMKTF) acquisition by Kirkland Lake Gold (KGILF). Prior the Newmarket acquisition 2 weeks ago, the acquisition price per ounce was $68.63. Newmarket was acquired for nearly double this amount, and is in one of the least sought after mining jurisdictions. This tells us that the acquisition price for junior producers has jumped to well above the $100 / oz range.
At first glance, the two junior producers at the bottom of the table may look expensive. If we take a closer look at the companies, we can see that this is the furthest thing from the truth. Torex Gold (OTCPK:TORXF) is currently being valued at $146.55 per ounce, but has the largest global gold resource of any of the acquisitions. In addition to this, it also has the lowest all-in sustaining cash costs of all the other juniors that have been taken over. Finally, the company's global gold resources are well above the average grade of 2.14 grams per tonne gold.
When looking at Roxgold (OTC:ROGFF), the company looks even more expensive at $209.52 / oz currently. Despite the company having a small resource which skews its value per ounce, Roxgold's grade is more than triple the other junior acquisitions. Roxgold has an average gold grade of over 13 grams per tonne, and the lowest all-in sustaining cash costs by a large margin. The company is expected to produce gold at all-in sustaining cash costs of less than $600 / oz which provides margins of over 100% on gold sales at current prices.
I believe the Newmarket Gold acquisition by Kirkland Lake set a new precedent for the junior mining space. Prior to this year, most Canadian gold producers would not even think to buy up producing assets in Australia. With this new deal going through, it shows that gold companies are not as concerned where they're buying new assets, if they're getting a deal.
Torex Gold
Torex Gold is a junior gold producer which began commercial production in the first quarter of this year. Torex Gold's Morelos Gold project is in my opinion one of the top 10 projects not owned by a major currently. The project hosts a resource of over 11 million ounces of gold between two major discoveries, its El Limon Guajes deposit and its Media Luna deposit. The company's 29,000 hectare land package is located on the prospective Guerrero Gold Belt and is relatively unexplored, with only 25% of the property having been drill tested.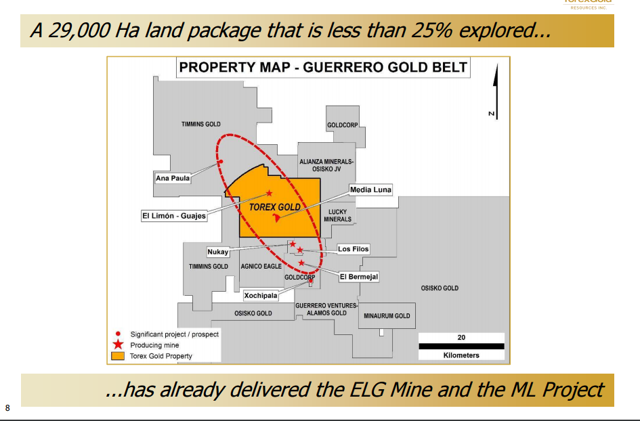 Source: Torex Gold Corporate Presentation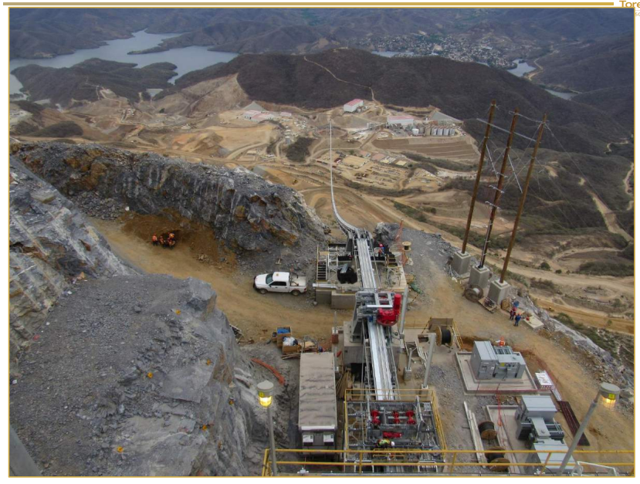 Source: Torex Gold Corporate Presentation
Torex's Morelos gold property is a rarity in the gold mining space as the technical team has not only managed to delineate one massive deposit and build a mine from it, they are aggressively working on the potential for a second. The company's El Limon Guajes Mine began production late last year, and ramped up to commercial production in Q1 at its projected run-rate of 370,000 ounces annually.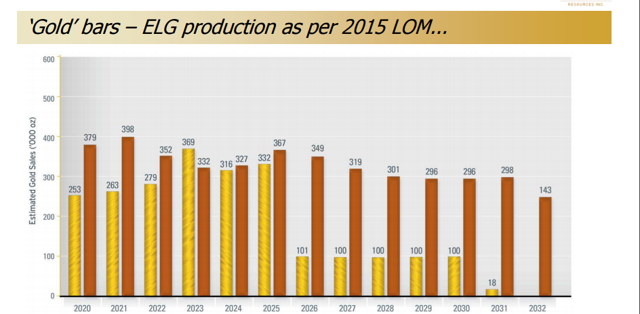 Source: Torex Gold Corporate Presentation
Taking a look at the value proposition Torex Gold, we can look to the company's second quarter results. The company produced 83,000 ounces of gold in its second quarter at all-in sustaining cash costs of $754 / oz. While this is slightly higher than their anticipated all-in sustaining cash costs of sub $700, this was only their first quarter of production. I expect this number to come down to the sub $700 / oz range by 2017 as the company better optimizes their mine plans. Diluted earnings per share was $0.08 cents which is an incredible increase from a company that wasn't even cash flow positive 6 months ago. Based on their earnings of over $22 million for the quarter, we can expect earnings of roughly $90 million for next year based on a similar gold price. The company's average gold sales were done at $1,252 / oz, which is below current spot prices. The company's Q3 results should see a strong increase, and likely come in at $28 million for the quarter, and on track for over $1.00 on an annualized basis. Based on these metrics, Torex is currently trading at a P/E of 23. This is very reasonable for a junior gold producer that has the potential to double its production without any further discoveries. As shown above the company is already looking at putting Media Luna into production, and this can be internally funded given the smooth ramp up of their ELG mine. The company has the potential to transition into a 600,000 ounce plus producer by 2020, and would transform from junior producer into an intermediate.
Roxgold
Roxgold owns and operates the Yaramoko Gold Project in southwestern Burkina Faso, which covers approximately 196 kilometers squared and is directly south of Semafo's (OTCPK:SEMFF) Mana Gold Mine. Roxgold is well known as it went from its first discovery hole into a producer in less than 5 years time. This is nearly unheard of in the industry, and is a testament to the strength of their management team's ability to deliver. The company has a resources and reserves of over 2 million ounces of gold, at an average grade of over 13 grams per tonne.
Skeptics may point to Roxgold's limited resources as a concern going forward, as their mine life may be limited to less than a decade. Fortunately for investors the company has had great success on the exploration front and released a maiden resource estimate for their QV and QV1 Zones earlier this year. The resource estimate for their QV zones located 1.8 kilometers south of their current 55 zone (the site of their current production) was another 220,000 ounces at 12.14 grams per tonne gold. This resource was derived from only 1 year of exploratory drilling and is at a 5% higher grade than their main 55 Zone deposit.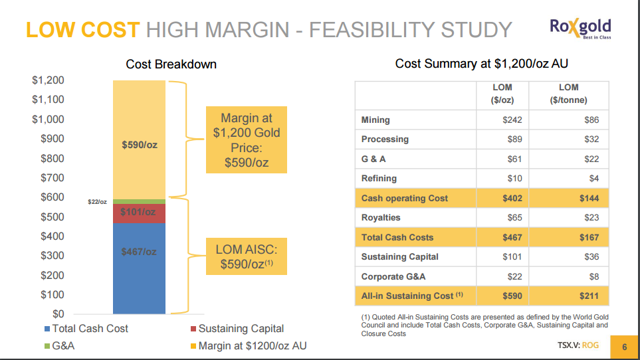 Source: Roxgold Corporate Presentation
The company just released ramped up to commercial production on time, and $4 million under budget. Roxgold produced 33,000 ounces in the third quarter, and averaged gold sales at a price of $1,334 / oz. This is an exceptional accomplishment for the company as they managed to sell their product within 3% of its 52-week highs. In addition to this, the 33,000 ounce quarterly production rate is ahead of their 99,000 annual production estimate. If the company continues to produce at the 100,000 ounce annual guidance, they will generate pre-tax earnings of over $60 million at $1,200 / oz gold. With a mining tax rate of 27.5% in Burkina Faso, this works out to $43 million in earnings each year. Roxgold's current enterprise value is roughly $440 million dollars, which means they are trading at 10 times future earnings.
Summary
I believe Torex Gold and Roxgold to be two undervalued opportunities in the gold sector currently. While my previous area of focus was on junior miners in the development stage, I am now focusing more on junior producers. This is because if I am wrong on the price of gold, I do not want to be highlighting companies that could have trouble staying afloat. Whether the price of gold drops to $1,100 / oz or even $1,000 / oz, Torex Gold and Roxgold will still enjoy margins of over 30% on their gold sales. Based on their current valuations I believe they are great value propositions, and takeover targets for gold majors looking to pick up cheap ounces. I continue to believe that gold is going higher long term, but that is contingent on it holding the $1,200 / oz level. I am currently long gold at an average cost of $1,253 / oz, and long the VanEck Vectors Gold Miners ETF (GDX) with an average cost of $22.69. I have stops below on both of these trades, and while I'm in the camp that both go higher - I could be wrong. Whether I'm wrong on my gold and GDX thesis, I believe these two companies should weather the storm much better than others.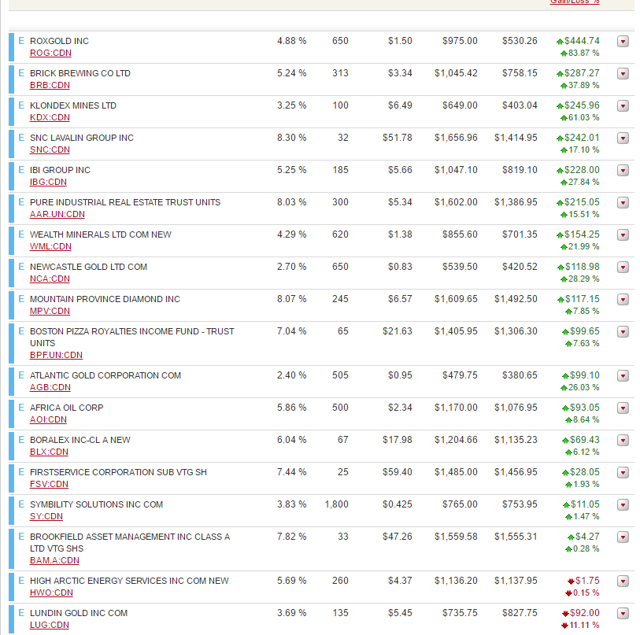 Source: CIBC Investors Edge Account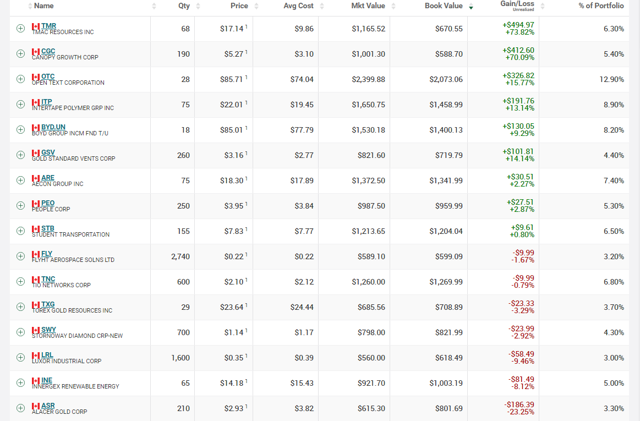 Source: TD WebBroker Account
I have enclosed my current portfolios to show that I remain long miners and my money is where my mouth is. Despite the carnage in the sector over the past week, I still remain long more than half of my gold juniors. I continue to sit on large unrealized gains on many positions in the gold space, but am not taking profits. In my opinion it's not over until it's over, and until my stocks break their stops levels, I will remain long.
Disclosure: I am/we are long ROGFF, TORXF, GDX, GLD.
I wrote this article myself, and it expresses my own opinions. I am not receiving compensation for it (other than from Seeking Alpha). I have no business relationship with any company whose stock is mentioned in this article.
Additional disclosure: If you liked this article and found it useful, please feel free to follow me by clicking on my name next to my avatar at the top of this article. I also invite you to check my performance at TipRanks.com where I am ranked in the Top 100 Contributors for performance with an average return this year of 60% on new long positions in equities.
Editor's Note: This article covers one or more stocks trading at less than $1 per share and/or with less than a $100 million market cap. Please be aware of the risks associated with these stocks.