Business Overview
Alliance HealthCare (NYSE:AIQ) is one of the largest medical imaging and radiation therapy companies in the U.S. Its business can be divided into three distinct segments:
Radiology, ~70% of revenue. The company does MRI and PET/CT scans, both in mobile trailer units and at fixed sites. Key customers are smaller hospitals that don't have the financial means to purchase, maintain, and/or operate their own imaging machines. Revenue is primarily generated via exclusive long-term contracts, where Alliance gets paid on a per-scan basis.
Oncology, ~21% of revenue. Alliance provides a wide range of radiation oncology services for cancer patients. These services are all performed at fixed sites, typically within hospital, and include patient preparation, treatment (such as LINAC-based radiation therapy), and follow-up care. Here, too, the company's revenue contracts with hospitals are exclusive, long-term in nature, and even include automatic renewal provisions.
Interventional, ~9% of revenue. This new segment, started in early 2015, offers pain management procedures (like nerve blocks and steroid injections) as well as surgical radiology (like angiographies and biopsies), which makes it a natural complement to the core radiology business. All services are performed at company-owned practices, and revenue comes from direct billings to patients and third-party payors such as Medicare, Medicaid, and private insurers.
Predictable Revenue Stream
Alliance benefits from several related competitive advantages. For instance, nearly 80% of its revenue comes from exclusive, long-term contracts with hundreds of hospitals across the U.S. These contracts average 3+ years for mobile MRI services, 5+ years for fixed-site hospital-based MRI and PET/CT services, and 10+ years for fixed-site hospital-based radiation oncology services.
But it gets even better. Because the company generates most of its revenue by billing hospitals rather than by billing patients or other third-party payors, its exposure to bad debts is significantly reduced, as evidence by a bad debt expense of only 0.6%. In comparison, main competitor RadNet's (NASDAQ:RDNT) bad debt expense is nearly eight times greater at ~4.5%.
High switching costs also help. Alliance generally provides multiple, complementary services, which locks customers in and discourages them from switching to a competitor. And the sheer price tag of radiology and oncology machines prevents most hospitals from purchasing their own. Case in point: a top-of-the-line LINAC (or linear accelerator) can cost as much as $4.5 million. For a state-of-the-art 3 Tesla MRI machine, the price tag can reach $3 million. Even a relatively cheap PET/CT scanner still prices in at $2 million or more. None of these figures include annual maintenance and operating costs, which easily exceed $100,000 per machine.
In short, long-term contracts, high switching costs, and exorbitantly expensive equipment results in a very "sticky" customer base, as evidenced by Alliance's customer retention rate in the mid-to-high 80s%. This, along with the non-cyclical nature of healthcare demand, gives the company a stable and recurring revenue stream, which enabled it to grow and remain profitable even during the 2008-2009 recession.
Accelerating Growth
With a 10-year revenue CAGR of only 1%, Alliance is by no means your typical growth stock. The radiology business (70% of revenue), hurt by continuous reimbursement cuts, has been a drag on overall growth with a 10-year CAGR of negative 2%. Conversely, oncology's (21% of revenue) 10-year CAGR exceeds 20%, and the new interventional segment (9% of revenue) is on pace to exceed 60% year-over-year growth in fiscal 2016. As these two segments become larger and larger revenue contributors going forward, Alliance's overall growth rate will naturally accelerate.
With that said, the key growth driver in the coming years will be the aging population. The number of U.S. residents aged 65+ is projected to increase from 40 million in 2010 to 73 million by 2030. Because illnesses and injuries increase with age, this trend will drive more demand for Alliance's services. Increasing number of applications for imaging technologies is another plus. Specifically, MRI is becoming widely used for breast cancer screening because, unlike a mammogram, it doesn't expose the patient to radiation. This is good news for Alliance, given that nearly 40% of its revenue comes from MRI scans.
So, how large is Alliance's total addressable market (or TAM)? Here's a back-of-the-envelope estimate:
The radiology market is worth ~$15.5 billion. This estimate is based on total medical imaging industry revenue of $16.1 billion in 2014 (latest data), which has declined, on average, by ~$270 million per annum since 2008, chiefly due to Medicare reimbursement cuts. Extrapolating this to 2016 implies a total revenue estimate of about $15.5 billion. (Note that 2017 reimbursements are expected to remain flat relative to 2016 rates, which should help the radiology business return to positive growth).
The oncology market is worth ~$8 billion. As of 2013 (latest data), there were 2,340 radiation therapy centers in the U.S. A typical Alliance-run center generates around $3.1 million in annual revenue. Multiplying these two numbers equates to a $7.3 billion total revenue opportunity. The current figure is probably closer to $8 billion as the number of oncology centers has likely increased since 2013.
The interventional market is worth ~$10.6 billion. Information on this market is sparse, but here's what we know. In 2013 (latest data), there were 6,801 doctors specializing in pain management in the U.S. On average, there were 1.6 doctors per clinic. Which means that the total number of clinics (hospital-based and private) was 6,801 / 1.6 = 4,251. The typical clinic generates anywhere from $2.5 million to $3.5 million in annual revenue. Even taking the low end of that range, the total interventional market is worth at least $10.6 billion.
Adding everything up, Alliance's TAM is: $15.5 billion (radiology) + $8 billion (oncology) + $10.6 billion (interventional) = $34.1 billion, and growing. Based on the company's trailing 12-month revenue of $494.2 million, this TAM has only been penetrated by about 1.4%.
It's also worth briefly mentioning Alliance's planned international expansion, which will likely begin within the next few quarters. In early 2016, Fujian Thai Hot, an investment holding company based in China, purchased a 51.5% stake in Alliance. Thai Hot believes that the healthcare market in China is underserved. Cancer is a particular problem. In fact, it's the leading cause of death in the country, with smoking and air pollution being the primary culprits. Alliance, being one of the largest radiation oncology companies here in the U.S., is the ideal partner to help address this problem. The growth potential is simply enormous considering that China has more than four times as many inhabitants as the U.S.
Grossly Undervalued
Before getting into the valuation, it's important to mention that Alliance makes numerous acquisitions/dispositions of facilities and equipment. From an accounting standpoint, these transactions create all sorts of one-time charges and gains that have nothing to do with the core business. As such, these accounting distortions must be removed in order to get a good approximation of the company's true profitability.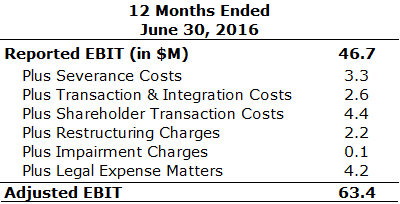 Source: A North Investments, Alliance's SEC filings and conference calls
As shown above, Alliance generated $63.4 million in trailing 12-month adjusted EBIT, which is simply reported EBIT adjusted for non-recurring items. Based on this, the company is trading for just 11x enterprise value (or EV). This is a 46% discount to RadNet and a 76% discount to Digirad (NASDAQ:DRAD). (Note that peer EBITs have also been adjusted for comparison purposes).

Note: (1) Enterprise value = market cap - cash and short-term investments + total debt (including capital leases) + preferred stock + minority interest. (2) Adjusted EBIT = reported EBIT +/- non-recurring items. (3) My article on RadNet can be found here.
Source: A North Investments, Company SEC filings and conference calls
A valuation this low is unjustified for two main reasons: (1) Unlike its competitors, Alliance generates the vast majority of its revenue via exclusive, long-term contracts with hundreds of hospitals across the country, giving it a relatively predictable revenue and EBIT stream; and (2) Alliance's service offerings are also more diversified, which partially (although not totally) insulates it from imaging reimbursement cuts.
All things considered, Alliance is at the very minimum worth 15x EV/EBIT (a still large discount to peers). This implies a fair value of $31.60/share, or 317% upside potential from the recent price of $7.57/share.
In fact, even a more peer-like 20x EV/EBIT multiple is still reasonable given the double-digit CAGRs of the oncology and interventional segments and the upcoming China expansion. This would imply a fair value of $61.55/share, representing 713% upside potential from recent price levels. In short, no matter which way you slice it, this stock is absurdly cheap.
Key Investment Risks
All investments come with some level of risk, and Alliance is no exception. Here are the key risks to consider before investing in this stock:
Chinese investment firm Thai Hot controls nearly 52% of the outstanding shares, which means smaller investors have little say in what happens at the company.
Imaging and radiation therapy equipment is enormously expensive, forcing Alliance to finance some of its acquisitions and equipment purchases via debt, which totaled $522 million as of Q2 2016 (net of cash). Rising interest rates will increase the company's interest expense, hurting its bottom line.
Because most of Alliance's expenses are fixed, a relatively small change in revenue could have a disproportionate negative effect on profitability.
While revenue has so far been relatively stable, continued imaging disbursement cuts, particularly from Medicare, could hurt growth and profitability. On a positive note, 2017 reimbursements are expected to remain unchanged relative to 2016 rates.
Conclusion
Alliance trades at a huge discount to peers. This discount is simply unjustified given the company's stable revenue and earnings stream and accelerating growth. Investors who buy this stock below $8/share are likely to reap tremendous long-term gains: valuation points to upside of more than 300% over the next 24 to 36 months.
Disclosure: I am/we are long AIQ.
I wrote this article myself, and it expresses my own opinions. I am not receiving compensation for it (other than from Seeking Alpha). I have no business relationship with any company whose stock is mentioned in this article.
Editor's Note: This article covers one or more stocks trading at less than $1 per share and/or with less than a $100 million market cap. Please be aware of the risks associated with these stocks.