Furnishing components maker Leggett & Platt (NYSE:LEG) may not be the flashiest company in the world, but it sure is one of the most consistent. It has raised dividends every year for the last 45 years, making it a Dividend Champion of the best sort, and a stock that I would pick up anytime it becomes reasonably priced.
Well, for the first time since late 2015, Leggett & Platt has become reasonably priced again, and so I have no problem recommending this as a solid income investment. This article takes a look at Leggett & Platt's latest quarter, it's three-year plan for shareholder returns, valuation, and of course dividend and dividend growth prospects.
The plan for acceleration
Since 2010 Leggett & Platt has achieved only 3% or 4% dividend growth per year. That's not so great. But recently management launched a 3-year plan to increase margins, accelerate sales growth to 7% compounded, per year, and average 8% dividend growth over the same period.
Management looks to achieve this by reviewing its myriad of business units, and putting each into one of four categories: Grow, core, fix, or divest. Over the next couple years, the new Leggett & Platt will be much more focused on businesses such as adjustable beds, automotive comfort and bed springs.
We can expect 'total shareholder return' of between 12%-15%. This will include 4%-5% annual revenue growth, 2%-3% margin growth, a 3%-4% dividend, and a 2%-4% buyback. I think, for dividend investors, that is a solid vision worth investing in when the price is reasonable.
Leggett & Platt still has many businesses, but its core and growth businesses are the following: Bedding, automotive, adjustable beds and home furniture. In general, Leggett & Platt will achieve its ambitious growth thanks to a demand for increasing complexity in some of the furnishings Leggett & Platt makes materials for. Let's take a look at these divisions one-by-one.
More content, more revenue
In automotive, Leggett & Platt grew revenue from $400 million in 2007 to $700 million in 2015. That will continue, as management expects 1,000 basis points of growth above global automotive sales, which are 2%-3%, which would mean 12%-13%. This is driven by the increasing complexity of powered seats, doors and comfort itself. This includes motors for those powered seats and doors, motors which Leggett & Platt also makes.
In 'bedding,' Leggett & Platt expects 5% compounded revenue growth. The company makes box springs for mattresses and mattress inner coils. A similar trend is going on in this field; many older mattresses are getting replaced with 'comfort core' bedding, which goes for 2 times the selling price on average. 'Comfort core' has only 35% market penetration in the US, compared to over 70% in Europe. Also, 'Quantum edge' beds are gradually replacing foam encasing, the former also having more content per bed.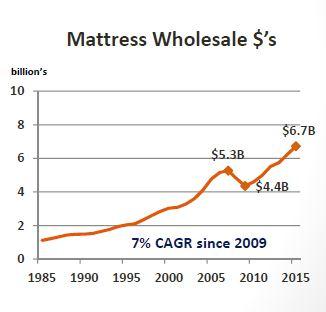 Mattress sale volume has increased steadily as mattresses become more complex. A good trend for Leggett & Platt. Courtesy of Leggett & Platt Investor Relations.
The third largest segment is in adjustable beds. Here, management expects compound growth of 15% from the entire industry. A trend similar to bedding is at work here. North American markets are demanding greater comfort from bedding. This may have something to do with an aging population. In any case, the trend results in higher average sales per unit and more content per unit, both of which directly benefit Leggett & Platt.
Valuation and Conclusion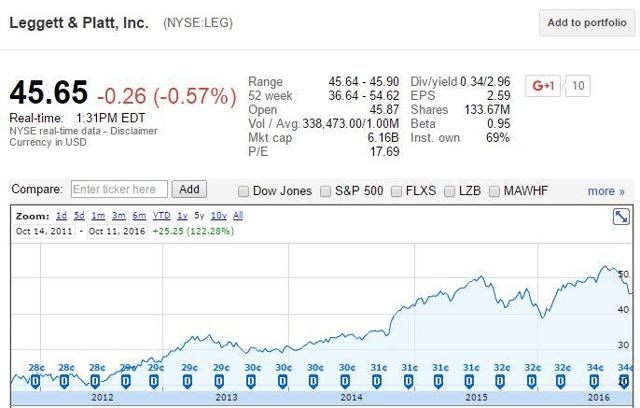 Leggett & Platt has dipped over the last couple months.
Since July 22nd, shares of Leggett & Platt have dropped by 14.6%, and I believe that now is a good time to wade into this name. That is what I intend to do.
And it's not just on an absolute but also a relative basis. According to data from FAST Graphs, shares have averaged 18.5 times trailing, operating earnings over the last ten years. As of today, Leggett & Platt now trades at 18.4 times. Leggett & Platt isn't at a discount of any kind, but it is reasonably priced. Not to be too arcane, but over the last three years, shares of Leggett & Platt have bounced whenever they have drifted down to their average ten-year valuation. As long as that bull-market trend is intact, then this is a good time to start buying. I also believe that a yield of 3% represents a solid entry point.
Here's what you'll get with Leggett & Platt: A Dividend Aristocrat with a dividend growth record going back multiple decades, and a company well-positioned to take advantage of a few key growth trends in furniture, components and bedding. I believe now is a good time to get into this solid investment.
If you're interested in Leggett & Platt, feel free to follow me on Seeking Alpha. I am expanding my coverage of stocks and plan on writing about this one, and providing updates when doing so is material and relevant.
Disclosure: I/we have no positions in any stocks mentioned, but may initiate a long position in LEG over the next 72 hours.
I wrote this article myself, and it expresses my own opinions. I am not receiving compensation for it (other than from Seeking Alpha). I have no business relationship with any company whose stock is mentioned in this article.