Alibaba's (NYSE:BABA) impressive uptrend over the past few months has left the stock in the triple digits. It is my concern that investors will start taking gains on this stock because of this critical level being reached rather than hold their position for the long-term. A comparable analysis supports this idea because enterprise value-driven metrics, in particular, are showing that the company is overvalued against its toughest competitors. Thus, the outlook for Alibaba's stock is uncertain as it tries to take out higher resistance levels.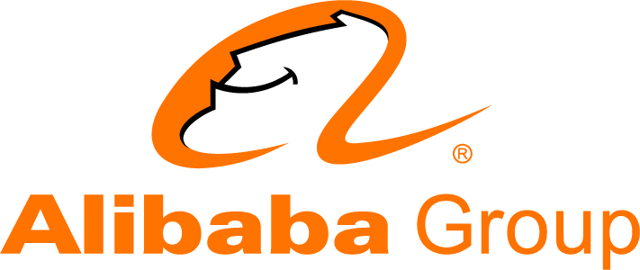 Source: Alibaba
What Wall Street Says
Agreements and cooperation across Wall Street are rare. With Alibaba, they're even rarer. That's why I found it so interesting that nearly every analyst on the street says to buy the company. Alibaba is up now about 30% YTD and there really isn't any visible risk/reward scenario as the company has been on an uptrend since mid-February and broken multi-year resistance levels. Interestingly enough, I'm seeing the company struggle to breach the $110 level as it has tested that resistance level twice in the last month and failed to breach both times.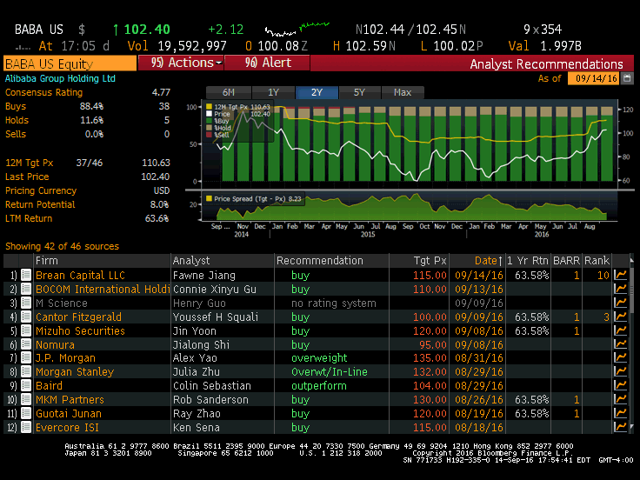 Source: Bloomberg
In my last article, I questioned whether or not shorting the company was a good idea. Fears around Chinese growth are incredibly valid and the expectations for the company are awfully high. At the time of writing that article, concerns over whether or not China would be able to hit its long-term GDP growth rate of 6.5% while transitioning to a consumption-driven economy were present on multiple headlines. That growth rate presents an interesting paradox, however. Because that rate is so high relative to other consumption-driven economies, investors expect much more out of Alibaba. It's arguably justified, but nonetheless a hurdle for the stock to overcome. I've retained my long position, as I said I would, because this is a long-term play for me.
If every analyst on Wall Street is telling you to buy, at bare minimum what you should do is listen. You don't have to agree with them, but you should do due diligence on the company. With price targets implying another 20% upside in the NTM, there's strong momentum from the sell-side to major investors to buy this stock. The due diligence I will be doing today is a comparable analysis.
Comparable Analysis
Market tops and especially new 52-week highs for stocks always make me value conscious. Some companies can't be explained by normal valuation metrics, which I believe is partially true for Alibaba given its immense growth profile, but they're nonetheless useful to look at. The areas of focus will be trading multiples, margins and growth rates.
I've complied a series of trading multiples for the following companies: Baidu (NASDAQ:BIDU), Tencent (OTCPK:TCEHY), eBay (NASDAQ:EBAY), JD.com (NASDAQ:JD) and Facebook (NASDAQ:FB). There were several other competitors I could've chosen, but I wanted a more refined universe based on competitive threat, not size. To add perspective, Alibaba has a market cap of $271 billion, which trails Facebook at $374 billion. However, it leads Tencent at $261 billion, Baidu at $62.9 billion, JD.com at $39 billion and eBay at $36 billion. All of these firms have minimal debt profiles relative to the equity components in their capital structure, so I will not be discussing credit-related metrics as the companies all have more than enough cash flow to cover near-term obligations.

Source: Derived From CapitalIQ
For the trading multiples, it should be noted that all of these figures are based on LTM and not consensus NTM projections. Right off the bat, we can see that the book value per share and the price to book metrics tell a very negative story about these companies. I don't particularly use these ratios in my everyday analysis as they are more geared toward Graham and Dodd value investors. If anything, these book multiples tell you that these companies are trading with little to no margin of safety. The multiples seem exorbitant, but remember that we're dealing with a basket of companies that are in high-growth businesses, where multiples tend to become normalized with company maturity. Thus, valuation metrics like these need to be taken with a grain of salt.
We can provide a bit more criticism to the enterprise value metrics, however. BABA has the highest EV-driven metrics across the board. For EV/EBIT and EV/EBITDA, in particular, BABA is at least thirteen turns higher than the closest competitor. This is the primary signal that I believe investors are seeing and concluding that the company is overvalued. These metrics are incredibly popular among the investment community and used in nearly every ounce of security analysis, meaning that investors are currently knowledgeable of BABA's high levels.
An interesting metric to view, however, is the diluted calculation of P/E as it contradicts the overvaluation of the company as detailed by the EV metrics. Here, BABA is higher then the broader stock market, which currently has a P/E of about 24.7, but trails FB and Tencent considerably. This is a positive sign and puts it just slightly above average in this comparable group. So, while BABA is overvalued by most metrics, the P/E action offers a rebuttal.
It should be understood that the market has known about these high ratios for many, many quarters now. The expansionary business plan of Alibaba right now has been the justification of an overvaluation, thus allowing the stock to run up. Unfortunately, when negative news develops about the company, like the inability to hit analyst expectations, the stock drops in an aggravated manner relative to peers because of its high valuation. Still, I think that because investors have already known about these high multiples, that it will not be a downside catalyst in the coming months. If anything, it is an aggravator.
Moving forward, let's take a look at the company's margins. Operating the highest margin business is indicative of a well-run company and a superior management team, which is what I'm looking for in this analysis.

Source: Derived From CapitalIQ
Here, we can see that BABA's margins across the board are exceptional. The gross margin is high at nearly 65%, which is above average and slightly above the median. BABA's EBITDA and EBIT margins tell the exact same story, which is a positive sign for investors who are concerned about the company being overvalued. I would like to see these first three margins improve to be more in line with Tencent's margins, but those improvements will come with time.
The most surprising metric in this screen is the net income margin. BABA has one of the highest net income margins, trailing only BIDU. The translation from the top to the bottom line, in a market where they move incredible volumes, is absolutely the hallmark of a well-run company. I'd like to throw in another competitor, at this point, Amazon (NASDAQ:AMZN), which also moves a significant amount of volume in any given fiscal year. Amazon's net income margin is just 2.81%. Alibaba looks like a diamond in a rough relative to Amazon with a 42% net income margin. Again, there's more evidence that there is a balance in valuation in other areas of the business to offset the high trading multiples.
Finally, let's turn to the growth rates. While the business models and markets of all these firms are different, as well as what stage they are at in the business life cycle, it is important to see how fast they're all growing. Additionally, investors should note that data on JD.com was skewed and therefore not included in the universe for a majority of metrics.

Source: Derived From CapitalIQ
Clearly, FB leads the pack with a 51.37% growth rate. BABA isn't too far behind with 40.13%, which is still a high growth rate. I am a bit disappointed that Alibaba's growth rate isn't higher than Facebook considering that a high level of revenue for Facebook comes from the United States, a country with a roughly 2% growth rate. If the growth rate in China truly is 6.5%, we should be seeing the top-line growth rate of Alibaba well surpassing that of Facebook.
EBITDA growth, then, becomes the next important metric. BABA's growth rate is strong on this and above the median. They only trail FB in this category. In terms of EBIT growth, we see much of the same story, with Alibaba again above the median but still trailing FB. Both of these inputs directly affected the EV-driven multiples, so it is interesting to see that Alibaba is basically leading the pack in terms of growth rates. Perhaps a saving grace is that if these growth rates remain constant or even pick up slightly, then the EV multiples will come down, allowing Alibaba to be valued more favorably.
Finally, there's the bottom line growth rate, where BABA significantly suffers. The translation of earnings and taxes clearly is enough to reduce the net income growth rate to just 12%, where they are outpaced by all competitors except eBay. Even BIDU, which saw its EBIT growth rate plummet, more than doubled their bottom line. Strength in net income and, subsequently EPS, for BABA needs to become a priority. Yet, given how high the net income margin already is (above 40%), it's not surprising that the bottom line growth rate is slacking relative to comps. All things considered, BABA's growth rates are pretty strong and the bottom line improvements are controllable by management.
Conclusion
Alibaba has seen an impressive run over the last few months and investors are in sort of a waiting period for a piece of news to bump the stock up and take out the $110 level. In a comparable analysis, BABA holds its own, maintaining high margins, notably a high net income margin. Growth rates also are among the top ranks of peers with no real areas of concern. The areas where BABA needs to improve are the EV metrics. EBITDA, EBIT and sales need to come up in order to justify a continued uptrend and lower the overall valuation. While the growth rates are capable of allowing this to happen, time remains the primary uncertainty.
Disclosure: I am/we are long BABA.
I wrote this article myself, and it expresses my own opinions. I am not receiving compensation for it (other than from Seeking Alpha). I have no business relationship with any company whose stock is mentioned in this article.