Over the last several years, Lexington Realty Trust (NYSE:LXP), has been recycling properties in their portfolio in an effort to improve the quality of their holdings. Their specific goals included lowering interest rates on debt, increase the percentage of revenue from long-term leases, and decrease exposure to office and multi-tenant properties.
Many companies develop plans to improve their business, few actually implement the strategy effectively. Lexington has been successful at reaching several of their stated goals. The recent sale of Lexington's remaining 3 New York City properties is a pleasant cherry on top of a well executed plan.
Cashing In
The three properties were all ground-leases with hotels built on them (Sheraton, Doubletree and Element). For those less familiar with real estate lingo, a ground lease is an agreement to lease the ground along with developmental rights. The tenant can build and is responsible for any maintenance to the building while the landlord retains ownership of the underlying land. At the end of the lease, any improvements on the land are transferred to the land owner.
These types of leases are mostly seen in very large cities and are typically very long term. This particular lease isn't scheduled to expire until 2112. These types of leases benefit from being very safe investment vehicles, but with returns of less than 5%, they are a place to park large amounts of cash, not a great place to profit.
The three properties were purchased together at the end of 2013 for $302 million. Three years later, Lexington sold the trio for $338 million, at a cash capitalization rate of 4.6%. In addition to the $36 million in principal growth, Lexington enjoyed roughly $5 million per year in cash flow after debt service. The resulting net gain of $50 million is better than was anticipated.
The total profit on the properties works out to be an average return of approximately 5.5% per year. Not an earth shattering number; however, it proved a great investment for Lexington to park cash while it focused on overhauling its portfolio.
Busy As Bees: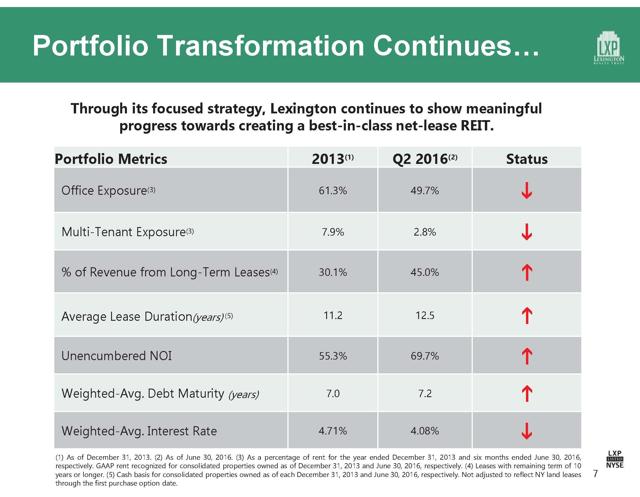 (Courtesy of LXP Investor Presentation August 2016)
As seen above, Lexington has been very busy the last 3 years.
Lexington has been aggressively retiring debt in an attempt to lower the interest it pays and improve flexibility. Since 2013, Lexington has lowered its average interest rate from 4.71% to 4.08%. A number that will continue this trend as the three NY properties had a loan at 4.66% interest that was assumed by the buyer.
With an impressive 69.7% of its NOI now coming from unencumbered properties, and longer average debt maturity, Lexington will continue to enjoy more cash flow and greater flexibility to adapt to market changes.
Longer average lease duration and less exposure to office and multi-tenant properties provides Lexington with significantly improved stability.
The sale of these safe New York investments is a signal that Lexington is nearing the end of its overhaul, and those funds can now be redirected towards higher growth and higher profit ventures.
Higher Profit Properties:
In 2015, Lexington sold 9 properties for $265 million at a cap rate of 6.3% and purchased 9 properties for $483 million at a cap rate of 7.4%. 2016 will see even better improvement with an average disposition cap rate of 5.5%-6.25% (and with the New York sale, quite possibly even below 5.5%).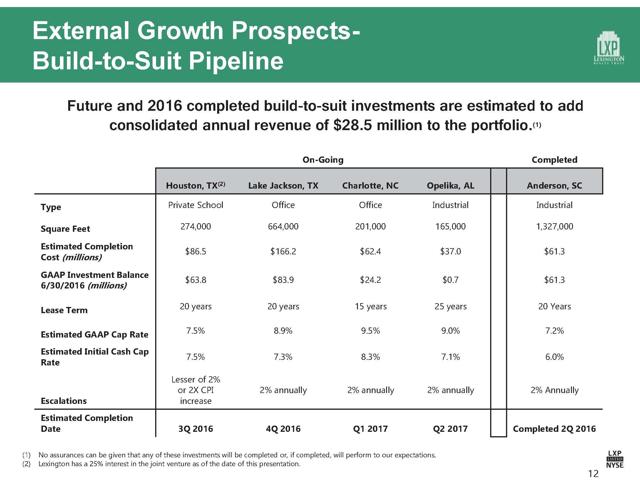 (Courtesy of LXP Investor Presentation August 2016)
To replace the properties it is selling, Lexington has been primarily relying on build to suit developments. Four of them will be finished before the end of the year and two more will be finished the first two quarters of next year. With an average lease term of 20 years and an average cap rate of 7.3%, these projects are scheduled to bring in over 20% more revenue than the properties sold year to date in 2016 with a smaller initial investment.
Build to suit has several benefits that fit well with Lexington's new strategy. The lease terms are generally longer to allow the investor to recoup their cash. Unlike the purchases made by some REITs, the scheduled lease payments are usually greater than the initial investment. Instead of counting on tenants to voluntarily renew, capital is recouped within the original terms.
Also, tenants that customize their place of business are less likely to want to terminate the lease. The building is tailored to their specific business needs. It should be noted that this could also be a negative, should a tenant go bankrupt and vacate the building some of the customizations could actually make the building more difficult, or even impossible, to lease to second generation tenants.
Additionally, capital expenses on new buildings are more predictable and less frequent than with aging buildings.
Conclusion:
The sale of these New York properties comes at the end of a selling spree. As Lexington nears its long-term goals, investors can expect dispositions to slow down in 2017 and 2018.
It remains to be seen whether Lexington can continue to ink build to suit deals or find acquisitions at higher cap rates. Investors should keep an eye on acquisitions the next few years, to ensure Lexington continues investing in quality.
Investors can be confident that Lexington has a great yield, solid long-term investments and potential for significant growth in the near future. The improvements seen over the last three years have been methodical, organic and long term. Investors can expect to reap the benefits for many years to come.
On the risk side, investors should keep an eye on acquisitions to ensure that quality standards aren't cast aside as emphasis turns away from dispositions and towards acquisitions. Great portfolios can quickly be destroyed by overreaching in the name of growth.
Overall, I believe that Lexington is currently at a bargain price and expect that it will continue to be a bargain as REIT values in general face headwinds.
(Sources: LXP Filings, New York City Property Records, loopnet.com)
Disclosure: I/we have no positions in any stocks mentioned, and no plans to initiate any positions within the next 72 hours.
I wrote this article myself, and it expresses my own opinions. I am not receiving compensation for it (other than from Seeking Alpha). I have no business relationship with any company whose stock is mentioned in this article.