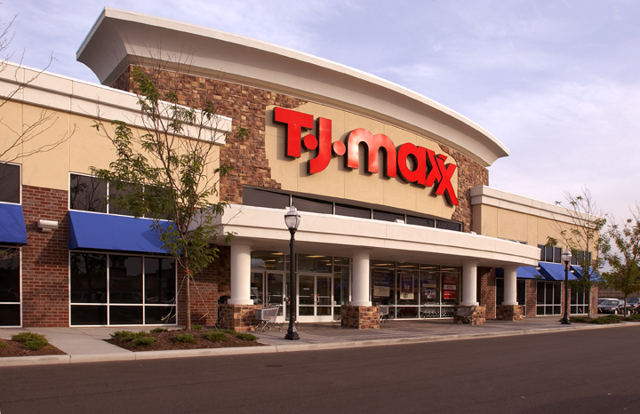 TJX Companies (NYSE: TJX) is a large-cap apparel retailer started in 1919 as a ladies hosiery business. Starting in the 1970's, the company shifted to what it is known as today, shifting to an off-price retailer. Today, the company operates 3,600 stores in 9 countries, and is the leader in the off-price marketplace operating under the T.J. Maxx, Marshall's, Winners, Trade Secret, Sierra Trading Post, HomeSense, T.K. Maxx, and HomeGoods brands. Their main competitor is Ross Stores (NYSE: ROST), which I plan on analyzing in a later article.
TJX operates by sourcing clothing from a variety of vendors, the top 25 of which only represent <20%. They use over 1,000 agents worldwide to build relationships with thousands of companies in order to find the best deals on products to stock their shelves. They see it as an advantage that their store is set up in such a way that they can adapt to changing trends quickly.

TJX's growth potential is pretty outstanding, if their projections are to be believed. They believe that they could expand their store count from 3,600 to 5,600 in just their current markets without saturating. Their history of succeeding in international markets puts them in an elite group of retailers that are able to scale into foreign countries, so they have a solid growth runway ahead of them. In 2015 alone, they expanded into Austria, Australia, and the Netherlands.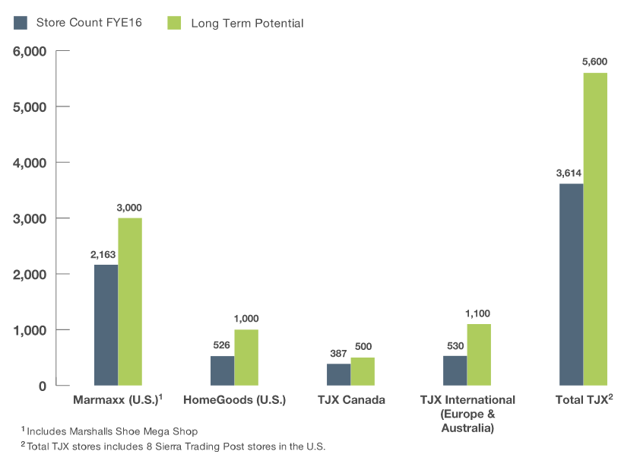 Source: TJX.com
In addition to their aggressive growth targets in brick-and-mortar, TJX acquired an e-commerce company called Sierra Trading Post in 2012, which deals in off-price apparel retail. They now operate three e-commerce sites (the other two being tjmaxx.com and tkmaxx.com) where they offer free shipping and free returns in-store. I like the idea of pairing the brick-and-mortar with their websites. It enables them to appeal to both types of consumers, and TJX seems to be able to make this work.
Financials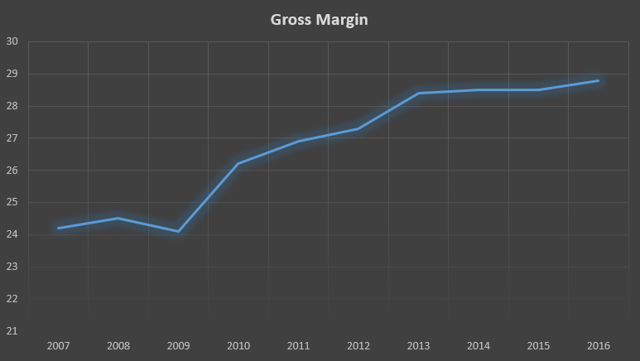 Margins are very important to a retail enterprise, specifically for TJX, which sources clothes and has different inventories month to month. Margins have increased every year since 2009. However, clothing retailers should be expected to get hammered during economic downturns. TJX is relatively shielded from that (not completely) due to their discount nature. People are still less likely to go shop for clothes, but TJX didn't even witness an earnings reduction. They even increased revenues every year. That's a testament to their staying power and to their growth.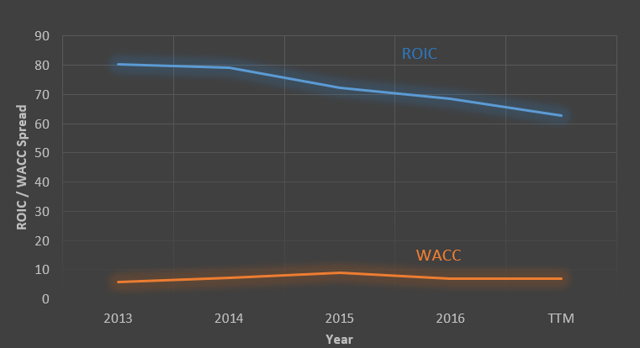 Source: GuruFocus
Another metric to look at for a fast-growing company is their ROIC-WACC spread. If a company is growing larger but achieving negative return on capital, they are destroying shareholder value. However, that is not the case here, as is evidenced by TJX's 60+% ROIC. It is trending downwards, which would concern me if it wasn't so high still. I would get concerned if it sloped downwards sharply or any other warning signs presented themselves.
In retail, same-store sales numbers are vitally important. Driving foot traffic is the only way to drive revenues and thusly profits. TJX has a graphic in one of their investor presentations that I think is very impressive.

Source: TJX Investor Presentation
That is their same-store sales metrics for every year back to 1982. Notice that their one and only negative year was in 1996. In their most recent quarter, same-store sales increased 4% YOY. Investors have come to expect this, and with good reason. This track record of success is definitely something I could get behind. It almost reminds me of the type of success Starbucks (NYSE: SBUX) has enjoyed over the years.

TJX has grown their dividend at an outstanding rate, but still yields a paltry 1.4% due to stock price appreciation. Their FCF is not outstanding, but it is stable, and their $1.6B in long-term debt is sustainable. Combine this with growth in earnings, and I expect TJX to continue growing their dividend for years to come, especially considering their payout ratio of 26.90%.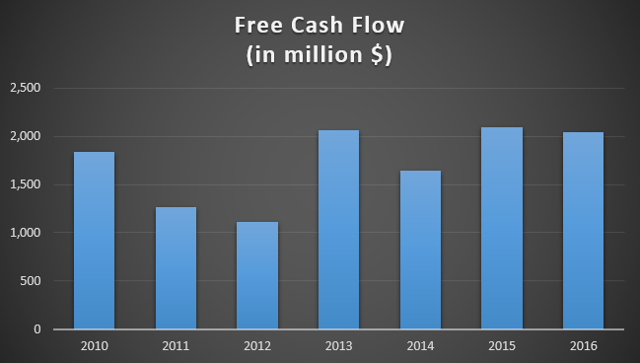 Valuation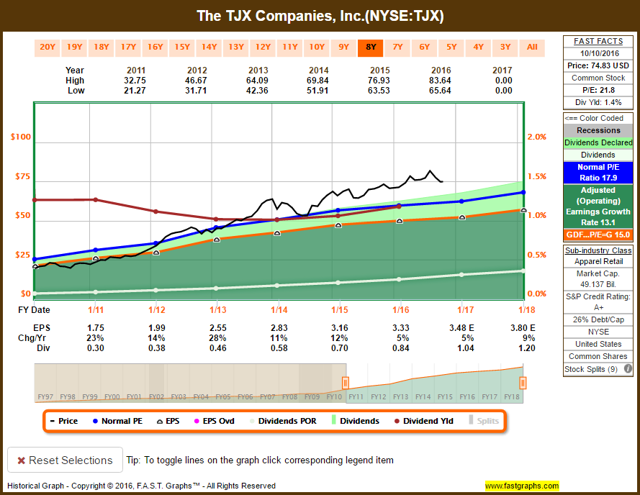 Source: FASTGraphs
Last quarter, TJX revised earnings guidance downward and this caused the stock to sell-off. Just like in so many other stocks, the growth story has experienced a hiccup. Investors fear it won't continue, or want to take profits off the table, or both. Now this may represent an opportunity for long-term investors to initiate a position. However, I don't believe TJX is a compelling buy at these prices. Notice the long-term normal P/E ratio of 17.9X and TJX is trading at 21.8X even with the recent sell-off. I don't think investors would fare badly initiating a position here, but patience may be rewarded.
If you liked this article, and would like to read more like it, please click the "Follow" button next to my picture at the top and select real-time alerts. Thanks for reading.
Elsewhere on Seeking Alpha
Financial statistics were sourced from Morningstar, with the charts and tables created by the author, unless otherwise stated. This article is for informational purposes only and represents the author's own opinions. It is not a formal recommendation to buy or sell any stock. Please do your own due diligence and/or consult a financial professional prior to making investment decisions.
Disclosure: I/we have no positions in any stocks mentioned, and no plans to initiate any positions within the next 72 hours.
I wrote this article myself, and it expresses my own opinions. I am not receiving compensation for it (other than from Seeking Alpha). I have no business relationship with any company whose stock is mentioned in this article.