As mentioned in "Pricing for The High-Yield BDC Sector," business development companies ("BDCs") are popular among investors seeking sustainable dividends yields that are currently averaging around 11% annually. BDCs are different than most equity investments and are typically not purchased for potential capital gains and/or dividend growth - just the oversized "sustainable" dividend yields.
This means that BDCs should be priced mostly based on expected returns (and the sustainability of those returns) as well as capital preservation (measured by risk profile). As we have seen over the last two years, assessing individual BDC "risk" is critical for many reasons including potential credit issues driving declines in interest income and net asset value ("NAV") per share, which is ultimately responsible for sustaining dividends and share prices.
This is especially true for BDCs such as Medley Capital (NYSE:MCC) that has cut its dividend twice as predicted in "Upcoming Dividend Cuts For BDCs: Part 1" as well as Fifth Street Finance (NYSE:FSC), Fifth Street Senior Floating Rate (NASDAQ:FSFR), BlackRock Kelso Capital (NASDAQ:BKCC), KCAP Financial (NASDAQ:KCAP), Full Circle Capital (FULL), Prospect Capital (NASDAQ:PSEC), Apollo Investment (NASDAQ:AINV), Triangle Capital (NYSE:TCAP), and Capitala Finance (NASDAQ:CPTA). However, as mentioned in previous articles, I am expecting more dividend cuts in the coming quarters and assessing upcoming risks are an important part of my analysis for dividend coverage and implied pricing.
Assessing BDC Risk:
I am in the process of updating the risk rankings for BDCs which is focused on capital preservation and NAV per share stability. This includes the ability for the portfolio to retain value during an economic downturn and/or rising rates. Both of these scenarios could put pressure on cash flows of portfolio companies and the ability to support debt payments. However, poorly managed BDCs such as FSC and MCC have had serious credit issues in a relatively benign credit environment and there are a handful of others that are likely to follow regardless of the economy. There are many indicators of risk for BDCs including the following:
Exposure to oil/energy/commodities, CLOs, subordinated loans and SLPs
Historical underwriting performance
Quality of management
Quality of credit platform
Effective leverage
The amount of "true" first-lien loans
Strong dividend coverage vs. reaching for yield
Potential for stable vs. declining NAV
"High water mark" fee structures
Portfolio vintage analysis
For more information on individual BDC risk profiles and rankings, please see "BDC Risk Articles."
Oil & Gas Exposure:
Many BDCs have been either reducing exposure to cyclical sectors (including oil & gas) and/or doing well with relative credit performance in these sectors. I believe this is because higher quality credit platforms can outperform the average through avoiding or reducing exposure to these sectors or have the ability to selectively invest in higher quality companies, enabling higher IRRs on these investments. This article discusses some of these BDCs.
FSIC Example:
FS Investment Corp. (NYSE:FSIC) now has around 12% of its portfolio in energy/oil related investments and its NAV per share increased by 4.1% during Q2 2016, partially due to increased confidence in some of its energy positions. FSIC is one of the best-positioned BDCs to take advantage of dislocation in the oil/energy sectors. Between Blackstone, GSO and Franklin Square, FSIC has access to significant resources. GSO is one of the largest lenders to the energy sector, having invested $15 billion since 2005 through multiple commodity cycles.
"Energy-related investments as of June 30, 2016, compromised approximately 12% of FSIC's investment portfolio, based on fair value, compared to 10% as of March 31, 2016. The increase is due to the fact that our directly originated energy investments experienced meaningful appreciation as energy credit prices rallied during the quarter. The recent improvements at FourPoint and Ascent exemplify our approach to direct originations in energy. Investing in strong companies, generally at the top of the capital structure, with strong assets and sponsors that provide support throughout commodity price cycle."
FSIC's energy/oil related investments are mostly comprised of Ascent Resources, FourPoint Energy and Plains Offshore. During Q1 2016, Ascent received $700 million equity infusion of capital. Clearly, the equity investors are supporting the company and FSIC's $184 million loan "sits at the top of the capital structure." Management discussed its investments in Ascent and FourPoint on the recent calls:
"During the quarter, we experienced appreciation in our largest energy position, Ascent Resources - Utica. The company, which owns what we believe to be attractive acreage in the Utica Basin, considerably improved its capital structure in the first quarter of 2016 by raising approximately $700 million in equity. Our senior secured debt sits at the top of this improved capital structure, and we remain confident in our position."

"For FourPoint, our exposure is primarily in the senior debt of the Company and there is only a small amount of debt ahead above us in the capital structure. The Company is working to close on a transaction to acquire certain assets in Chesapeake Energy for approximately $385 million. This pending transaction which FourPoint plan to fund entirely with equity to provide further cash flow and asset protection to our debt position upon closing and will position the Company as one of the largest in the Western Anadarko Basin. We believe the Company is taking appropriate and deliberate steps to strengthen its business and balance sheet...The company acquired certain assets from Chesapeake Energy for approximately $385 million in the second quarter. This transaction, which FourPoint funded entirely with equity, provides further cash flow and asset protection to our debt position and positions the company as one of the largest in the Western Anadarko Basin. Our investment in FourPoint appreciated significantly as a result of the acquisition."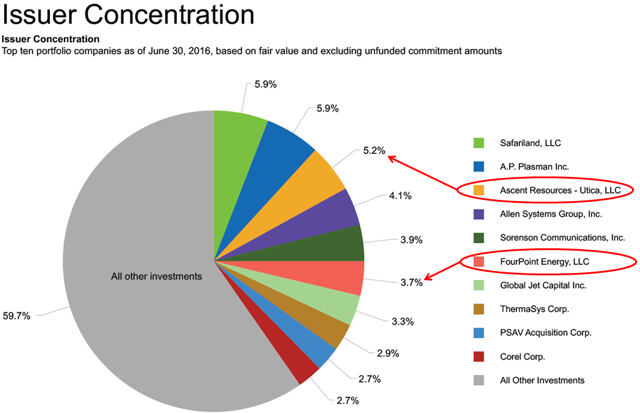 GLAD Example:
On October 3, 2016, Gladstone Capital (NASDAQ:GLAD) announced the successful exit of its investment in Southern Petroleum Laboratories including the full repayment of its junior debt and a gain on its equity co-investment. This is good news for investors due to reduced oil and gas exposure, from 14.3% to around 11.1% of portfolio fair value, as well as an indicator of appropriately marked assets and ability to underwrite.
"Despite the significant challenges across the energy sector, the SPL team delivered superior results and we wish them continued success in the future."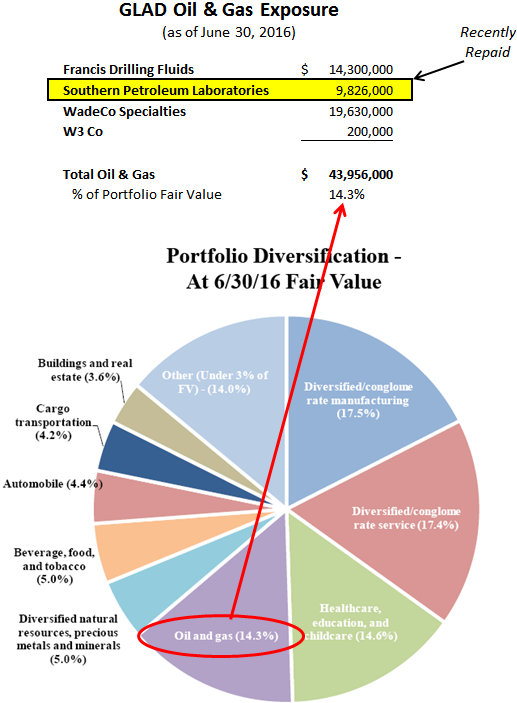 ARCC Example:
Ares Capital (NASDAQ:ARCC) has low exposure to oil and gas that was recently reduced due to the repayment (above par) of its investment in Primexx Energy which accounted for half of the exposure that is now reduced to ~1.5% of the portfolio fair value.
"Additionally post quarter end, we're fully repaid on our second lean loan to Primexx Energy, one of our oil and gas investments which we previously marked below par due to the decline in commodity prices and the perception of increased risk in the name. This prepayment came at a premium to par."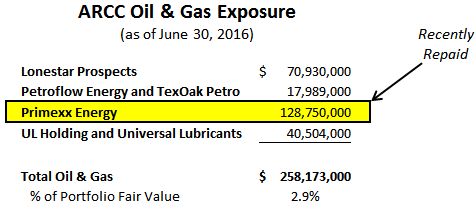 FDUS Example:
Since 2014, Fidus Investment (NASDAQ:FDUS) has reduced its oil & gas exposure from 8.6% to 2.7% that includes Pinnergy, Ltd., which is its only investment on non-accrual:
"As I mentioned on our last call, we have decided to place Pinnergy on non-accrual status at the beginning of Q2 to reflect the increased risks of this investment from persistent difficult industry conditions in the energy sector. We are currently continuing to work with all stakeholders on this situation. Paramount Building Solutions, LLC, was the other portfolio company on non-accrual at the end of Q2 an investment, we've now exited."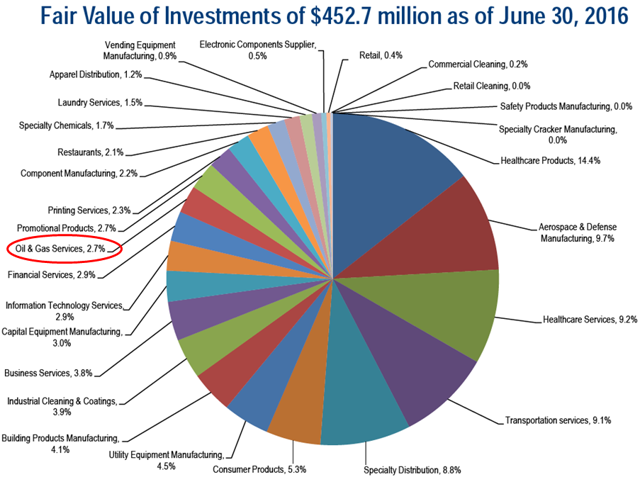 It should also be noted that FDUS has had superior NAV per share performance compared to most BDCs along with ARCC, Monroe Capital (NASDAQ:MRCC), Golub Capital BDC (NASDAQ:GBDC), Main Street Capital (NYSE:MAIN), TPG Specialty Lending (NYSE:TSLX), TCP Capital (NASDAQ:TCPC) and PennantPark Floating Rate Capital (NASDAQ:PFLT), as discussed and shown in "Higher Quality BDCs: Monroe Capital." Also discussed in the article is the importance of having a quality credit platform to drive NAV per share performance and sustainability of the dividend.
NMFC Example:
New Mountain Finance (NYSE:NMFC) has higher-than-average amount of oil/energy related exposure, at around 7% of the portfolio, and mostly first lien secured debt including Tenawa Resource (~$42 million FV, large scale natural gas processing plant), Sierra Hamilton (~$22 million FV, provider of services to oil and gas industry) and Permian Tank (~$7 million, supplier of above ground storage tanks and processing equipment to the oil and gas exploration/production industry). Historically, NMFC has focused on "defensive growth" companies that are "recession resistant":
"Since the inception of our debt investment program in 2008, we have taken New Mountain's approach to private equity and applied it to corporate credit with a consistent focus on defensive growth business models and extensive fundamental research within industries that are already well known to New Mountain, or more simply put, we invest in recession resistant businesses that we really know and that we really like. We believe that this approach results in a differentiated and sustainable model that allows us to generate attractive risk-adjusted rates of return across changing cycles and market conditions. To achieve our mandate, we utilized the existing New Mountain investment team as our primary underwriting resource"

"Despite the stronger market, which had pushed spread modestly lower, we continue to have success finding portfolio investments with attractive yields in our core defensive growth industries like software, healthcare, distribution and logistics and business services that we believe will perform well in various economic environments."
2016 BDC Stock Price Performance:
It should be noted that some of the BDCs with highest exposure to oil/energy have outperformed the average in 2016 due to having discounted pricing during 2015 as discussed in "BDCs Have Been Crushing The S&P 500 In 2016." This would include PennantPark Investment (NASDAQ:PNNT), AINV and GLAD. As you can see from the table below, these BDCs have outperformed the average which will likely continue if oil prices continue to trend higher.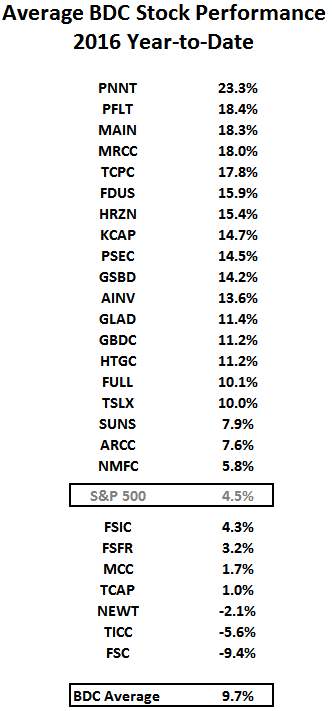 There are only a handful of BDCs in negative territory for 2016 including Newtek Business Services (NASDAQ:NEWT), TICC Capital (NASDAQ:TICC), and of course, FSC as predicted in my previous "FSC Articles."
CLOs & Potential Defaults:
Higher risk BDCs invest in collateralized loan obligations ("CLOs") with higher yields than other investments and are considered "non-qualified" investments. BDCs are allowed a maximum of 30% of assets in these types of investments due to the amount of risk involved. Many CLO investments use off balance sheet leverage to increase returns and usually levered up to 10 times.
As discussed in some of my "PSEC Articles," most of the CLO investments for PSEC, KCAP and TICC are considered "residual interest" or subordinated securities in these vehicles and are the last in line to be paid, and the first to be cut off if the underlying investments default. A small amount of oil/energy related defaults could have a meaningful impact to the amount of income and valuations for these investments. As mentioned in "Fitch: September U.S. High Yield Defaults Reaccelerate," during September 2016, there was an increase in defaults primarily by oil/energy companies. Fitch forecasts the 2016 sector default rate will range between 16%-18%.
"If crude oil prices remain in or rise above the mid-high $40 range, the energy default rate could end 2016 at the lower end of our expectations, at closer to 16%," says Eric Rosenthal, Senior Director of Leveraged Finance.
However, there has been a recent trend up in oil prices (see chart below). I am expecting volatility and lower BDC prices this year before heading into another potential rally for 2017. Investors should be ready with a shopping list and target prices and for more information on individual BDC pricing and rankings (risk, dividend potential, return, valuation), suggested BDC portfolios, dividend coverage tiers, pricing charts and valuations, interest rate discussion, my upcoming/historical purchases and current positions, please see "Index to Free BDC Research."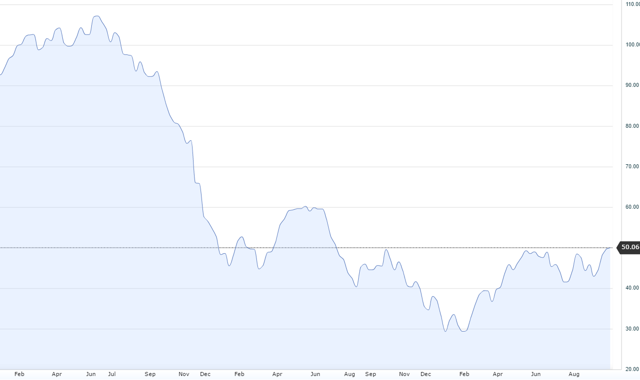 Personal note: I have updated my positions to reflect changes in my holdings, but please keep in mind that some of the positions are very small and mostly for research purposes. There are over 50 publicly traded BDCs and I try to cover as many as possible but I do not have the bandwidth to include each company for each article.
Disclosure: I am/we are long ABDC, AINV, ARCC, BKCC, FDUS, FSC, FSFR, FSIC, GAIN, GARS, GBDC, GLAD, GSBD, HCAP, HTGC, MAIN, MCC, MRCC, NMFC, PFLT, PNNT, PSEC, SLRC, SUNS, TCAP, TCPC, TPVG, TSLX.
I wrote this article myself, and it expresses my own opinions. I am not receiving compensation for it (other than from Seeking Alpha). I have no business relationship with any company whose stock is mentioned in this article.