This is the second time I'm writing about Restaurant Brands International (NYSE: QSR). On February 9th I looked at the case for buying the stock as it was surfing lows not seen since the 2014 IPO. In retrospect that would have been a smart move and following Warren Buffett into one of his more recent investments would have paid off. But why has this stock increased 45% off its February lows? More importantly, can this performance be sustained?
First of all, I couldn't have known at that time whether or not we were in the early stages of a bear market. In hindsight, the bottom was in for the roughly two-month correction the broader market went through and for QSR as well. The stock was helped by a 6.45% earnings beat a week after my article, followed by two pretty significant ones in May (50%) and August (17%). Even with the recent 15% pullback off its all-time high, the stock has blown away its two main competitors in Canada (where it is based) YTD - McDonald's (NYSE:MCD) and Starbucks (NASDAQ: SBUX). It has performed in line with but not beaten two similar companies which are Yum Brands (NYSE:YUM) and Dunkin' Brands Inc (NASDAQ: DNKN).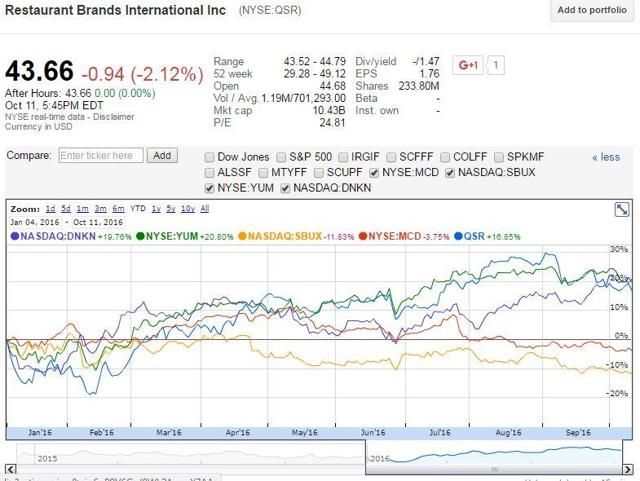 Earnings beats help most of the time, of course. But those often see investors then chasing and bidding up the price of those earnings. Yet these earnings have only gotten cheaper, with the P/E falling by almost 50% YTD:

The broader market may be buoyant, but it's a tough time to be slinging fast food, at least from a company valuation perspective. Companies with pristine long-term growth records were priced to perfection and it could not be sustained. Starbucks is sporting a 17% decline from its all-time high and McDonald's, unable to sustain the momentum in its last earnings report, is down 13% from its $132 high earlier this year. McDonald's is struggling through what is shaping up to be its third straight year of sales declines, and Starbucks only had to clock in one quarter at 4% to get punished because it was the first time in 25 quarters that they did not deliver 5% or better.
Irrational? Maybe, but McDonald's and Starbucks, while remaining world class operations with robust revenue, are feeling the heat from Mr Market, who doesn't like flat or declining revenues. It is now incumbent upon them to reverse these trends or experience further share price declines. Not always easy when you are dealing with a sprawling global empire with tens of thousands of locations and tons of exchange rate volatility. Of course, eventually these companies, which have zero risk of going out of business, would be too cheap and then would go or another run, like the 50% one McDonald's went on last year. But it's likely going to take an earnings beat or two to reverse the short term decline.
Meanwhile, if we look at QSR's last report, it looks like there's more where that performance came from. 3G (Buffett's partner in the reverse merger between Tim Horton's and Burger King that created this company) is a notorious cost cutter and efficiency squeezer, and these YoY stats seem to indicate that their methods are bearing fruit:
`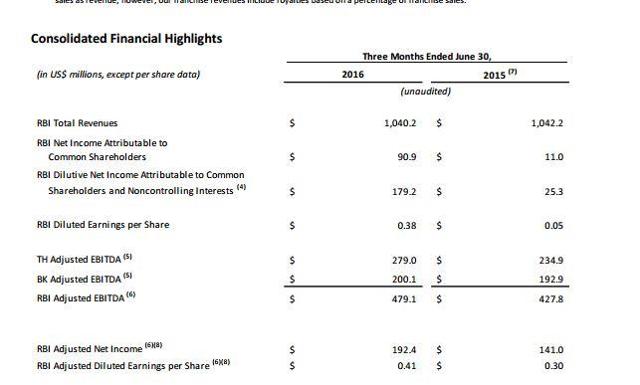 As you can see, EBITDA has increased by 12%, net income is up by 37% and diluted EPS is up 30%. The numbers do not reflect pure growth, if you are familiar with this story, because the companies took on quite a bit of debt to merge, but this is being paid down, freeing up more profits and cash flow for dividends and buybacks every quarter. There is organic growth underneath too, but this needs to be taken into account.
Where the company really stands out is the expense side of the income statement. Many mergers face all kinds of cost overruns and take years for the "cost synergies" to be "accretive" to earnings. Not this one: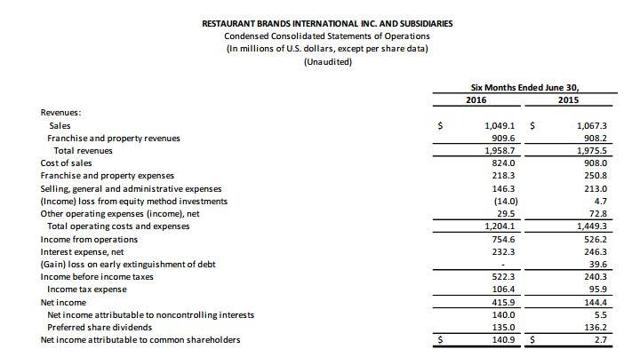 The company managed a 9% reduction in cost of sales, a reduction in every expense category, and a 17% decline in expenses overall. I have not seen this type of cost discipline in many public companies. It is even more commendable when a company is not in trouble.
I also will mention that the price to book value, while still high, has been halved from 11 to 6 and now sits below the industry average, and the FCF generation picture is also on a nice uptrend. Overall, it seems like this might be a good pullback to start looking at this name.

The Long View
If we look at the option market now, the market is pricing about a 70% chance of an up to a 25% move in the next year, with the risk slightly skewing to the downside. However, this volatility pricing is starting to pick up because we are going into earnings about one month from now.
So why is that important? We are in earnings season and the big movers in the fast food sector will have to deliver beats. But the market has been flat to sideways-ish choppy lately and these bouts of short-term volatility could be opportunities going into the last two months of the year. You may think the election result is already baked into the market but it ain't over till it's over and that could provide the catalyst for new highs, which would presumably sweep up the fast food sector with them. Also, the dollar has resumed its tear upward which will continue to exert pressure on McDonald's and Starbucks more than this name, which is committed to international expansion but is currently generating most of its cash by being a dominant burger brand in the US and coffee brand in Canada.
Many people have been burned trying to copy Buffett (hello Wells Fargo) but you know what his preferred holding period is: forever. So instead of talking about how great this company after its successful strategy execution is priced in after the fact when it hits a new record high sometime in the next year, look at it as a recession-proof consumer discretionary candidate with cash flow funded dividend growth still in its infancy. There is a risk of an earnings miss, obviously, but there could also be a beat like there has been for seven straight quarters now. Cash secured puts out of the money are always a good bet if you'd like to add this to your portfolio but would rather pay a lower price. I think, however, the historically volatile month we are in right now could be as good a time as any to look at adding it either this way or as a straight long. It's kind of like February all over again.
Disclosure: I/we have no positions in any stocks mentioned, but may initiate a long position in QSR over the next 72 hours.
I wrote this article myself, and it expresses my own opinions. I am not receiving compensation for it (other than from Seeking Alpha). I have no business relationship with any company whose stock is mentioned in this article.