A utility stock trading at a P/E ratio of less than 10 is certainly hard to come by in the current market, particularly one with a dividend yield of more than 4%. RusHydro (OTCQX:RSHYY) offers you precisely this, but, it being a Russian company gives rise to a different set of risk than that associated with US-based utility companies.

RusHydro, majority owned by the Russian government, is one of the world's largest hydroelectric power generation companies. It is also engaged in the purchase and reselling of electricity to third-party customers.
Take note thereof that all values are given in Russian Rubles (RUB) unless the contrary is indicated or reference is made to the ADR's ticker symbol.
The Russian Economy
It is by now well known that the Russian economy has been facing some volatile times over the past few years and that it is heavily dependent on oil revenues. The IMF has, however, estimated that Russia's economy will return to growth in 2017, provided that there is no substantial decline in oil prices.
Brent Crude prices have improved over the past few months and seem likely to stay above the $50/barrel range in the near future. If oil stays above this level, it would be supportive of economic growth in the Russian Federation. In passing, it may be worth noting that I am by no means an expert on oil; the oil price will, however, not be the decisive factor in the ultimate decision on whether or not I should purchase the stock.
Improving economic conditions in Russia will significantly benefit RusHydro as demand for electricity is heavily influenced by economic growth.
The Risky Ruble
My frequent readers may be tired of reading that ADRs are exposed to currency risk, but it nevertheless bears repeating, particularly in the context of Russia. The underlying company ultimately reports its earnings and declares dividends in its home currency, which is the RUB in RusHydro's case.
The RUB has declined substantially over the past few years, and it currently costs about 62.1866 RUB per USD (at the time of writing) which compares to the rate of 45.861 RUB per USD on the same day in 2014. This sharp decline had an adverse impact on US investors holding the ADRs.
Should the RUB decline further, which I do not expect, this could give rise to currency losses for holders of RSHYY.
Earnings in review
RusHydro's results are reported in line with the International Financial Reporting Standards, the same standard that is used by European companies.
RusHydro reported an increase of approximately 10% in its revenue for the first half of 2016 over the same period in the previous financial year. The company's operating profit (excluding impairment losses) also improved by nearly 60%. The significant increase in the operating profit (excluding impairment losses) was largely brought about by the increase in revenue coupled with a low increase in expenditure. The company also reported a 37% rise in profit for the first half of 2016 over the same period in the previous financial year.
The company reported a 9.6% improvement in revenue for the second-quarter of 2016 over the same quarter in the previous financial year. Operating profit increased by approximately 54% in the second quarter of 2016 over the same quarter in the previous financial year. Profit for the period also increased by approximately 55% over the same period in the previous financial year.
RusHydro also showed a 25.54% growth in EPS for the full-year 2015 in USD terms, which exceeds that of the broader utilities sector which grew EPS at an average rate of 10.36% and the S&P 500 whose components EPS increased by 15.76% on average over the same period.
These results were very good, particularly in light of the challenging economic environment in Russia. Readers should take cognizance thereof that the positive growth shown can partially be attributed to weather conditions.
Valuation
RSHYY has performed very well this year and is up by almost 30% YTD. It has a TTM dividend yield of 4.65%.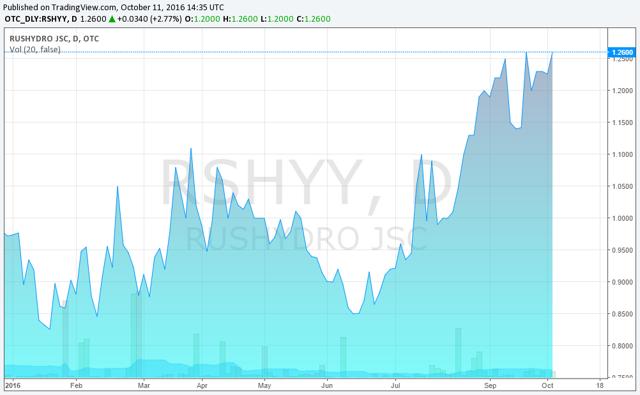 (Source: Tradingview)
RSHYY currently has a TTM P/E ratio of 8.59, which is substantially below the utilities sector's average P/E ratio of 27.07. It is also trading at a price to book value significantly below that of the broader utilities sector; it's currently trading at 0.4687 times book value compared to the sector's average price to book value of 1.53.
RSHYY's debt to equity ratio is very low relative to the broader utilities sector. Its debt to equity ratio currently stands at 0.3263 compared to the sector average, which exceeds 1.5.
It is by no means my view that RSHYY should trade at the same level as the sector, which is heavily skewed towards US-based utilities, given its different risk profile. It should, however, not be trading as low as it is, particularly in light of its reasonable growth and low debt to equity ratio.
RSHYY has a 30-day average daily volume of 8300.
Conclusion
The strong earnings growth witnessed so far this year means that the high dividend is likely to be maintained. I will be doing more research on this company before making a final investment decision. In particular, I will be awaiting the next set of financial results set to be released on the 20th of October. I will also be writing an update on this stock after the release of those results, at which time I will discuss new information on the company and consider inputs given by my readers.
If you liked this article, please follow me by clicking the follow button on the top of the page. Should a reader wish to contribute to the discussion, but doesn't feel comfortable doing so in the comments section, feel free to send me a direct message here on SA.
Supporting Documents
Disclosure: I/we have no positions in any stocks mentioned, but may initiate a long position in RSHYY over the next 72 hours.
I wrote this article myself, and it expresses my own opinions. I am not receiving compensation for it (other than from Seeking Alpha). I have no business relationship with any company whose stock is mentioned in this article.
Editor's Note: This article discusses one or more securities that do not trade on a major U.S. exchange. Please be aware of the risks associated with these stocks.