Back in July, I covered TransCanada Corp. (NYSE:TRP) and its purchase of the bulk of Columbia Pipeline Group's (CPGX) assets in a $13 billion acquisition deal (including debt). In this deal, TransCanada was able to add 24,000 km of pipeline capacity between the Northeastern United States and the Gulf of Mexico.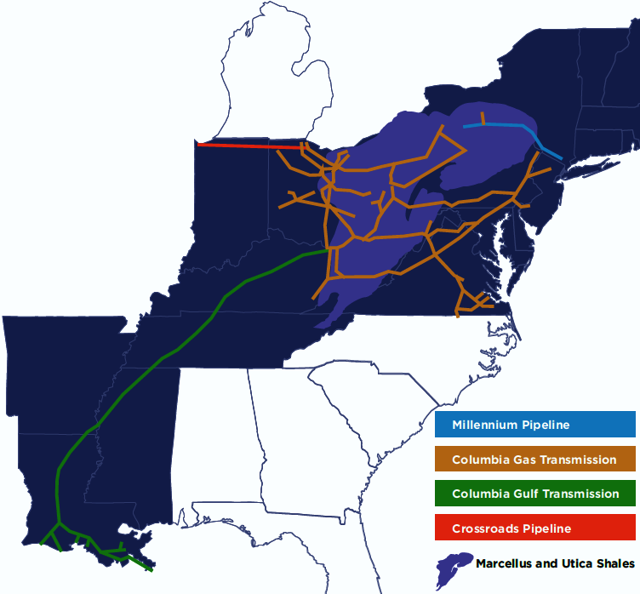 (Source)
Now TransCanada has announced that it will be acquiring the remaining portion of Columbia Pipeline that it did not purchase over the summer. If approved, this deal, which is valued at $848 million, will give TransCanada complete control over Columbia Pipeline's infrastructure and give it a major advantage in shipping product to the refinery hub in the Gulf of Mexico.
This $848 million offer to buy out the remaining shareholders works out to $15.75 per share, which represents an 11.3% premium on the 30-day moving average. Already Columbia Pipeline's stock price has jumped up to $16.11, which now leaves investors with a chance to cash out at a higher rate before the acquisition gets finalized.
New pipeline toll
On the one hand, TransCanada is looking to grow through acquisitions and on the other, the company is looking for ways to secure its long-term revenue stream. In a bid to lock in customers and resist inroads from American competitors, TransCanada was offering a discount between 40% and 50% on many long-term contracts, which begin to expire in 2020. The bulk of these contracts on 10-year terms are to ship product from Alberta to Central and Eastern Canada. The Mainline pipeline alone currently transports 3 billion cubic feet of natural gas per day and is TransCanada's biggest income generator.
Despite TransCanada's offer of a discount, it is being met with resistance from shippers such as Canadian Natural Resources (NYSE:CNQ) and Encana Corp. (NYSE:ECA) who view the discounted price as still being too high given the 10-year term attached to it. The proposed Energy East pipeline could also be keeping shippers from going all in with TransCanada's discounts as then natural gas shippers would have to share capacity with crude oil shippers.
Stock spill
This added infrastructure TransCanada will receive from Columbia Pipeline will give the company an even greater capacity to move product to the Gulf of Mexico. This is especially important as Keystone XL remains in regulatory purgatory and the Energy East pipeline remains under NEB review until March of 2018.
Thanks in part to these acquisitions, TransCanada has finally seen its stock price return to pre-2014 crash levels and the average price targets are still showing signs of potential growth. On the TSX, TransCanada closed at C$60.45 and has an average price target of C$64.90 with a range of C$62 to C$69.00. On the NYSE, TransCanada closed Tuesday at $45.66 and has an average price target of $50.23. Despite all of the turmoil in the energy sector in the past couple of years, TransCanada has managed to maintain and grow its dividend C$2.26 (annualized) with a yield of 3.74% on the TSX and 3.65% on the NYSE.
The pipeline industry still remains a robust option for investors and TransCanada is still one of the top three options available to investors. Even though TransCanada (and pretty much all pipeline companies) has faced delays on new pipelines, it has not been afraid to seek out acquisitions in order to boost its transportation capabilities. As long as natural gas is used to heat homes and crude oil is needed for transportation pipeline companies such as TransCanada will remain a profitable investment for investors.
Disclosure: I/we have no positions in any stocks mentioned, and no plans to initiate any positions within the next 72 hours.
I wrote this article myself, and it expresses my own opinions. I am not receiving compensation for it (other than from Seeking Alpha). I have no business relationship with any company whose stock is mentioned in this article.