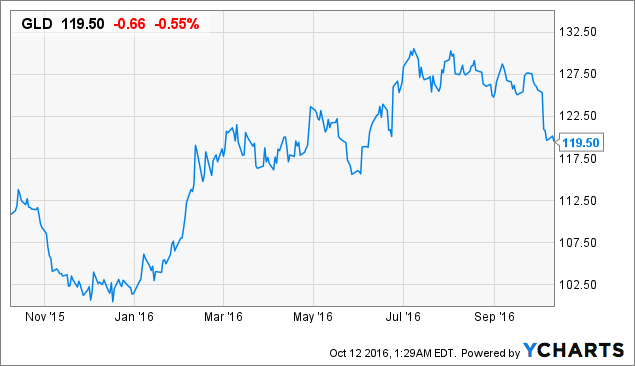 GLD data by YCharts
I sold my gold (NYSEARCA:GLD)(NYMEX:GC) and silver (NYSEARCA:SLV)(NYMEX:SI) holdings immediately after the Federal Reserve's meeting on September 21 when, as expected, the US central bank decided to keep overnight rates at a lower-bound of 0.25% in order to squeeze out some additional appreciation. After the September meeting was in the rearview mirror, focus would then shift to the post-election December meeting, with the Fed, through forward guidance, clearly trying to prime the market for a December rate hike in order to gauge how the markets might handle the news.
Now that focus is fully on that meeting, gold is down 4.8% since October 3, after suffering its worst week in nearly 3-1/2 years. After a 26.3% YTD run-up in price through July 11, gold has retraced 8% since. Investors increasingly believe that the Federal Reserve will raise interest rates by 25 bps at its end-of-year meeting, which should provide an uptick in the US dollar. The dollar is currently at an 11-week high and futures markets are placing about a 66% chance of a rate increase. Concessions are naturally made for the possibility of a string of underwhelming economic data, such as a poor November and/or December jobs report(s) or weak Q3 GDP data to be released later this month. As many know, gold and the US dollar share an inverse correlation through the former's investment use as an alternative currency; as one increases, the other tends to decrease.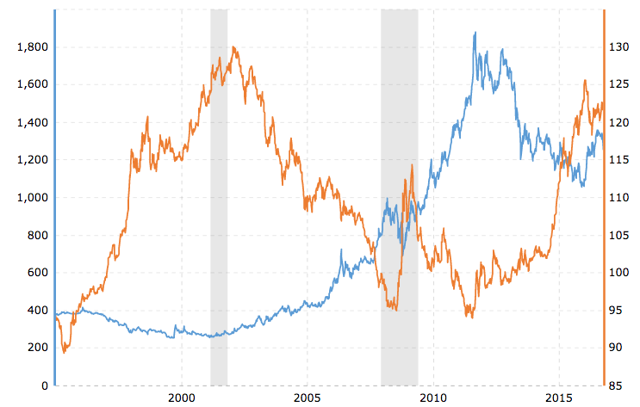 (Source: macrotrends.net)
The recent fall in gold, nonetheless, provides an opportunity for those who are generally bullish on the metal and looking to get back in at a reasonable price. Is it gold a worthwhile trade at this juncture? To look at this further, we need to consider whether there are enough factors to outweigh a tightening in Fed interest rate policy.
Gold throughout 2016 has mostly been living and dying off future interest rate expectations. When the US equities market sputtered out of the gate to start the year, oil came crashing down to below $27 per barrel, US 2015 Q4 GDP came back at 0.9% year-over-year growth and 0.8% for 2016 Q1 GDP growth, gold benefited from expectations that a series of rate hikes anticipated by the Fed from the year before were going to be impossible to put into effect.
When the Fed begins moving rates in one direction, it typically signals continued moves in that direction going forward. Therefore, if the Fed were to move in December as expected, investors will take that as a sign that it may signal another 2-4 hikes in 2017. This is non-positive news for gold, as yields among other assets will increase, rendering gold less attractive.
However, my belief is that the US will have limited ability to raise rates going forward for a few main reasons. Real GDP growth has remained under 2% recently despite a continuing rebound out of a recession. I believe it will come in at around that 2% value (or possibly below) for Q3. Inflation remains around 1% and inflationary pressures remain low for now. The level of indebtedness in the US is approaching $20 trillion and raising rates could strain an already stretched budget deficit.
The economic situation in the EU, China, and Japan is also uncertain. The EU and Japan are plagued by low growth and low inflation concerns that have been long-lasting. Both have quantitative easing programs going at the moment, so monetary tightening is out of the question for those regions. In a highly intertwined global economy, it not expected that monetary policy will diverge significantly. Exports will also be expected to fall due to the increased strength of the US dollar, though the US consumer would stand to gain some level of benefit.
In many ways, this could turn out to be a very similar situation to last December. The Fed anticipated four 25-bp rate increases in 2016 and will have likely completed just one. As of the September 2016 meeting, the Fed anticipates two hikes in 2017 and three each in 2018 and 2019, which would bring the lower-bound up to 2.25% by the end of 2019. On the basis of the Taylor Rule, the federal funds rate should probably already be at that 2.25% figure. But unless growth and/or inflation picks up, rates are unlikely to get that high. Moreover, in the history of the US, a business cycle has never been prolonged beyond ten years.
Should inflation outpace the rate of growth, that will also be highly positive for gold. Fed officials may also seriously consider at the idea of exceeding their publicly stated 2% goal. It's getting late in the business cycle and rates are only at 0.25%. Going beyond 2% to 3%-4% inflation would have the benefit of the Fed being able to raise rates -- to provide a cushion in the event of a down-cycle -- while still at the same time keeping real rates close to 0%.
Inflationary boosts from higher oil prices are nominal at best. Economic theory also suggests that climbing above full employment is inflationary in nature (i.e., output exceeds potential output). But it's debatable how healthy the labor market truly is by relying on U-3 unemployment alone, which solely looks at a sliver of the available labor market, makes exceptions for discouraged workers, and provides no recourse to the quality of employment.
Additional Factors
The relationship between growth, inflation, and central bank maneuvers are the key to understanding the price dynamics of the gold market. However, in terms of ancillary factors, there is the case of the US presidential election, Brexit, and gold demand stemming from countries where is has a strong cultural history, such as India and China.
The gold market displays some level of sensitivity to political uncertainty. Moves in the polls that favor Trump have been bullish for the gold market due to anticipation of greater market volatility in the event of a Trump victory. Clinton-favorable moves have been bearish as a reaction to more of a status quo type of candidacy. Trump's status as a political novice and stances on trade and immigration have uncertain economic outcomes. A Trump victory paired with weaker US economic data would project to be very bullish for the gold market.
Brexit looks to be a fairly minor consideration for gold. The metal surged 4.9% upon Britain's decision to exit the EU, but has mostly yawned at any further developments in the Brexit story. The pound's 6% dive in a flash crash last week saw merely a 1% uptick.
India and China, containing nearly half the world's population, largely drive the consumption of the precious metal. India's wedding season typically gives a two-month cyclical boost to gold mining stocks from October to December of each year and could compel buying during the midst of a four-month low.
China is undergoing an economic slowdown, having gone from 7.9% year-over-year growth in Q3 2013 to 6.7% growth in Q2 2016. Sluggish economic growth has led to a loosening in the countercyclical regulatory measures Beijing officials have taken to moderate prices in the housing market. A study published in 2015 found that over 70% of Chinese wealth is concentrated in housing and double-digit returns have become commonplace. It's a flat out bubble that has the potential to be calamitous. The yuan's 11.3% depreciation versus the US dollar since January 2014 (a big move in currencies) also has the potential to induce greater demand for gold, given consumption habits in the Chinese market. The combination of a slowing Chinese economy, further yuan depreciation, and a bursting of its real estate bubble could also certainly drive the demand for gold.
Conclusion
Is it time to get back into gold (and/or silver)? I personally feel comfortable in doing so. A December rate hike is about two-thirds of the way priced in, but for various factors -- from continuing underperformance in US growth figures and central bank dovishness to the weakening economic climate in China -- I believe gold represents a compelling entry point.
Disclosure: I am/we are long GC, SI.
I wrote this article myself, and it expresses my own opinions. I am not receiving compensation for it (other than from Seeking Alpha). I have no business relationship with any company whose stock is mentioned in this article.