In the roughly eight years since the Fed began its zero interest rate policy, the financial sector has largely been left behind by investors. But it may be time to ignore it no longer.
Since the beginning of 2010, the financials have been the poorest performing sector outside of energy and materials, which happened to experience some of the most precipitous commodity price declines in recent memory. Despite the fact that balance sheets are improving, profitability is returning, and concerns over capital adequacy are slowly waning, the financial sector still remains mostly unloved. The prospect of low interest rates remaining for at least the near term continues to weigh, while any goodwill and momentum the sector had begun earning back may have been ruined following the deposit account debacle at Wells Fargo (NYSE:WFC).
I get why the current yield curve puts financials at a discount right now, but we've gotten to the point where some of the banks are too discounted. Citigroup (NYSE:C) is my current favorite in the space, and I think the deal is sweet enough that it's time to jump on board.
I added shares of Citigroup to my portfolio this morning and here are the three main reasons why.
Reason 1: Getting In Ahead of Q3 Earnings
Citigroup delivers its Q3 earnings report before the market open on Friday along with JPMorgan Chase (NYSE:JPM), Wells Fargo and PNC Financial (NYSE:PNC). Wells has already tempered expectations going forward in the wake of its scandal, but Citigroup should be in fairly good shape for a few reasons.
The bank has continued to clean up its balance sheet post-financial crisis. Total long-term debt now sits at just 40% of where it was at in 2008 and continues to steadily decline. The annual provision for loan losses peaked at around $40 billion in 2011, but now has shrunk to under $13 billion. Total operating expenses have also been on a steady decline over the past two years.
I'll be keeping an eye on loan growth and any certainty surrounding Brexit. Citigroup is expected to report revenues down just a hair over last quarter and down about 6% year over year. I expect a continuing effort to trim expenses, and the potential for improved loan growth could push reported revenue slightly past expectations. Citigroup has also beaten earnings expectations for six straight quarters.
Reason 2: Downright Cheap Valuation
By virtually any measure, Citigroup stock looks extraordinarily inexpensive right now compared to the broader market, the financial sector, and its largest peers.
The stock trades right now at just 9.5 times forward earnings (Bank of America (NYSE:BAC), Wells Fargo and JPMorgan all trade at around 11 times). It also trades at more than a 30% to its book value as the divergence between the stock price and tangible book value continues to expand.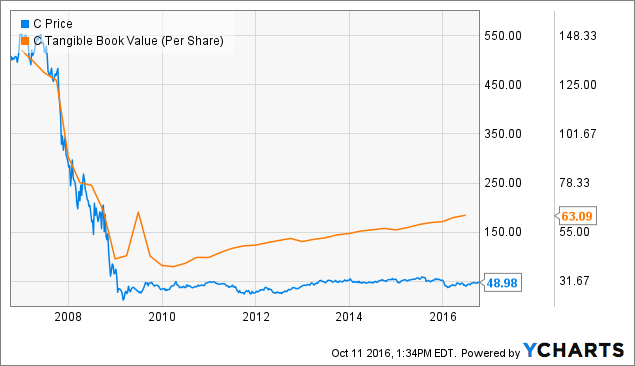 The downside here is that Citigroup has been trading below book value since the financial crisis itself. This also coincides with the Fed's zero interest rate policy. As interest rates begin rising again, the stock could begin its march back towards book value for the first time in nearly a decade. Valuation alone isn't a reason to buy the stock, but it does help to put something of a floor under the shareholders' investment.
Reason 3: Plans For a Significant Return of Shareholder Capital
This I feel could be the real impetus for a move higher. Citigroup resumed at least a reasonable dividend back in 2015 and could be poised to significantly lift it over the next year or so.
Citigroup tripled its dividend to $0.16 per share in the past quarter, which would put the annualized yield at around 1.3%. That brings it on par with Bank of America but still well behind JPMorgan and Wells Fargo. If Citigroup hits its target of distributing 100% of its estimated $16 billion in excess capital generated over the next year or two (this article nicely summarizes the scenario and does the math supporting these figures), the stock could very well be lifting its quarterly dividend payment all the way up to $0.50 per share. At current prices, that equates to a dividend yield of 4%, and this isn't necessarily a stretch situation.
Citigroup has more than enough cash to make this happen. A tripling of the dividend would result in the company paying about $4 billion in dividends annually. Citigroup generated more than $36 billion in free cash flow last year and a $2 per share annual dividend would still lead to a payout ratio in just the 25-30% range.
Reason 4: Divesting Itself of Non-Core Assets
Citigroup made news twice this past week by spinning off multiple South American operations. It spun off about $2.8 billion of retail assets in Brazil to Itau Unibanco (NYSE:ITUB) and followed that up by selling $1.4 billion in Argentina retail assets to Santander Rio. Citigroup has been looking to make itself a little more lean and focused by offering up its non-core assets for some time and these sales help move them in that direction despite the fact that neither will be material to earnings.
Conclusion
The valuation of Citigroup is a compelling factor in why I added some shares to my portfolio today, but it's not the only reason. I think the most compelling reason is the bank's plans to return capital to shareholders. The notion of returning nearly 100% of excess capital back to shareholders is an ambitious one, but not one that it shouldn't be able to attain. A 4% dividend yield would put Citigroup back in play as a dividend growth stock which could earn it further attention from retirees, income seekers, dividend-focused ETFs and others.
Earnings expectations in the financial sector are low, and Wells Fargo's situation has tempered current sentiment, but I think that the combination of a leaner balance sheet, a strong capital adequacy position, the prospect for a higher dividend, and a bargain price make Citigroup a compelling buy. While the financial sector as a whole isn't without its concerns, I like the risk/return tradeoff of Citigroup here.
If you're interested in more dividend strategies and analysis, please consider following me by clicking on the "Follow" button at the top of this article next to my name. Even if you don't, thanks for taking the time to read!
Disclosure: I am/we are long C.
I wrote this article myself, and it expresses my own opinions. I am not receiving compensation for it (other than from Seeking Alpha). I have no business relationship with any company whose stock is mentioned in this article.