Quick Take
Bloom Energy (BLOOM) is a clean energy technology provider that is reported to have filed a confidential IPO registration statement with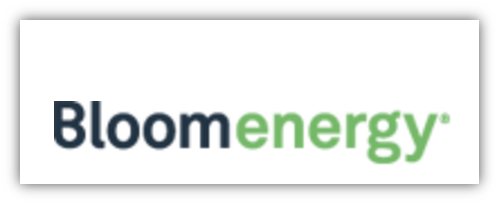 the SEC.
The company counts some of the world's largest and most well-known companies as its customers.
The fuel cell industry is forecasted to grow significantly over the next ten years, so Bloom has the opportunity to take its place in a burgeoning market.
---
Company
Sunnyvale, California-based Bloom Energy was founded in 2001 by current CEO KR Sridhar to commercialize fuel cell energy technology developed "with roots in NASA's Mars program."
In 2002, noted venture capitalist John Doerr of Kleiner Perkins Caufield & Byers first invested in the company.
By 2006, Bloom shipped its first field trial unit to the University of Tennessee; the unit provided up to 5kW of power. Later, in 2008, the first commercial units were shipped to Google and provided up to 100kW of power per unit.
Since then, the company has secured Global 2000 customers across all major industries, including Walmart (NYSE:WMT), Apple (NASDAQ:AAPL), Coca-Cola (NYSE:KO), Medtronic (NYSE:MDT) and PG&E (NYSE:PCG).
Technology
Bloom has created fuel cell technology that utilizes a chemical reaction from natural gas and/or biogas and combines that reaction with sand-based plates to generate electricity.
It provides this energy capability in the form of stationary modular solid oxide fuel cells that are typically purchased by enterprises and energy providers:

(Source: Bloom Energy)
The company sells a family of energy servers, which vary in terms of output, configuration options and other parameters:
ES5
ES-5710
ES-5700
UPM-571
UPM-570
Some servers can provide up to 250kW of power, the equivalent of baseload needs for 200 average size homes or a typical office building.
Below is a brief explainer video by Bloom Energy's CEO:
(Source: Bloom Energy YouTube)
Market
According to a 2013 fuel cell technology market research report by MarketsandMarkets, the market is expected to grow to $5.2 billion by 2019, representing a CAGR of 14.7% from 2014.
By geography, the Asia-Pacific region will account for most demand, followed by North America and Europe (Percentages not provided in original):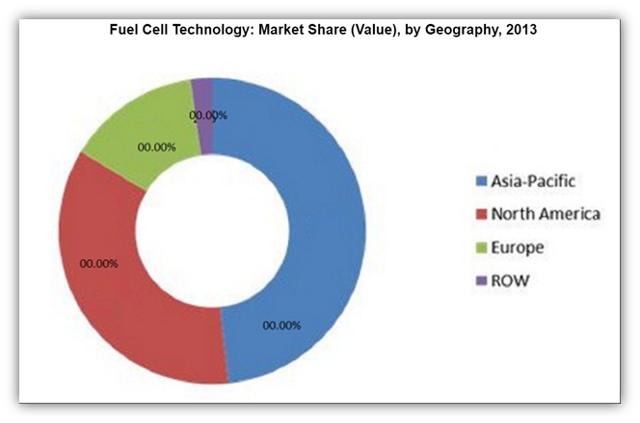 (Source: MarketsandMarkets)
However, a 2016 report by Global Market Insights indicates a much more bullish outlook on market size and growth rate.
The report says that the global fuel cell market size is expected to grow to $25.5 billion by 2024, representing a CAGR of 22.83% from 2015.
PEMFCs (Proton Exchange Membrane Fuel Cells) currently account for 60% of global revenue in the fuel cell market and the study agrees that the APAC region is dominant, accounting for more than 50% of global share in 2015.
Competition
I divide the company's competition into two segments: direct and indirect.
Direct competitors include other fuel cell companies, such as Fuel Cell Energy (NASDAQ:FCEL) and Plug Power (NASDAQ:PLUG).
Both companies use differentiated technologies to create energy without combustion for the use of fossil fuels.
Additional fuel cell manufacturers include Ballard Power Systems (NASDAQ:BLDP) and Hydrogenics (NASDAQ:HYGS), Panasonic (MCA.F) and Toshiba (TOA.F).
Indirect competition would be transport fuel cells developed by automakers such as Honda (NYSE:HMC), Toyota (NYSE:TM) and Hyundai (005380.KS).
These indirect competitors have been spending billions of dollars to develop fuel cell-powered automobiles.
To date, automakers have not succeeded in creating fuel cell-powered autos at an affordable price range for consumers. If they ever can reduce the cost of hydrogen fuel cells, the convenience will exceed that of batteries, which require time-consuming charging.
Financials & Valuation
Bloom has raised in excess of $1.2 billion from top-tier investors. Its most recent financing was a $130 million convertible promissory note in January, 2015.
Normally, venture-backed startups can avoid further dilution by raising financing in the form of a promissory note, which is also an indicator of significant revenues required to cover the debt service.
Bloom has not publicly issued any financial information other than its private funding round announcements, although it has been reported to have reached a $2.9 billion valuation in conjunction with a 2011 investment round.
However, investor GSV Capital stated in its 2016 10-K filing that it had sold its Bloom Energy holdings at a loss, casting doubt on the company's previous valuation.
By comparison, publicly-held competitors such as Fuel Cell Energy and Plug Power have market caps of $170 million and $300 million respectively.
For PLUG, revenues have been growing significantly over the past three years, with 2015 totaling $103 million, a 61% growth over prior year.
Conversely, FCEL has shown revenue stagnation, with 2015 revenues of $163 million representing a 9% decrease versus prior year.
Accordingly, the market has punished FCEL's stock and its Price/Sales multiple is now only 1.26x vs. PLUG's 2.87x.
Commentary
Governments around the world are increasing their support by promoting the use of energy sources that reduce greenhouse gases, especially in advanced nations and large developing countries.
Additionally, companies are making strides in technology development which promises to reduce cost per kW.
As businesses seek alternative energy sources that help them retain or initiate environmentally-friendly policies, there will be growing demand for these types of technologies.
Bloom Energy has been a venture capital darling and has been rewarded with ample funding.
The company has performed well, as evidenced by its long list of marquee customers, which include some of the largest and most well-known companies in the world.
The trend toward clean energy solutions appears to be Bloom Energy's friend.
Without access to the reported confidential S-1, we don't know valuation expectations, so can't provide an opinion yet on the potential IPO.
The company has patient VC backers, but the clock is ticking on providing them with an exit on their investment.
Watch this space for updates as we obtain more details on a potential initial offering.
---
I write about IPOs and tech 'unicorns'. If you want to receive future articles automatically, click the +Follow link next to my name at the top of this article.
Disclosure: I/we have no positions in any stocks mentioned, and no plans to initiate any positions within the next 72 hours.
I wrote this article myself, and it expresses my own opinions. I am not receiving compensation for it (other than from Seeking Alpha). I have no business relationship with any company whose stock is mentioned in this article.