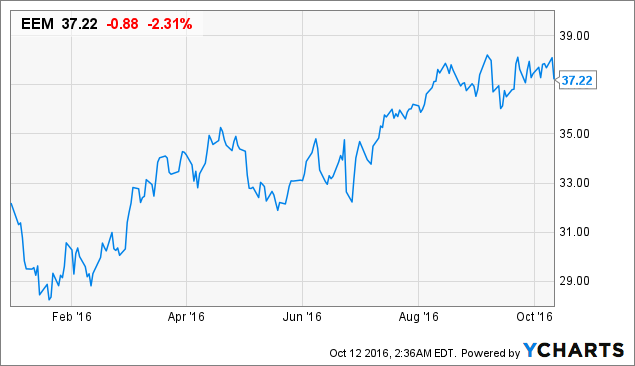 EEM data by YCharts
Emerging markets ETF (NYSEARCA:EEM) is up 19.3% YTD and up 10.4% in the past three months alone. Much of this is not on the basis of organic growth but can largely be attributed to an overall low-yield environment in developed markets, most notably the US, EU, and Japan, where ongoing monetary policies of ultra-low rates and quantitative easing have bid down future yields in bond and stock markets. Rising oil prices and weakness in the US Dollar represent two significant additional factors supporting capital flight to emerging markets, as I will cover below.
Rising Oil Prices
Rising oil prices have also been a key contributor to emerging market ("EM") inflows. Many EMs are net exporters of oil, with several having 10% or more of their GDP comprised of oil revenues, including Russia and parts of the former Soviet Union, Iran, Iraq, Saudi Arabia, Nigeria, Libya, Algeria, and Venezuela (source: JPMorgan). In some corporate bond indices, oil and gas bonds from net oil exporting nations comprise upwards of 30% of the index.
That being said, EM economies are actually net importers of oil as a whole, so the effect works through an indirect channel. Oil prices tend to correlate with the prices of other commodities, given oil is an input into their production, as in the case of food and metals mining (source: Bloomberg). Even while worldwide economic growth is slow on aggregate, higher oil demand and/or lower future production will help benefit many other commodities as a result. Therefore, many countries that depend on commodity exports to deliver a fairly sizable fraction of their overall GDP will benefit from an uptick in the crude oil market. Naturally, last week's news of OPEC's desire to cap oil production is positive for emerging markets.
Moreover, falling oil prices serve as a source of contagion for developing economies. When oil prices fell from mid-2014 to early-2016, net oil exporting countries saw their revenues fall drastically, which caused their currencies to follow suit. Some countries, like Kazakhstan, devalued their currencies (by taking it off a peg and/or printing more money) to preempt any significantly negative economic repercussions. But much of the effect is due to a negative sentiment spillover.
When oil prices fall, net oil exporters see downward pressure on their currencies as their economic growth prospects suffer. For example, see the rise in the US dollar versus the Russian ruble from mid-2014 until oil prices began to stabilize in early-2016.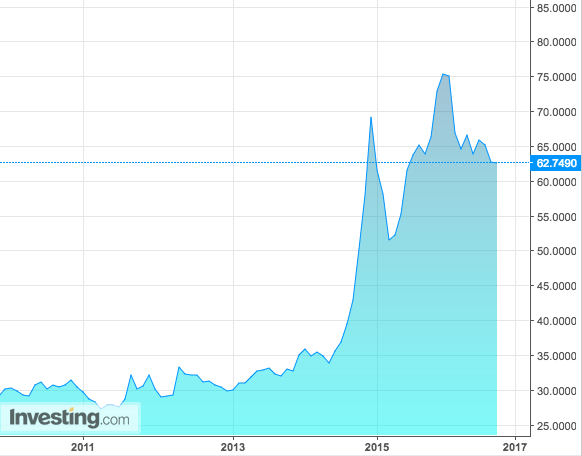 (Source: investing.com)
Nevertheless, when Russia's currency depreciated, that increased the competitiveness of the country's other commodity exports (such as nitrogenous fertilizers), as they effectively became cheaper to importers. As other commodities became cheaper from oil's fall, the negative economic effect pushed down currencies in other developing economies as well through contagion.
Weakness in the US dollar
The Federal Reserve very likely won't be able to raise rates too significantly in the coming years. Inflation is still about 90 bps below the 2% long-term target and middling economic growth won't be able to tolerate several 25-bp rate increases unless growth picks up in proportion. Skepticism regarding the near-term growth prospects of the US economy and high national indebtedness will keep rates lower for an extended period. The Fed will likely undergo a 25-bp hike in the federal funds rate in December unless a series of bad data is released, but a series of hikes throughout 2017 are unlikely. This will keep capital inflows muted due to a lack of yield and therefore keep a lid on the US dollar. This also likely true with respect to the euro and Japanese yen.
With bond yields and savings rates hovering around zero, more capital will flee toward the higher-yielding developing markets where reasonably good quality credit is yielding 6%. While the developed world remains mired in an elongated low-growth state, this allows EMs to take advantage of these inflows and implement structural reform that will benefit their economic growth long-term. The most popular EM currency basket (NYSEARCA:CEW) is up 7.9% YTD.
Is the move over?
Ever since the Fed raised rates from a lower bound of 0.00% to 0.25% in December 2015 and the market dropped through January and into February, investors began to integrate the thought that rates in the US would likely remain lower for longer. This led to 2016 being a very good year for EM asset classes over the first three quarters. With this being said, is this still a trend that investors can take advantage of going forward?
In my opinion, the move in the broader EM index itself is probably mostly over, but there are conflicting forces pulling in both ways. Rising oil prices has been identified as a positive influence, but there are a few complications that could limit its upside. For one, the supply glut in oil is likely to last at least through 2017 and possibly beyond that. Demand is having difficulty keeping pace with supply due to a lower overall growth environment. OPEC's tentatively agreed upon collaboration on a production cap to buoy prices is positive for oil, but getting several parties and nations to agree on supply limitations is not an easy thing to do. Moreover, as prices increases, countries and corporations will be incentivized to expand exploration and production operations. More supply coming online will dampen further upside. Projections of $70+ per barrel by the end of the decade are still quite bullish.
Ultra-low rate policies in the US, EU, and Japan are likely to stay for some time, which will benefit EMs. The EU's likely continuation of quantitative easing through the remainder of 2017 and Japan perhaps pursuing even more aggressive monetary loosening policies will also help.
The big elephant in the room is the possibility of a global recession. For EMs to continue to do well, developed markets must stay healthy as well. And due to the increased uncertainty and volatility in EMs, recessions often hit these parts of the globe worse as a whole. We are 7-8 years into the current business cycle, debt is rising faster than GDP in many developed markets, and asset prices and the growth and inflation that we do have is largely propped up by very loose monetary regimes. Quantitative easing has allowed central banks to remove bond supply from the market, which has bid down yields everywhere. So even if EM high-dividend stocks, bonds, and currencies are running along with 6%-7% yields, these may not necessarily be cheap relative to the risk assumed.
Recap and Conclusion
The iShares MSCI Emerging Markets Index has provided nearly a 20% YTD return, which is obviously very good. Rising oil prices and evidence of long-term weakening of the US dollar -- based on sputtering early-year equities market performance and GDP growth -- have been a strong enough confluence to lead the capital flight into EMs since January.
However, excess supply in the oil market and coordinating production caps among several different parties to buoy prices is a difficult exercise. Even as prices may increase, its re-emergence as a profitable business avenue for many downstream oil companies will increase exploration and production and limit how far oil can truly increase.
The US dollar should remain weak (as should the euro and yen for that matter), but it's a balancing act. On one hand, growth needs to remain subdued to keep rates low and yield low in order to drive cash into EMs. However, if growth were to suffer to the point of a recession with lower worldwide business activity, this would be an anchor that takes developing economies down with it. Therefore, the sweet spot for EMs in terms of developed world GDP performance comes in at a continued aggregate pace of perhaps 0%-1.5% growth. The range supports the continuation of easy money policies; somewhere above it supports tightening (but is unlikely); and sub-zero growth truly doesn't benefit any market immersed in modern economic globalization.
Investors must also concern themselves over the source of the capital appreciation seen in these markets. Some of it is organic economic improvement, which is ideal, but much of it is simply "too much money chasing too few assets" as an extended consequence of central bank engineering. Stocks and bonds have been feeling somewhat bubbly in developed markets. We have recently hit all-time stock market highs despite little in the way of economic growth to back them up and $180 billion still being spent on quantitative easing programs of dubious merit. As a result, investors turned off by the asymmetric risk-to-reward proposition in these markets will begin perpetuating the same issue in emerging markets. The move in the EEM index is probably mostly over, but evaluating opportunities on a case-by-case basis in emerging markets will of course still remain attractive.
Disclosure: I/we have no positions in any stocks mentioned, and no plans to initiate any positions within the next 72 hours.
I wrote this article myself, and it expresses my own opinions. I am not receiving compensation for it (other than from Seeking Alpha). I have no business relationship with any company whose stock is mentioned in this article.