SVB Financial Group (NASDAQ:SIVB): A Secular Growth Bank
SVB Financial Group stock is at an interesting level after a roller coaster year. From 22 July '15 to 11 Feb '16 the stock fell 50%, and from the low to now, it has risen 50%. Over this period sell side consensus for 2017 EPS has declined 22% and for 2018 has declined 13%.
Although the company tweaked its guidance slightly lower at 2Q'16, much of this expected EPS revision reflects the changes in expectations for rate hikes on the part of the analysts. In mid-2015 the Fed was looking at 3/4 rate hikes over the approaching 12 months. SVB is very geared to rate hikes and it is no surprise to see the downgrades following the changes in rate expectations over the last twelve months.
The long term investor can afford to be fairly relaxed about rate hikes opposite SVB's outlook. The company is providing growth anyway and if rate hikes do come investors will gain the earnings that have dropped out of the mid-term forecasts this year at a later date. Although I recently pointed out that SVB is geared to hikes, I don't think this is the primary reason to own the stock.
Secular Growth
SVB Financial Group has a more than 30 year history of providing banking and other financial services to what it terms "the innovation economy", focusing it mainly on "technology, life science/healthcare, private equity/venture capital and premium wine industries" (2015 Annual Report".
Balance sheet growth at SVB has been deposit led, with the bulk of these funds being zero cost demand deposits, and the engine for growth being fundraising by rapid growth businesses.
Loans have grown rapidly as well, however loans are much smaller in volume than the deposit base.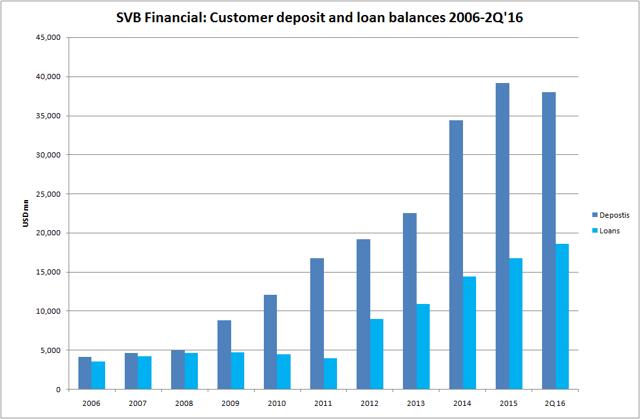 Source: SVB Financial
In 2Q 16, customer deposits fell in absolute terms, reflecting a slowdown in the pace of early stage financing activity and venture capital exit markets. SVB characterizes this market development as a "recalibration" and "healthy", which makes sense. What this development also does is highlight the comparatively low loan/deposit ratio in this bank, which is one of its more distinctive features. Non loan assets are main treasury and MBS securities, both of which are very liquid asset pools that can be switched to loans, allowing the bank to continue serving the credit needs of its clients without any pressure on funding needs.
By the way, this situation is an interesting contrast with another high growth bank I am working on - Bank of the Ozarks (NASDAQ:OZRK). At Ozarks, growth is loan-led with unfunded credit commitments (mainly to real estate construction firms) being signed which obligate the bank to then locate funding, a practice that has driven a successful acquisition strategy but has raised questions about its sustainability. SVB is more a liability led growth story with the volume drivers being investment flows across the PEVC life cycle.
The other key aspect of SVB's returns delivery has been an improvement in the quality of its revenue mix towards items it terms "core fees", which comprise repeatable income streams. I expect this to take the bank away from an income structure that has often featured high levels of securities and warrants gains. Such gains are, of course, intrinsic to what the bank does. Its warrants positions are linked to its early stage lending business, offsetting the naturally high credit risk of start-up companies and, over time, proving a strong net positive for the bank - the chart below is from the company presentation and details this relationship over time.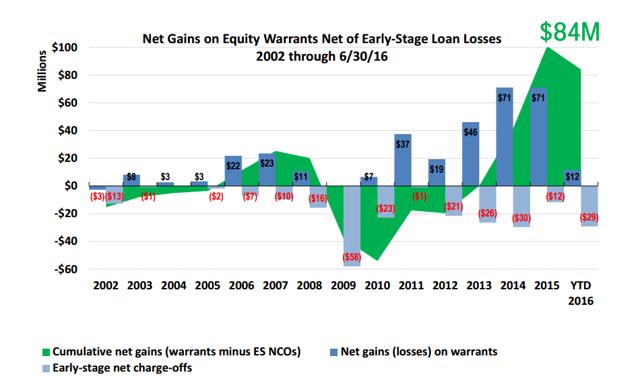 Source: SVB Financial
The following table presents the evolution of SVB's income structure over the last three years and the two quarters so far of 2016. The key development to my mind is the growth of core revenues. That is, the combination of net interest income and SVB-defined core fees to >90% of the revenue mix, importantly while both are growing at a mid-teens clip.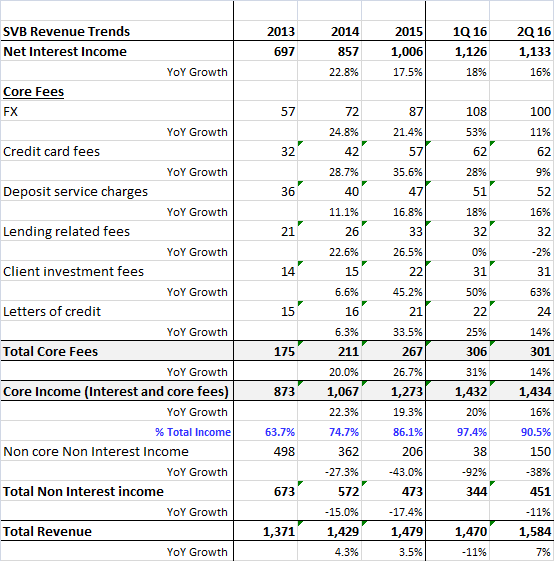 Source: SVB Financial
Improving efficiency metrics
The historical volatility of the overall income line at SVB, which reflects the role of securities and derivatives gains in the past, has given the bank a changeable cost/income "efficiency" ratio. In reality, the relationship between costs and income is more a current period margin measurement than an "efficiency" measurement as such because it is driven by income as much as cost. As well as the traditional cost/income ratio I would run cost/core income and cost/average assets. These give an encouraging picture. Cost/core income has dropped from 70.5% in 2013 to 61% in 2015 and the improvement has continued in the 2016 interims with 56% in 2Q. The cost/income "jaws", which is the difference in the growth rates of income and costs, when measured using core income reads especially impressively - at 15% in 2014, and 10% in 2015. The 2Q'16 jaws was 12.3%, maintaining progress.
Conclusion:
Looking to Q3 results, which are due on 20th October, I expect continued robust loan growth and modestly improved deposit growth as VC and early stage funds markets have improved from the poor start to the year. The key to the quarter though will be the continuation of this qualitative shift in the income mix and core cost/income jaws. I think this development lends SVB another leg to its attraction as a well run play on the underlying growth of the business segments it serves, namely more visible cash flow at still rapid growth.
Disclosure: I/we have no positions in any stocks mentioned, and no plans to initiate any positions within the next 72 hours.
I wrote this article myself, and it expresses my own opinions. I am not receiving compensation for it (other than from Seeking Alpha). I have no business relationship with any company whose stock is mentioned in this article.