We wrote last time how changing news consumption patterns might have positive implications for Facebook (NASDAQ:FB). Needless to say, that's just one of the many under-appreciated catalysts that could drive Facebook higher. Hence, it is hard to spell out the bull case for Facebook comprehensively. In this article, we'll focus on how Facebook's messaging apps, Messenger in particular, can contribute to the company's top-line in future and assess whether any emerging competitors can pose a serious threat to Facebook in the messaging space. In addition to this, we also take a look at Facebook's valuation.
Ever since MySpace introduced MySpaceIM roughly a decade ago, the importance of messaging apps has increased tremendously. Today, no less than 2.5 billion people (or roughly one-third of the world population) use at least one messaging app. Not only are people using apps to engage in one-to-one conversations but also for business communications. According to a recent survey of more than 6000 mobile users from 9 countries conducted by Mobile Ecosystem Forum ("MEF"), 65% of the users surveyed said that they had communicated with businesses using a messaging app. This illustrates how the role of mobile messaging services has expanded over time. The rapid MAU growth for messaging apps has enticed virtually every major technology company to invest in the development of differentiated messaging services. Even Twitter (NYSE:TWTR), after removing the 140-character limit from Direct Messages last year, is perhaps trying to transform itself into a messaging app by launching features like read receipts and web link previews that are commonly found on most messaging clients.
Despite the ever-increasing competition, Facebook remains head and shoulders above everyone else. WhatsApp and Messenger combined have nearly 2 billion MAUs. According to a study by SimilarWeb, the most popular messaging app in every country in North America, South America or Europe (excluding Ukraine and Belarus) was found to be either WhatsApp or Messenger.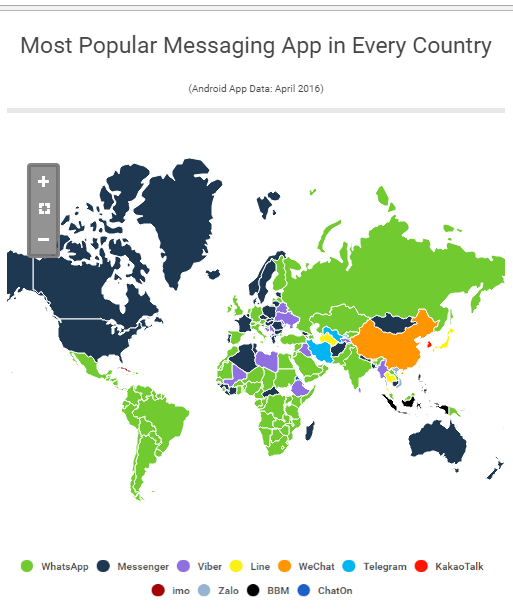 (Source: SimilarWeb)
The fact that Facebook's messaging clients are the darling of the developed world isn't, however, deterring a monster like Google (NASDAQ: GOOG) (NASDAQ: GOOGL) to continue rolling out new IM apps. "Google Allo" is Google's latest attempt to steal traffic away from Facebook's IM apps. Allo is very much like other messaging apps, except that it is integrated with Google Assistant. Google Assistant is Google's machine learning system that suggests responses to you based on text conversations you've had on Allo. Perhaps the biggest advantage of using Allo is that you don't need to leave conversations to google basic stuff. Also if you're driving or can't reply, Allo can propose automatic responses that will usually do the job. Although Allo represents an important advancement in AI, I don't believe it represents a major threat to Facebook's Messenger. As it stands there is nothing out of the ordinary about Google's Allo. The presence of the Google Assistant doesn't eliminate the need for a web browser as the assistant can only help you with very rudimentary tasks. Another major drawback is that Allo doesn't have a desktop client and is not even integrated with Gmail or Google maps. Overall, Allo is nearly a copy of WhatsApp as users login with their phone numbers and doesn't offer too much differentiation. Worse still, many users might be reluctant use Allo because of legitimate privacy concerns. Unlike WhatsApp and Messenger, Allo doesn't encrypt text messages, except if you are in 'incognito mode', which means if a government demands Allo conversations for inspection, Google doesn't have the option of not handing them over. Here is a tweet by former CIA employee Edward Snowden, asking people to be wary of Allo: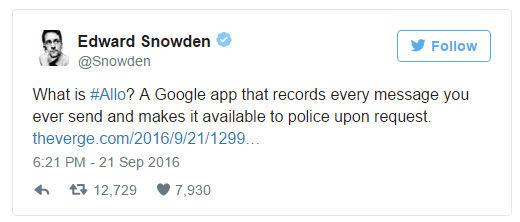 But expecting end-to-end encryption for all messages on Allo is unreasonable because that would mean killing Allo's machine learning features. Nevertheless, users know that Google can't be trusted blindly. Some readers might recall what happened with Google Buzz back in 2010. Once you made a profile on Google Buzz, Google automatically selected your followers and people you'd follow based on the information collected from your Gmail. Unless you had edited default settings in your profile, anyone could just view your Google Buzz profile and learn which people you talked to the most using Gmail. For these reasons and others Google Buzz failed. It is too early to say whether Allo will be plagued by similar issues or not but Google's strategy behind Allo is reminiscent of the approach Google employed while developing Google Plus. Google Plus wasn't really a bad or less attractive social network. There was no differentiation which is why people who were already hooked to Facebook found no reason to switch.
Shortcomings of Allo aside, the problem for Google is that Facebook Messenger is quickly becoming the most useful messaging client ever. As alluded to earlier, more and more people are using messaging apps for business communications. Facebook's Messenger platform version 1.2 is currently the best option for individuals wishing to use a messaging app to interact with businesses. To make it easier for people to initiate a conversation with a particular service, Facebook is offering welcome screens for bots. This will reduce friction between buyers and sellers and considering the fact that businesses have the option of modifying details in their introductory text on the welcome page, selling products through Messenger is likely to become more efficient. In addition to this, what's truly amazing is that now users can actually make P2P payments through Messenger; something that can't be done through Allo. The addition of this feature means that user engagement for Facebook Messenger will rise and once Facebook monetizes Messenger, the app's ARPU will reach unprecedented heights. Guessing the exact number is difficult but as a guide one can look at Line's (NASDAQ:LN) ARPU. Line has 220 million monthly users. In merely two years, Line managed to increase its ARPU from an insignificant $1.2 in 2014 to $5 in 2016. This was done by increasing engagement through games and other services including of course the famous taxi booking service. Given the excellent new features Facebook has added to the Messenger, it is reasonable to expect Messenger's ARPU to surge to at least $5 within a few years which means Messenger alone would be contributing $5 billion per annum to Facebook's top-line.
Another big, rather overlooked news for Facebook is Apple's (NASDAQ:AAPL) decision to endorse cross-platform messaging on iOS 10. Owing to the integration of third-party messaging apps on iOS 10, dubbed by Apple as 'CallKit', receiving calls or messages via the updated Facebook Messenger or WhatsApp on iOS now feels very much like receiving regular cellular messages or calls. This is yet another factor which will help Facebook strengthen its position in the messaging apps space and make it extremely difficult for new apps like Allo to accumulate a loyal, engaged user base.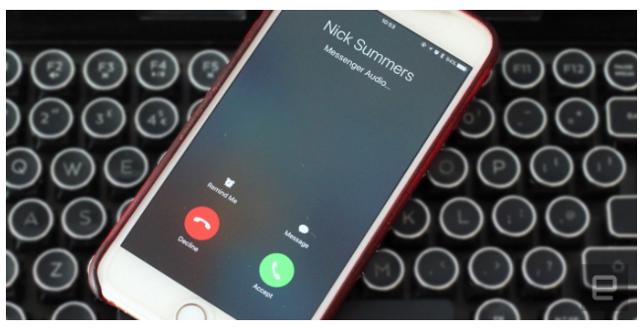 Valuation
On a relative basis, Facebook doesn't look overvalued. Taking into account Facebook's EBITDA growth rate of 32%, the company's EV/EBITDA multiple of 30x is by no means high. In fact, based on peers, GOOG and LinkedIn (LNKD), a multiple of 40x might be more appropriate for FB.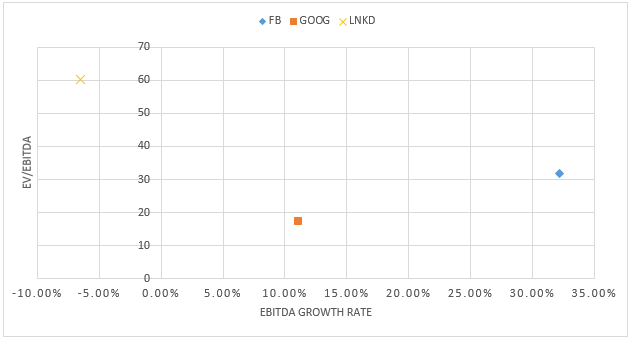 (Source: Morningstar, author's calculations)
Price to Book Value is another ratio that can be used to compare Facebook's valuation with that of its peers. In addition to GOOG and LNKD, here I have included TWTR and Yelp (NYSE:YELP). As can be seen below, out of the chosen companies, FB has the highest PB ratio. This, however, is justified by Facebook's advantage in ROE. Except GOOG, all of Facebook's peers have negative ROE, which explains why they are trading at a lower PB multiple. Facebook has a ROE of 13.4%, meaningfully higher than the industry's average ROE of 9.4%. Hence, the high PB ratio alone shouldn't deter potential investors from buying Facebook's shares.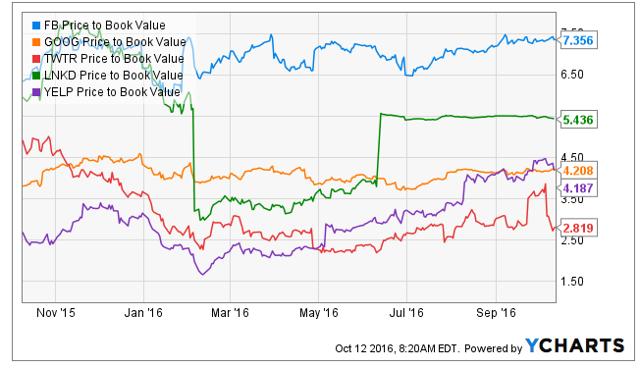 Conclusion
Facebook's success in the messaging arena is likely to continue for reasons outlined in the article. Allo, Google's latest attempt to challenge Facebook in mobile messaging, will perhaps only be remembered as an advancement in AI. Both the Messenger and WhatsApp are becoming increasingly powerful and until Facebook fully monetizes these apps, I am buying shares without trying to time the market.
Disclosure: I am/we are long FB.
I wrote this article myself, and it expresses my own opinions. I am not receiving compensation for it (other than from Seeking Alpha). I have no business relationship with any company whose stock is mentioned in this article.