Cisco (NASDAQ:CSCO) was the fourth company to join the retirement portfolio "Unbeatable Stocks With Everlasting Dividends." I have to say that from the 10 stocks selected Cisco is one of my favorites. Based on its fundamentals I'm truly convinced that this is one of those companies really for the long run. Some may say that its share price's historical evolution gives no security, looking more like a wide roller coaster between $15 and $30 over many years. But remember that we are talking about a case study of the dotcom business that survived after rising to the sky and falling almost to hell. Instead of succumbing, the company has held up beautifully during the last 15 years. Although being already a very large company with significant value it has the capacity to keep growing and become of great worth for shareholders. The company seems to have gained new breath since its business plan changed shaping up to modern times.
As I've written in my previous article, it seems that the time of the unattainable level of $30 - which seemed impossible to reach - was definitely outdated. This happens at a time when the Nasdaq does not show enough strength and that any slip of the index might ruin everything. But I'm confident that the path above $30 will be taken up more vigorously than before in due course. The secret lies in the fundamental strengths of the company.
With a strong balance sheet and generating significant cash flow, this value company has strong ability to grow. Investors are happy with its rising share price, the dividend yield of 3.30%, and the addition of $15 billion to its buyback program. Cash flow has been more than enough to acquire relevant companies ensuring that Cisco is at the front line of the market. And what is now Cisco's main goal? It's services (security is key) and the cloud business with the focus on the new internet developments, which means the Internet of Things.
While the company has managed to improve its revenue even with the switch towards the most updated version of IoT, net income is growing and the same is happening with free cash flow. The right acquisitions are crucial to Cisco's growth. In fact, the company has acquired Jasper Technologies (an IoT service platform) and a cloud-security provider (CloudLock) among many others. A strategic partnership with Salesforce.com (NYSE:CRM) also is crucial to develop IoT and give more productivity to sales in order to better satisfy clients.
Another strength lies on Cisco's worldwide expansion with India and Mexico currently presenting the most promising results. Moreover, the company reveals a strong market position in all major countries.
If we try to look into the future valuation appears to be solid and with a long-term target much higher than current share price. In the short term Cisco's aggressive stance in the market makes us believe in a steady and increasing market position. in fact, I think that the company will succeed in reducing costs and take the lead in the highly value added business of the internet space.
It's important to note that the company is very shareholder friendly as it pays a high dividend yield. Furthermore, the company continues with the aim of returning to shareholders at least 50% of its free cash flow. For the current full fiscal year, Cisco rewarded a solid 70% (around $8.7 billion) through share buybacks and dividends.
Let's take a look to the one-year daily chart to see the recent share price development.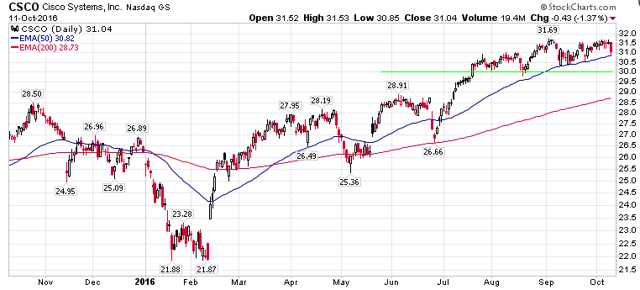 Chart courtesy of StockCharts.com
Note: The chart is in semi-logarithmic scale
The multi-year resistance at $30 - now converted into support - was surpassed at the time of my previous article two and a half months ago. It is significant to note that since then Cisco's share price has remained above that level. In fact, on July 20, share price broke through $30 with real strength and strong volume. A test was made on August 18 with success since the price came down, touched that level and went up again.
Conclusion
When a blue chip company only thinks about new streams of revenue and gives utmost importance to clients it surely is moving in the right direction. In addition, when a company is like a cash flow machine in which cash is largely returned to shareholders it's obvious that it has a smart management doing good work. The stance of the company in the market is absolutely adequate and inducing confidence and credibility. I continue to be optimistic about Cisco in the short term and I also think it is an excellent investment going forward.
Note: This virtual Portfolio is only intended to be a guide for investors
Disclosure: I/we have no positions in any stocks mentioned, and no plans to initiate any positions within the next 72 hours.
I wrote this article myself, and it expresses my own opinions. I am not receiving compensation for it (other than from Seeking Alpha). I have no business relationship with any company whose stock is mentioned in this article.
Additional disclosure: The author of this article is not an investment adviser and gives only his personal view and opinion, never making any investment advice or recommendation to buy or sell specific securities. Investors in financial assets must do so at their own responsibility and with due caution as they involve a significant degree of risk. Before investing in financial assets, investors should do their own research and consult a professional investment adviser.