Platform Specialty Products (NYSE:PAH) has been on a bumpy ride since the stock went public at $10 per share in May 2013. The specialty chemical producer's shares almost tripled in value in less than a year, and traded in the high $20's until last summer when things started to nosedive. Since its peak on June 5th, 2015, the stock has lost 75% of its value and now trades below the IPO price at $7.16. The sell-off is understandable. PAH's aggressive acquisition strategy has destroyed shareholder value and left the company mired in debt. Leverage levels have reached the point where it is cheaper for the company to issue new equity rather than borrow, and this is exactly what the company did less than a month ago when it raised $350 million in a stock offering, much to the chagrin of shareholders. But while management's aggressive (and some might say careless) spending has undoubtedly played a role in the stock's decline, it is important to put the past year and a half into context. A number of factors outside the company's control are weighing on performance, including tepid global economic growth, major currency depreciations in Latin America and the UK, weakness in the oil patch, and excess capacity in agricultural commodity markets. Regardless, PAH is still on pace to achieve its target of $40 million in cost synergies for 2016. We have never seen anything quite like this confluence of economic, geopolitical, and FX headwinds before, and PAH has exposure to all of it. PAH hasn't gotten a fair shake, and we believe there is long-term upside potential in the stock as macro conditions gradually normalize.
Figure 1: PAH Price Graph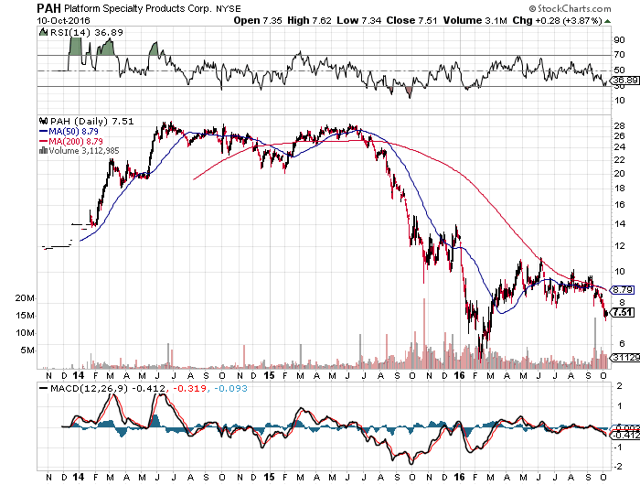 Source: stockcharts.com
PAH's situation is really a case of bad timing. The company went on a spending spree just before global macro conditions started to get ugly. Over the past three years, PAH has completed six acquisitions, and while the spending might appear careless on the surface, management has a clear strategic focus. PAH is looking for companies that provide geographic or product diversification, or companies in related product categories in which synergies can be captured by selling through existing distribution channels or by expanding distribution channels for existing products. The idea is to create enough end market diversity that the company can maintain growth and generate cash flows throughout the economic cycle and mitigate the impact of a downturn in any single market. Under more normalized conditions, this strategy would likely bear fruit, but the current macro economic environment is anything but normal. China is not the growth engine that it was, and the repercussions have been felt in commodity markets throughout the world. Excess capacity in the oil and gas industry has forced customers to slash their budgets, and weak food commodity prices have depressed farmer incomes and hampered demand in the agricultural space. PAH is heavily exposed to these segments, and the company's currency exposure has only exacerbated the problems caused by sluggish global growth. Approximately 77% of the PAH's 2015 revenues were denominated in foreign currencies such as the euro, pound, yuan, and Brazilian real that have all depreciated significantly relative to the dollar in the past few years.
We would be concerned if PAH's spending spree was the product of weak corporate governance and a compensation system that didn't hold executives accountable, but there is no evidence of this. PAH has some of the more sound corporate governance practices we've seen in the small cap space, and management is not engaging in empire building (acquiring businesses for the sake of expanding firm size to earn higher payouts when compensation is tied to the value of revenues or total assets). 20-30% of executive compensation is in the form of base salary and executives don't earn bonuses. This isn't to suggest that management doesn't have an incentive to create value, as the bulk of pay is comprised of incentive plans, but it means that management is compensated for performance. PAH's stock returned -45% last year, and executive pay declined 30%. PAH uses a form of non-equity incentive compensation scheme that is preferable to stock options, which often introduce an unwanted level of risk due to their asymmetric risk/reward profiles (with options, managers can share in the upside if risky projects work out, but don't have to shoulder the losses if the projects fail). This desirable compensation structure stems from an independent board of directors that ensures that management runs the company in the best interest of shareholders. The preservation of shareholder interests is the stated objective of every board, but it is less often put into practice, especially at smaller companies where insiders often hold more concentrated positions and where executive actions typically have a bigger impact on stock value. We think PAH has the best interests of shareholders at heart, and that management genuinely believes its acquisitions can create value in the long run.
Financial risk is the biggest risk PAH faces. The company's acquisition strategy has left PAH with a massive debt burden, and the key question is whether the company can generate enough cash from operations over the next five years to avoid going bankrupt when a $3.2 billion debt payment comes due in 2020 (Figure 2). Issues about solvency have mounted as losses have accumulated and the equity base has diminished, and the D/E ratio after the latest quarter was 2.21. As bad as the leverage ratios appear, they are even worse when you factor in operating lease payments and other contingency agreements that are left off the balance sheet and instead reported in operating expenses on the income statement. When given the choice, companies often opt to report leases as operating rather than capital leases (which transfers the asset and any related liabilities to the balance sheet) in order to report better solvency ratios, especially during periods of financial distress, and this choice of reporting comes as no surprise. While the accounting treatment has no impact on cash flows in the long run, it is something that investors should be aware of as it undermines the transparency of the balance sheet. Figure 2 illustrates all of PAH's financial commitments as of December 31, 2015:
Figure 2: Contractual Obligations and Commitments

Source: 10-K
As is to be expected of a serial acquirer, goodwill and intangible assets comprise a major portion of the balance sheet. In fact, goodwill and intangibles together account for almost 75% of total assets. PAH acquires "asset-lite" businesses that require minimal levels of capital investment to generate incremental growth. The bulk of its investments go into R&D, and these businesses leverage their brands, customer relationships, and trade secrets to churn out revenues while keeping capital spending to a minimum. This is a desirable characteristic for a company such as PAH that is short on cash, the problem is that PAH can't really be considered a capital-lite business when it spends so much to acquire these companies. The lack of tangible assets on the balance sheet also gives management some leeway when it comes to reporting the company's financial position. Goodwill, for instance, requires management to estimate growth rates and discount rates for the assets it has acquired, and management can overstate the fair values of its reporting entities by altering these inputs. It is curious that, despite the slowdown in growth in recent times, management has not taken any write-downs on its goodwill. It is highly unlikely that the company anticipated this kind of operating environment when it made the acquisitions, and management's growth assumptions seem a little aggressive. For Agrochemicals businesses, PAH assumes an annual growth rate between 1.3% and 7.2%, and assumes a growth rate of -0.7% to 9% for offshore oil and gas businesses. These assumptions don't reflect current economic reality. PAH's discount rate assumptions are also aggressive. The company uses a 10% WACC to discount cash flows based on a standard CAPM model and an assumed credit rating of BBB (Figure 3). Moody's recently rated PAH at B2, and given PAH's significant market risk (beta of 2.2) and a premium for illiquidity, we estimate Platform's WACC at closer to 15%. The 10% number seems arbitrary, and we believe PAH is overstating goodwill.
Figure 3: Discount Rate Assumptions

Source: 10-K
PAH has reported some pretty horrific numbers on the income statement, and last year's EBITDA barely covered interest payments. But investors need to look beneath the surface and focus on adjusted EBITDA to form a better understanding of Platform's performance. The expansion into lower-margin Ag products will keep normalized margins lower compared to prior periods, but FX, purchase accounting adjustments and other acquisition-related charges, and restructuring expenses have had a big impact on reported earnings. Adjusted EBITDA margin declined from 25.1% in 2014 to 22.3% last year, compared to a decline in reported EBITDA margin from 15.5% to 12.7%. Adjusted margins are almost 10 percentage points higher than reported margins, and profitability and interest coverage ratios are much improved after adjusting for transitory items. Figure 4 details the reconciliation from net loss to adjusted EBITDA in 2015.
Figure 4: Adjusted EBITDA Reconciliation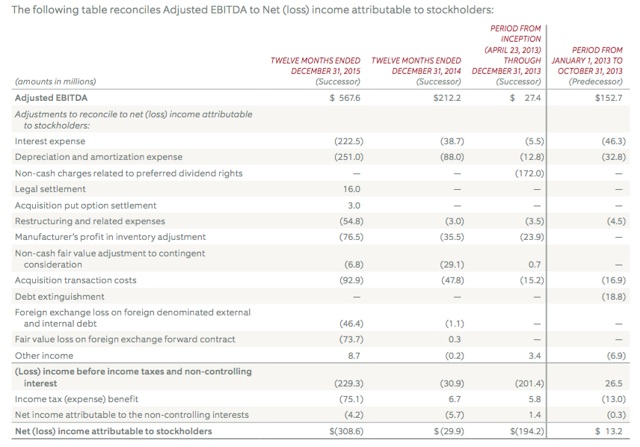 Source: 10-K
The question of whether PAH can turn things around is largely outside of the company's control. While global economic growth will likely remain sluggish through 2017, we don't think end market conditions can get much worse. Platform serves customers in the automotive, printed circuit board, offshore oil and gas, commercial packaging, and crop production industries around the world. These segments have reached maturity and even saturation in many developed markets, but there is still opportunity for growth in emerging economies, and PAH has positioned itself for a recovery by acquiring firms with exposure to these higher growth regions. The increased use of electronics in automotive and industrial applications should drive demand for faster electronic processing, and growth in the consumption of packaged goods will increase demand for liquid plate and other processing technologies. Excess supply in agricultural commodity markets continues to be a major headwind for Platform, but performance should improve as supply and demand conditions adjust and the long-term outlook is promising for this segment. Population growth, urbanization, and rising incomes in emerging markets will require farmers to improve their crop yields in order to satisfy the needs of consumers from their limited land resources, driving demand for PAH's agricultural chemicals. We expect the agrochemicals market to bottom in 2016 before returning to growth at an average CAGR of 3% over the next five years (Figure 5). Finally, while we don't expect oil to sustain a price much above $50 throughout the next year, we believe the sector's worst days are behind it. An OPEC agreement seemed unthinkable not long ago, and while nothing is set in stone, it looks increasingly likely that Middle East producers will do what's necessary to create a more rational pricing environment. Oil prices should gradually recover over the next few years, and so too should demand from Platform's offshore drilling customers.
Figure 5: Global Agricultural Chemicals Growth Forecast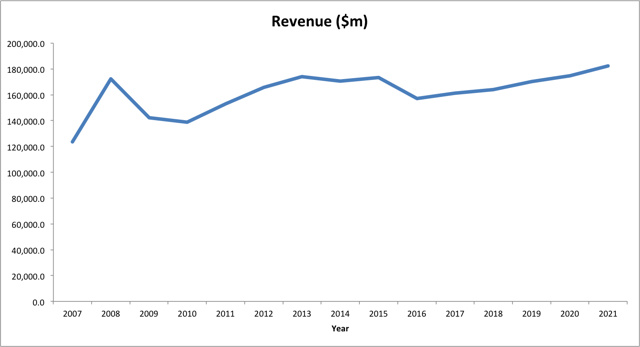 Source: IBISWorld
It's common practice to lump in chemical manufacturers with commodity producers when analyzing competitive advantage, but this is a mistake. In general, specialty chemical producers have much more pricing power because they sell differentiated products that serve very specific purposes for end users, often in niche markets. This helps keep customers entrenched, raises switch costs, and provides some margin protection against volatile input costs. That being said, it is difficult for specialty chemical producers to carve out an economic moat (in other words, generate economic profits throughout an economic cycle). Competition is intense due to rapid technological change and the threat of obsolesce, evolving customer standards, short product lifecycles, and a large number of competitors. These dynamics are favorable for smaller, less established companies such as Platform who have a chance to take share from larger rivals with greater resources by being innovative. PAH does not have any sustainable competitive advantages in our view, and even after adjusting for currency and non-recurring items the company is unlikely to earn excess returns on capital, even in a normalized operating environment. But at the current valuation, PAH doesn't need to in order to create value for shareholders. Platform trades at a 30% discount to book value, which implies that the market doesn't even expect PAH to earn its cost of capital. The skepticism is understandable given that PAH has reported losses in each of the past seven quarters, but investors should ask themselves whether the macro conditions that have weighed on Platform over the past year and a half are likely to persist going forward. We think it's unlikely, and while global growth isn't about to accelerate, we do expect conditions to improve in the majority of PAH's markets during the next five years. As organic growth picks up and margins expand closer pro-forma adjusted levels, we believe PAH's stock price will eventually rebound.
An investment in PAH certainly comes with its risks. The company's financial health is a concern and the firm's large debt burden exposes it to interest rate risk. $3.3 billion of PAH's $5.2 billion of long-term debt is variable interest rate debt based on 1-month LIBOR. However, we believe we are in a new-normal period of low interest rates, and think it is unlikely that the Fed or any major central bank for that matter will raise rates significantly anytime soon given the massive fiscal pressures that governments around the world will continue to face. PAH's foreign operations bring currency risk, but we think the risk with FX is skewed to the upside. The US dollar has appreciated significantly against most currencies over the past few years based on the expectation that the Fed was preparing to raise interest rates. The dollar is still priced as if the Fed will begin a lengthy tightening cycle in the near future, but the Fed will keep rates lower than the market expects, and for a longer period of time. The dollar has a long way to fall, and when it does, PAH's foreign-denominated earnings will increase in value, the exact opposite of what has occurred in recent times.
Conclusion:
Platform Specialty Products is down 75% in the last year or so and the margin of safety is large enough for patient, buy-and-hold investors to consider a long position. Currency headwinds, unprecedented geopolitical events, a recession in Brazil, an oil price crash, uncharacteristically low commodity prices, and general macroeconomic weakness have wrecked havoc on PAH and masked some decent performances considering the circumstances. Organic constant currency growth increased 1.4% in the latest quarter, and the cost synergies from strategic acquisitions are going unnoticed due to significant restructuring and non-recurring integration charges. PAH's debt burden is nothing to sneeze at, and the company's financial health is even more precarious when you analyze the balance sheet in greater depth. But PAH has time on its side and a competent management team committed to preserving the interests of shareholders. The market will show the stock more respect when conditions return to some semblance of normalcy.
Disclosure: I/we have no positions in any stocks mentioned, and no plans to initiate any positions within the next 72 hours.
I wrote this article myself, and it expresses my own opinions. I am not receiving compensation for it (other than from Seeking Alpha). I have no business relationship with any company whose stock is mentioned in this article.