Following last week's post on the lithium trade, this article casts an eye over another potential technology goldmine, artificial intelligence, as a long-term investment.
For some time now, it has been clear that AI is en vogue. Editorials have described it as "today's great obsession," as the imminent cause of "labor displacement of a magnitude we haven't seen since the 1930s," and as having the potential to "double annual economic growth rates by 2035." Change is coming and with it investment opportunity. AI is set to become a part of the fabric of our lives, and to an extent, it already is. From supply chain improvements to big data, wearable technology to a new wave of automation, AI is here to stay.
1-Year Share Price Performance - Google, Microsoft, Facebook, and IBM.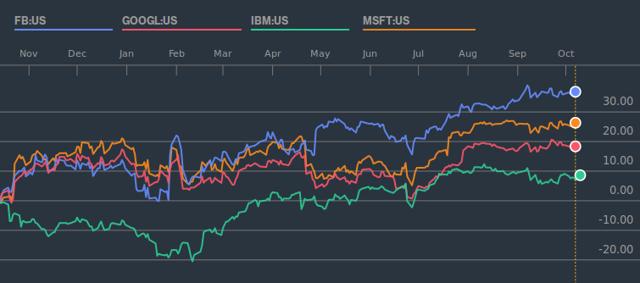 Source: Bloomberg.com
Some of the key players in AI are, of course, the biggest technology companies, including Google (Alphabet) (NASDAQ:GOOG) (NASDAQ:GOOGL), Facebook (NASDAQ:FB), IBM (NYSE:IBM), and Microsoft (NASDAQ:MSFT). They have all invested significant funds in the pursuit of ever more advanced machine learning. Two years ago, Google bought DeepMind for $600m, a purchase which shows significant promise. Since then, the company successfully developed the first machine to beat a human world champion in a game of Go. Their motivation? Knowledge, innovation, and growth.
Research firm Markets and Markets believes that the AI market will grow over 1000% to $5.05 billion by 2020, and notes that there is currently a total of $5.4 billion invested in AI startups. Bill Gates at the Vox Media Code Conference declared that the "dream [of AI] is finally arriving." It seems that if you haven't already considered dipping your toes into the AI market, it may well be time for a measured long-term investment.
Of these companies, Google needs little introduction as a strong investment. The suite of AI products it's working on, from driver-less cars to automated and personalised email services, have significant market potential. Facebook is attempting to challenge Apple's Siri with a personalised Q&A AI. The Big Beast of IBM is pushing its own analytical AI tools, such as Watson, to companies that need to analyse large quantities of unstructured data, while Microsoft is attempting to improve its learning algorithms in order to boost its share of the search market.
Each of these projects, should they be successful, will be sure to boost stock values and provide a solid medium to long-term return. Without wishing to bang the drum for the stocks you already know, such as the IBMs, Apples, and Intels of this world, with the pure play on AI difficult, exposure through the giants is one way to get involved early on. The AI market is growing, but presently, it consists of established players and innovative SMEs yet to launch an IPO.
Technology Companies & AI Acquisitions.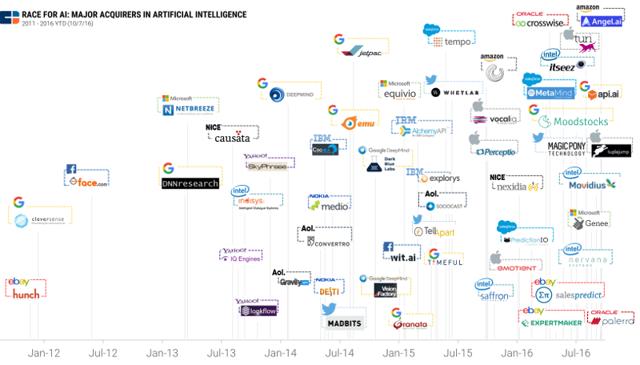 Source: cbinsights.com
Outside of the behemoths of technology stocks that are engaged in heavy AI research and have taken investment positions in SMEs, what other companies could you invest in to raise your portfolio's exposure to AI? Hundreds of large corporations have an interest in AI, here we'll look at five.
NEC: Whilst having had a somewhat disappointing year in terms of share price, the Japanese company has nonetheless performed well over the past five years. It has invested strongly in its own AI research, winning awards from the NIST, with an approach geared towards commercialisation. It also claims to be the world leader in facial recognition technology, an area with significant growth potential. With its share price slowly rising, NEC may have potential value as a long-term AI investment.
Qualcomm (NASDAQ:QCOM): Qualcomm are investing heavily in AI R&D and this year announced their new SDK (Software Development Kit) which will enable localised deep learning on mobile devices, which could significantly expand the impact of low level AI on the feedback our machines can give us, even offline.
Qualcomm - Yearly Share Price Graph

Source: Google Finance
Wipro (NYSE:WIT): The Indian information technology services company has a wide range of business interests, from providing medical systems to outsourcing systems laptops. It has taken positions in several AI companies, including Vicarious, itself a company worth keeping an eye on should it ever become publicly traded.
While the performance of Wipro's stock has been middling, its strong support for Vicarious, which intends to remodel the human brain in order to develop strong AI which Wipro plans to use to identify text on ripped and crumpled documents, make Wipro an interesting proposition to gain exposure to the Artificial Intelligence market.
Samsung (OTC:SSNLF): Again, like most of the other companies in this article, the electronics giant needs little introduction. For those interested in a long-term investment in AI, in light of its recent woes and assuming it recovers from the Galaxy Note fiasco, Samsung may present an opportunity. The company has exposure to the AI market through its own research projects and is also an investor in AI SMEs, including the aforementioned Vicarious.
Additionally, rumours suggest that the company will be exclusively manufacturing the latest of Qualcomm's well-regarded mobile chipsets, the Snapdragon 830. Despite Tuesday's eight percent share price fall, there may be long-term value in Samsung. When the current crisis abates, it is likely that the value of Samsung will rise again.
Samsung Share Price - 1 Year.

Source: Bloomberg
Reference should also be made to the Global X Robotics and Artificial Intelligence ETF (NASDAQ:BOTZ) and its competitor the Robo Global Robotics and Automation Index (NASDAQ:ROBO). Recently launched, BOTZ has performed consistently and the 28 stock fund offers exposure to a series of sectors in which AI and robotics research is in process; from industrial machinery to healthcare. ROBO, while more expensive to invest in, has experience in its favour and has a wider range of investment, with positions taken on 85 stocks. Both funds may offer investors potential for growth and exposure to the AI sector.
BOTZ ETF - 1 Month.

Source: Google Finance
ROBO ETF Price 1 Year.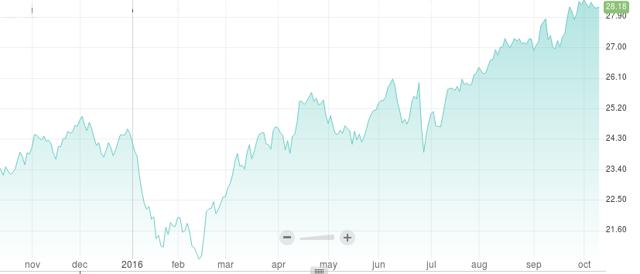 Source: Nasdaq.com
The potential for short-term gain in the Artificial Intelligence Market at the moment is limited. Pure plays are difficult to find and many of the more interesting investments are SMEs in the process of securing venture capital funds to further their R&D and expansion. In the short term, it seems that the best position available for the average investor to take in the AI market is to build a diverse portfolio of companies with significant investment in AI. Quite clearly, investment in Artificial Intelligence requires a long-term view, but keep in mind that five-year prediction of 1000% growth.
(Mr. Oisin Breen: Technical Analyst at Accendo Markets)
Disclosure: I/we have no positions in any stocks mentioned, and no plans to initiate any positions within the next 72 hours.
I wrote this article myself, and it expresses my own opinions. I am not receiving compensation for it (other than from Seeking Alpha). I have no business relationship with any company whose stock is mentioned in this article.
Additional disclosure: CFDs, spread-betting and FX can result in losses exceeding your initial deposit. They are not suitable for everyone, so please ensure you understand the risks. Seek independent financial advice if necessary. Nothing in this article should be considered a personal recommendation. It does not account for your personal circumstances or appetite for risk.