Introduction
As I recently finished my one-year Master's program at Queen Mary University of London, I have relatively more time again to focus on my long-term stock portfolio. Looking back at the investments I have made over the last few years, I noticed that my investment into Baidu (NASDAQ:BIDU) is down more than 23% since I first bought the shares in November 2014. As a result, I started asking myself whether I should sell the position or wait for a better time.
The original investment thesis was based primarily on Baidu's high earnings and revenue growth and its unique position on the Chinese search and online advertising market. At the time of the first purchase, the PE ratio was at a generally high level of 40, but net income had a track record of growing at a five-year CAGR of 47.7% and earnings growth prospects were also very attractive. Historically, Baidu's shares have returned over 2,000% in the last 10 years. However, compared to the SPDR S&P 500 ETF Trust (NYSEARCA:SPY) as a proxy for the S&P 500 index, Baidu's shares have underperformed the benchmark by a large margin and added just 50% in the last five years.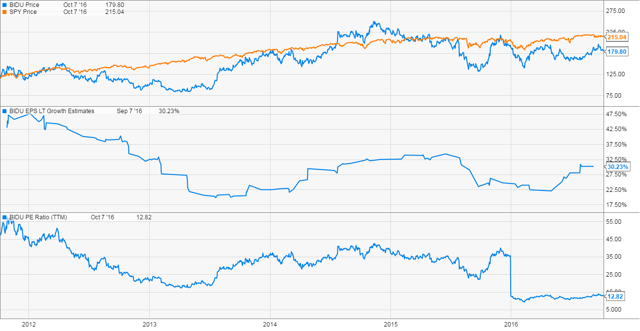 Source: Ycharts.com
Margin Erosion And Declining Profitability
Over the last two years, Baidu's business has considerably faded. Due to intensifying competition in Chinese e-commerce market, quarterly year-on-year revenue growth almost ceased and profit margins slid to their lowest levels since Baidu's first day of U.S. public trading in 2005.
Source: Ycharts.com
Earlier this year, the financial health of the company has also been negatively impacted by unfortunate incident of 21-year old Chinese college student who died after he received an experimental medical treatment promoted by Baidu's search results. Nevertheless, this is not the most serious issue for the long-term viability of the business.
According to the latest 20-F filling, around 82% of total revenue comes from the segment of search services. The other two segments - transaction services and iQiyi - account for the rest. Even though revenues in all three segments are still growing at superior rates, the growth is gradually decreasing and this trend is not likely to reverse in the upcoming years.

Source: Baidu's 2015 Form 20-F
Baidu's survival in the long term is therefore largely dependent upon its ability to commercialize all its current innovation efforts. To persuade investors, Baidu needs to introduce new revenue streams that are stable and ideally growing at an accelerating pace.
R&D expenses at record levels
The good news is that the management is well aware of the fact that innovation plays a crucial role for a sustainable development of the company. Since 2012, research and development expenses as a percentage of annual revenue have risen from roughly 9.5% to 15%. Within the research division, Baidu currently employs top researchers and engineers working in three interrelated teams in Beijing and Silicon Valley. By the end of this year, Baidu plans to grow the headcount of its Silicon Valley autonomous car technology team to more than 100 people.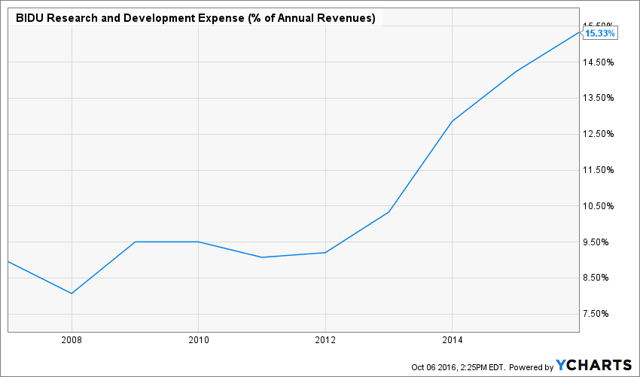 Baidu has an edge in race to autonomous vehicles
Unlike some other players in the forming autonomous vehicles market, Baidu has developed numerous core competencies that can help the company succeed in the competitive environment.
First, it has been already recognized that the most valuable asset in race to autonomous vehicles is the software. Apart from Google (NASDAQ:GOOG) (NASDAQ:GOOGL), Baidu is the only company that possess an advanced mapping technology and that has performed several self-driving tests to improve its system. On top of the essential prerequisites, Baidu also plans to test its deep learning technology that will enable self-driving cars to learn from each other and share experiences with driving under different weather and traffic conditions.
Second, Baidu has a strong position on its domestic market. Since the first self-driving tests in December 2015, Baidu has already approached several Chinese car makers and entered into partnerships with tech companies. As a result of recent merger, Baidu also owns a stake in ride hailing company Didi Chuxing, former Uber (Private:UBER) China. These strategic relationships together with protectionist policies of local authorities constitute considerable competitive advantage.
Lastly, Baidu has an ambitious timeline that matches the timeline of Tesla (NASDAQ:TSLA). The company's goal is to produce a self-driving car by 2018 and commence mass market production of fully autonomous vehicles by 2020. Even though most other car makers intend to bring their driverless cars to the road by 2021, they sometimes seem to not know how to work towards their goals. Ford (NYSE:F), for example, wants to skip the whole driver-assist development phase and Apple (NASDAQ:AAPL) is allegedly struggling with the departure of key personnel.
The Bottom Line
Overall, I believe that Baidu is well-prepared to reap the rewards of the new - artificial intelligence - age. With PE ratio of 13, Baidu currently trades at an attractive multiple. Considering Baidu's position in the nascent autonomous vehicles industry, I see the expected return distribution of an investment in Baidu as positively skewed. It will certainly take some time before Baidu's expertise translates into the bottom line, but once it happens, be prepared that the shares will be trading substantially higher.
Disclosure: I am/we are long BIDU, GOOG, AAPL, TSLA.
I wrote this article myself, and it expresses my own opinions. I am not receiving compensation for it (other than from Seeking Alpha). I have no business relationship with any company whose stock is mentioned in this article.