Philip Morris (NYSE:PM) is in the international tobacco industry. The industry appears to be dying. However, looks can be deceiving. Philip Morris has seen revenues and earnings grow substantially after adjusting for changes in the exchange rates. Looking through some of the slides from a recent investor presentation, Philip Morris clearly demonstrates why their company is stronger than most investors believe.
It is important to emphasize that this article deals with the distortion between values under GAAP and the values that would exist without the shifting in exchange rates. Because of a sudden shift in exchange rates, the values under GAAP make the company appear less reliable. Consequently, indexes that scan the GAAP figures to determine which companies are financially strong and growing may underestimate the strength of Philip Morris.
Industry Volume and Philip Morris Volume
Look at the chart below for the last few years: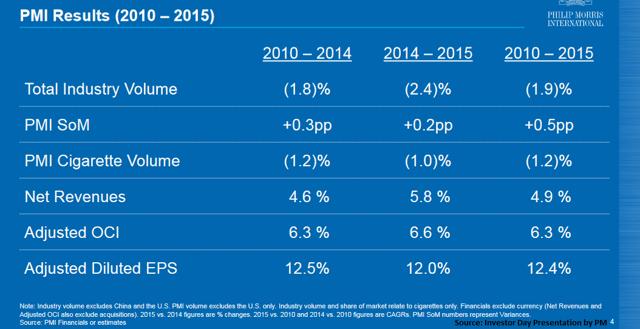 Total volume across the International tobacco industry has been trending downwards at a significant rate. The decline is almost 2% per year. Industry volume reflects units sold rather than total revenue. The total volume of cigarette sales declined year over year. However, Philip Morris commands a slightly larger share of the market in each year. While their cigarette volume is decreasing year over year, it decreases slightly slower than the total industry volume. Consequently, net revenues continue to grow, adjusted operating company income continues to grow, and adjusted diluted EPS continues to grow.
The Plan to Grow Earnings and Dividends
To understand how Philip Morris continues the growth in earnings and revenues, it is important to understand their company plan. The chart below will help me explain: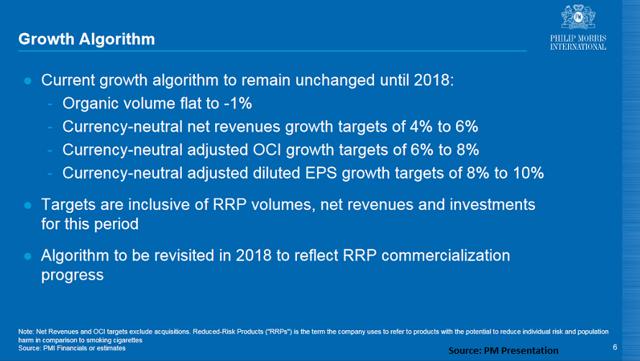 The growth strategy for Philip Morris includes negative growth rates on volume. Philip Morris has already planned for volume to shrink year after year. The declining volume across the industry is a strong barrier to entry. This results in a field that can be categorized as an oligopoly. Oligopolies demonstrate much stronger margins and pricing power than perfect competition or even monopolistic competition.
Philip Morris plans on growing revenues at 4% to 6% per year. They expect adjusted OCI to grow at 6% to 8% and adjusted diluted EPS to grow at 8% to 10%. Those targets are possible because Philip Morris has strong pricing power. The nature of the oligopoly is making international tobacco a very profitable sector. As you'll see, this strategy leads to solid dividend growth.
Predicting Future Exchange Rates
There is no viable way to accurately predict future movements in exchange rates. Economists can make predictions about future exchange rates based off of the difference in the "Risk-Free Rate" between each currency. There are derivative contracts designed to lock in future exchange rates. However, actual movements in exchange rates may vary dramatically from those predictions. The predictions maybe the best tool we currently have, but they are not very accurate. To put it simply, predictions exist but volatility overwhelms the predictions.
The Strong Dollar
The rapid strengthening of the dollar over the last few years resulted in much weaker accounting metrics for Philip Morris. Due to a strong dollar, Philip Morris trades at a high multiple of EPS under that. Earnings and free cash flow under GAAP are one important metric. The exchange rate is important when Philip Morris needs to convert foreign currency to US dollars so they can pay shareholders their dividends. The following chart breaks down the large move higher seen by the US dollar: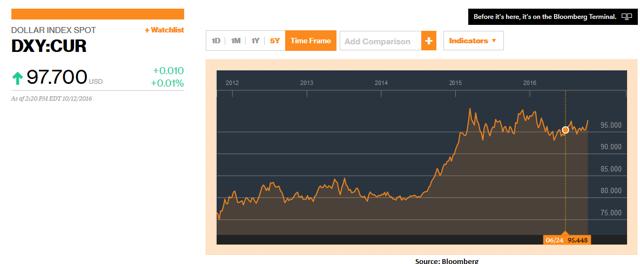 Source: Bloomberg
Most of the growth occurred quite suddenly in the latter half of 2014. As I said, volatility overwhelms predictions. This stronger dollar should be creating a drag of between 12% and 20% on earnings for Philip Morris compared to where those earnings would be if exchange rates remained roughly in line with 2012 or 2013.
Had this shift occurred slowly and steadily, it would've caused the GAAP metrics for Philip Morris to appear more stable year after year. Having more stable GAAP metrics might have allowed Philip Morris to be included in more indexes which would create stronger demand for the shares.
Pricing Variance
To understand the growth in revenues and earnings for Philip Morris, you must understand the concept of pricing variance.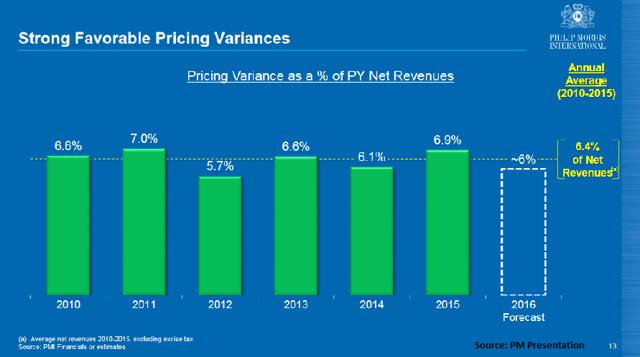 Pricing variance reflects the change in the price Philip Morris is able to charge for their products. While economists show inflation as running around 1% per year over the last several years, Philip Morris has been able to increase prices by 5.7% to 7% in each year. The growth in price was not devoured by growth in operating costs. Consequently, there was substantial growth in adjusted earnings.
This is the key to growing dividends. The company has an exceptionally high dividend yield at 4.23%. The earnings under GAAP won't provide a large margin beyond covering the dividend, but the growth rate in adjusted earnings has been strong and steady. Absent a sudden decline in revenues on extremely addictive products or a much stronger dollar, it looks like Philip Morris will be able to continue growing that huge dividend.
Conclusion
Philip Morris appears to still be following their growth plan perfectly. The company's metrics look much weaker when investors stick to strictly following the GAAP metrics and hold the stronger dollar against the company. The strength of the dollar matters because Philip Morris needs to trade foreign currency for US dollars so they can pay dividends. However, investors assessing whether the company is still "growing" through historical metrics would be wise to use the adjusted values.
I'm long Philip Morris. They are one of my largest individual allocations and my primary allocation for exposure to international markets. Diversification across markets is very desirable, but I'd rather get that geographic diversification through tobacco than through more volatile industries. My prior rating was a buy rating. I'm reiterating that buy rating.
Disclosure: I am/we are long PM.
I wrote this article myself, and it expresses my own opinions. I am not receiving compensation for it (other than from Seeking Alpha). I have no business relationship with any company whose stock is mentioned in this article.
Additional disclosure: Information in this article represents the opinion of the analyst. All statements are represented as opinions, rather than facts, and should not be construed as advice to buy or sell a security. This article is prepared solely for publication on Seeking Alpha and any reproduction of it on other sites is unauthorized. Ratings of "outperform" and "underperform" reflect the analyst's estimation of a divergence between the market value for a security and the price that would be appropriate given the potential for risks and returns relative to other securities. The analyst does not know your particular objectives for returns or constraints upon investing. All investors are encouraged to do their own research before making any investment decision. Information is regularly obtained from Yahoo Finance, Google Finance, and SEC Database. If Yahoo, Google, or the SEC database contained faulty or old information it could be incorporated into my analysis. Tipranks: Assign another buy rating.