Being bullish on natural gas is one thing, making money is entirely another topic. You could've been bullish on natural gas, but still have made money on low cost natural gas producers on the recent downturn. Most investors gravitate towards flawed ETFs like UNG, KOLD, UGAZ and DGAZ. These ETFs should only be used for day trading purposes as the intrinsic value of these instruments are worth $0 in the long run due to a combination of volatility decay and roll cost. You can read more about why they are flawed here.
With natural gas prices marching higher, investors that aren't well positioned won't be able to take advantage of what we think is the next leg up. The issue with buying futures is that in the case of natural gas, you are paying a premium to the prompt month because of contango.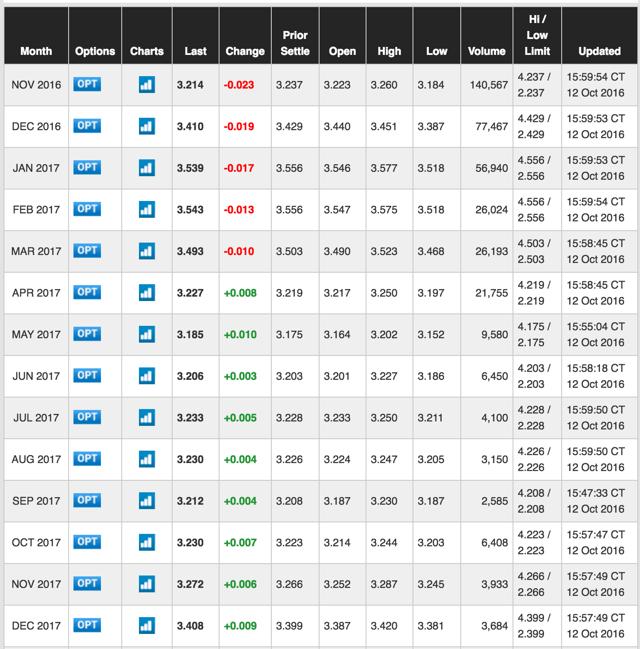 .
Winter 2016-2017 prices have now priced in a big move. We think there's a high probability we see a $4+ move this Winter as detailed in our recent report to premium subscribers, but given that being the case, the move would only be ~14% from the current price.
At HFI Research, we think buying natural gas producers also pose several issues. Namely, the first issue being local basis differentials for natural gas producers. You might think that buying a producer like COG or RRC will make you money as natural gas prices move higher, but pipeline capacity constraints in Marcellus could see prices significantly weaker than what Henry Hub trades at. This is why we currently believe that Canadian natural gas producers are perfectly positioned for the next leg up.
As we will detail in our report, "Big Picture Outlook - Why Canadian Natural Gas Producers Will Benefit the Most", this Sunday, we believe that the current supply and demand outlook coupled with the storage situation in Canada gives Canadian natural gas producers the upper hand in the next leg up. AECO gas prices are already trading above C$3.30/Mcf, but we think there's a high probability for a move above C$4.50/Mcf next year.
Such a significant price move will see practically all natural gas producers in Canada move up, but we believe the unloved natural gas producers will move up much faster than others. We hope to explain through our careful analysis and variant perception that the current consensus is very wrong on Canadian natural gas.
We are placing our execution via being long Canadian natural gas producers.
If you are interested in reading our report this Sunday, please consider signing up here. Thank you for reading Natural Gas Daily.
8-14-Day Outlook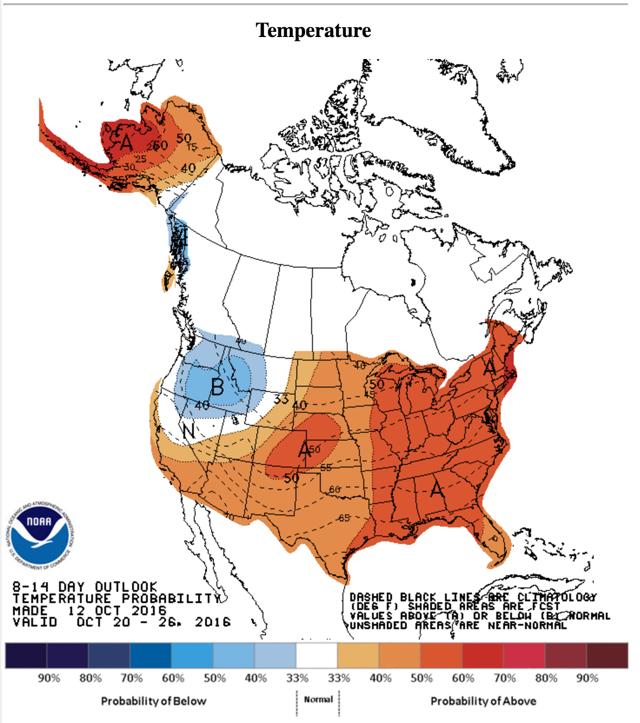 Disclosure: I/we have no positions in any stocks mentioned, and no plans to initiate any positions within the next 72 hours.
I wrote this article myself, and it expresses my own opinions. I am not receiving compensation for it (other than from Seeking Alpha). I have no business relationship with any company whose stock is mentioned in this article.