Introduction
Hersha Hospital Trust (NYSE:HT) is an internally managed hospitality real estate investment trust. Its focus is on owning and operating upscale, extended-stay hotels and premium-branded, select-service hotels in urban gateway markets.
While the company does not operate hotels directly, the company has contracts with third parties such that the company inherits the economics of operating the hotels (partially or wholly) it owns, just like other hospitality REITs.
As of 2016/09/14, it owns 55 high-quality hotels mainly in Boston, New York, Washington D.C., Philadelphia, Miami, and California. The portfolio is shown below (source: 2016/09/14 investor presentation):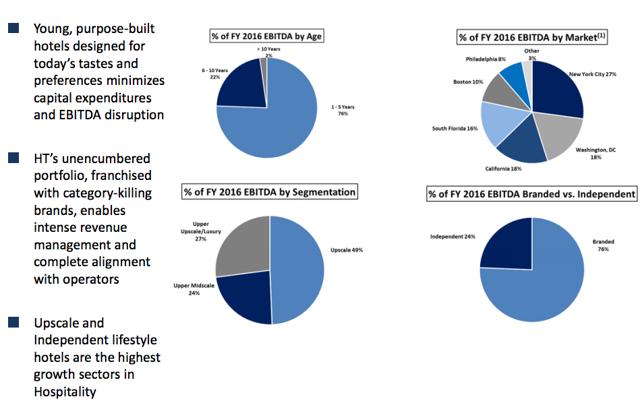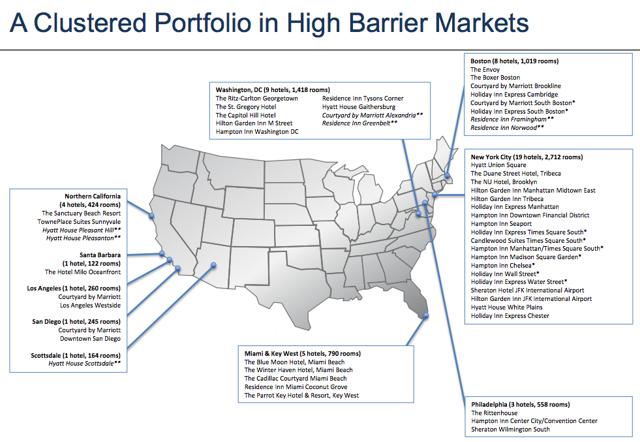 And here is some simple operating data for the last five years (source: 2015 annual report):

Why is the company good?
A real estate investment trust (REIT) has a very simple business model. While Hersha Hospitality Trust does not have an economic moat, the nature of being a hotel owner in urban gateway markets means the company can easily get stable tenants, so obtaining steady revenue is easy. Managing a hotel is not a rocket science, and the industry changes very very slowly. Thus, you get steady recurring revenue, predictable operating expenses, and thus steady income. This assumption actually relies on the diversification of the business because a few horrible outliers can ruin a company. In my opinion, Hersha has enough diversification as shown in the introduction above.
Yes, there are ups and downs market just like many other industries, but the market cycles are not as volatile as, let's say commodities. During a down-cycle, I expect the company will still earn a positive income (fund from operation for a REIT) instead of a loss, so the business is very sustainable. Hospitality market cycle is a bit more volatile than other kinds of REITs, however, so we should take that into account in valuation, which will be discussed later in this article.
The nature of REITs means growth is rarely a problem since the management can easily find projects to fund. The primary concern is whether the projects are accretive to shareholders or not. Since there are virtually unlimited projects out there for the company to fund and the company distributes most of its earnings, the source of capital usually comes from issuing shares. For REITs, the increase in total revenue and income (that is, fund from operation) should not be the focus; rather the focus should be per share income (FFO per share). It leads to the reason that I think the company is good - Hersha has a management team that aligns its interest with shareholders. Before talking about the management in the "Superb management" section of this article, let's take a look at the operating metrics first.
Good operating metrics
We can look at Hersha's various operating metrics to see if it is efficiently run: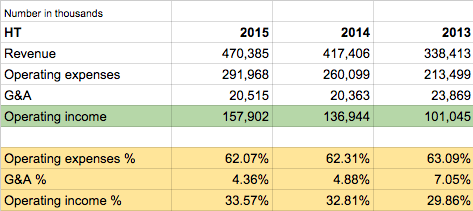 As shown above, as the company grew bigger in terms of higher revenue, the company got more efficient as the operating income became a bigger portion of the revenue.
It's even more impressive as we compare it with the peers as shown below (source: various annual reports and 10-K in 2015 for different companies):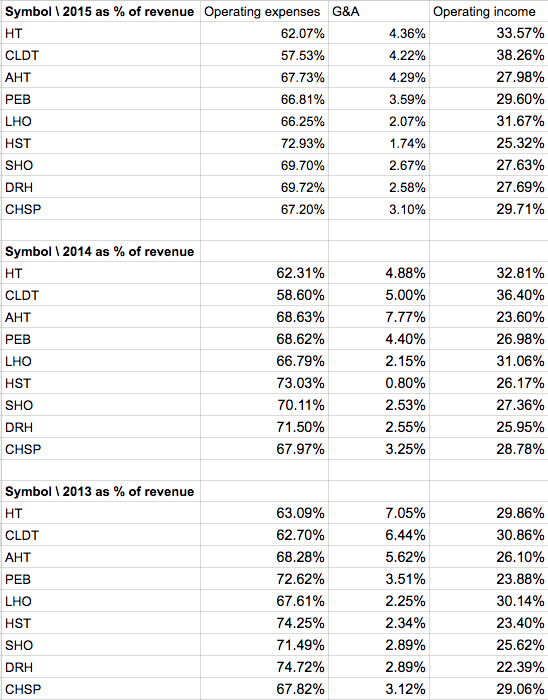 Although different hotel REITs have different mix categories of hotels, the table shown above gives us a good approximation to gauge operating efficiency. HT stands out by being at the second place, behind CLDT.
One important metric among hotel REITs is RevPAR, or Revenue per Available Room. It is hard to dig into multiple annual reports to get that number for multiple years, so I did not take the effort of doing it. Luckily, HT has the metric available in its 2015 annual report, and it shows that HT did an outstanding job in increasing RevPAR over the past 10 years:


Superb management
For a REIT, to verify if the management is doing a good job for shareholders, we can look at its historical growth in FFO per share (fund from operation per share) and dividends. Sourced from 2010 and 2015 annual reports:


Yes, there are hiccups between 2008 and 2010 during the financial crisis, but the company quickly recovered after that. The management has done an excellent job in growing AFFO and dividends over the past 10 years. The AFFO has grown at a CAGR of 10%. That is very impressive for a REIT that gives out 90% of its taxable earning in dividends every year.
During a good market cycle, when the share price is high, the management can issue shares to fund accretive deals, and when the share price is low, the management can dispose properties and either repurchase shares, give out special dividends, and/or put the proceeds into accretive deals. There is no excuse for a REIT not to grow FFO per share in a good market cycle. Right now, the market is somewhat favorable due to close-to-zero federal funds rate. And what the management has done?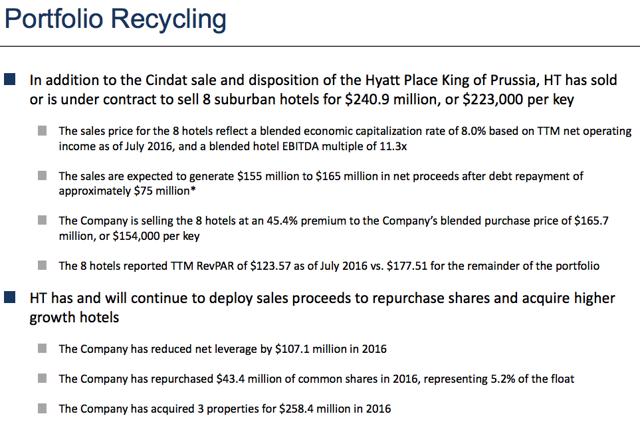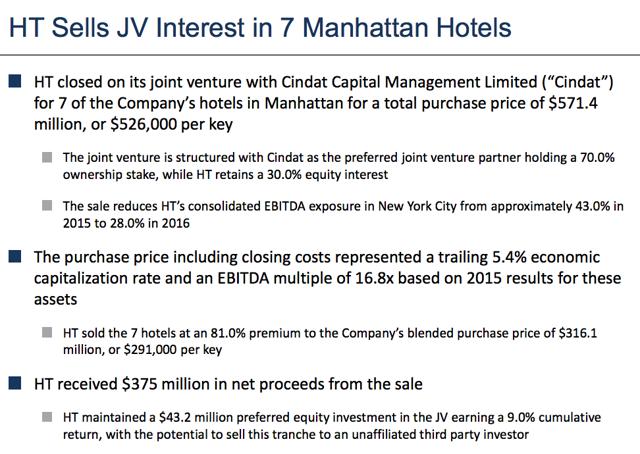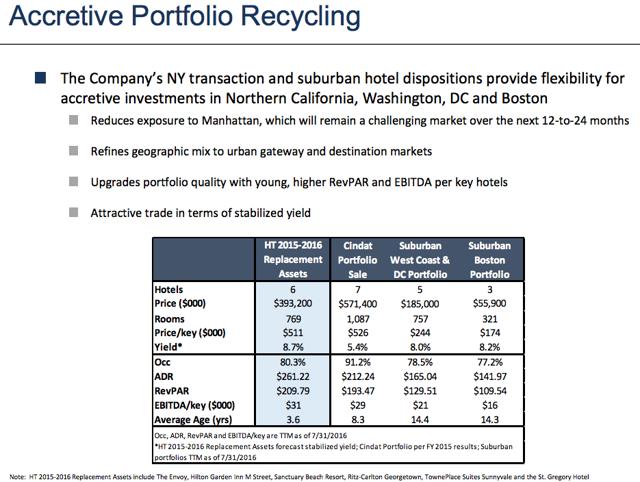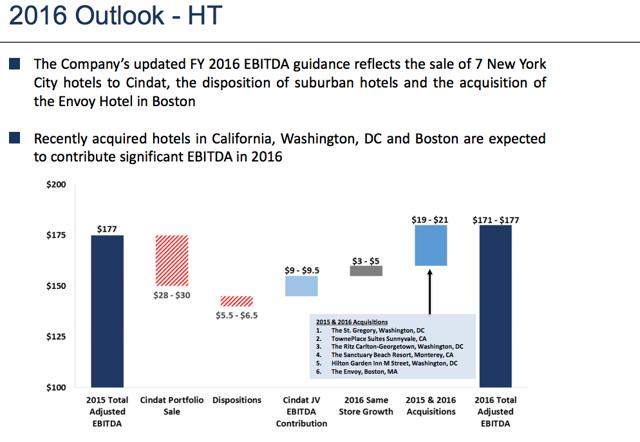 It did dispose of properties for portfolio recycling and repurchase shares. Repurchase shares shrink the total company size, which generally lowers compensation of the management, so it is a rare thing for a REIT to do, and Hersha did just that!
The management has significant ownership of the company. All executive officers, trustees, and trustee nominees as a group own 7.1% of the company as of March 31, 2016. (Source: 2016 Proxy Statement).
By the way, Hersha is the name of the founder's wife and the founder, Hasu Shah, is still managing the company as the Chairman. The CEO, Jay Shah, is the son of Hasu Shah. I believe it is in the best interest for Hasu and Jay to operate Hersha Hospitality Trust with the highest integrity to not disgrace the name of their mother and wife, respectively.
I encourage you to look at the biography of Hasu Shah:
"He received Ernst & Young's Entrepreneur of the Year Award in 1995, was recognized as HVS's Top Performing Chief Executive Officer in the Lodging Industry in 2004, and was awarded the Hall of Fame award from the Central Penn Business Journal in 2011 for lifetime achievements in both business and philanthropy."
With capability and integrity, the management of Hersha Hospitality Trust simply stands out from the pack.
Outlook of the company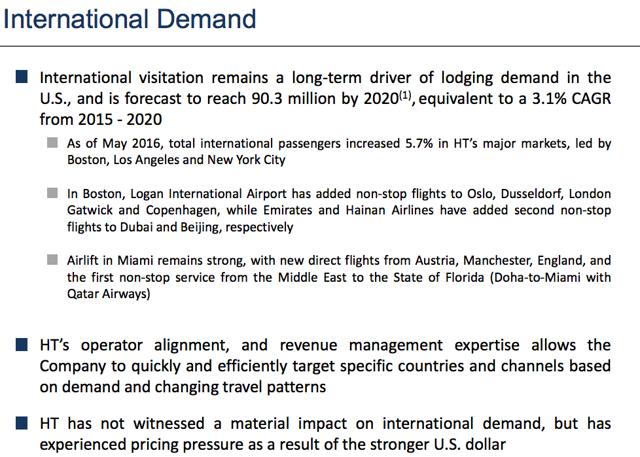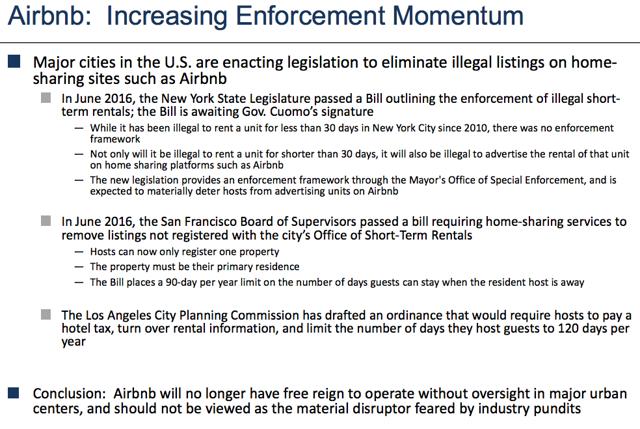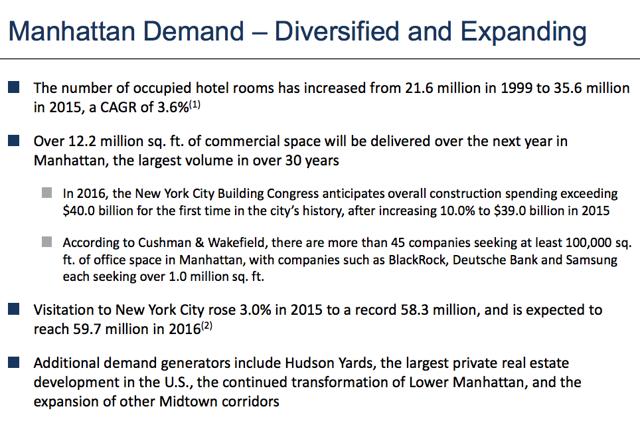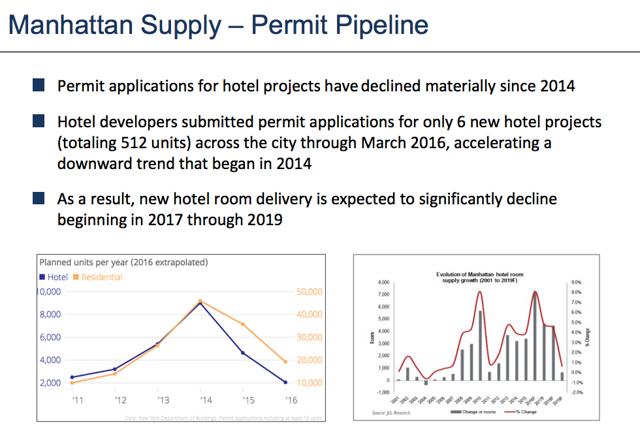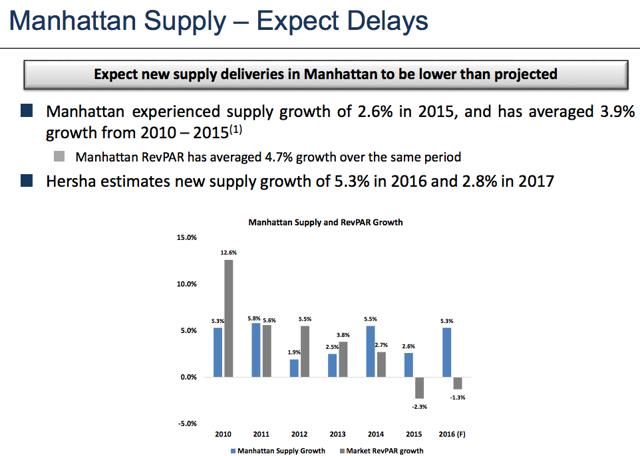 In the 2016 Q2 earning call, the management talked about the situation for different cities in detail. It had a weak performance in New York, Boston, and Miami. While the company had a comparable RevPAR growth at 2.6%, which is lower than the industry average 3.1% (from JLL), the management said that it was actually up 5% ex-New York.
New York (27% of the company EBITDA): The slides above adjust the Manhattan concern (which is in New York), but it looks like it will maintain its subpar growth for at least one more year.
Boston (10% of EBITDA) had low growth because of double-digit growth last year, which makes comps difficult.
Miami (16% of EBITDA) had flat RevPAR growth and will still underperform because of oversupply. The management expects it to be better in 2017.
California, Washington, and Philadelphia, constituted 44% of the company EBITDA, had performed strongly with high-single digit growth. The management is still very positive on them and even expect double-digit growth in Washington D.C in the third quarter.
I encourage you to read the earnings call transcripts at your leisure time to get a feel for how down to earth the management is. It spoke in a hotel operator way by giving details on what specific development it worked on and what difficulties it faced.
Overall, I believe the company can maintain at least a flat FFO per share this year, not too bad in a noticeable slower lodging market compared to last year as I have learned from other peers. The company gave a guidance of $2.38 to $2.51 FFO for the year.
What is the risk?
The debt of the company is a bit higher than peers at Net Consolidated Debt + Pref/2016 EBITDA of 6.5x. 2016 EBITDA/2016 Interest expense is at 4.0x. (EBITDA for 2016 is only a current estimate, sourced from 2016/09/14 investor presentation)
I am not concerned about the debt for now because the liquidity of the market is still good, and the interest rate will stay low for at least two more years. The capital market is generally generous for REITs.
The biggest risk of the company is the weakening of the hotel industry in the United States. For now, the weakening is only at specific markets, so a conservative valuation should take care of potential downside of the company's earnings.
Valuation
I like to calculate a "buy limit" in valuation. A buy limit is the maximum price that I would pay for the stock. I usually use the following formula:
Required return = FTM CSOE yield + Perpetual growth rate
Required return: The is the required return for making an investment, independent of inflation. I generally use 10-15% depending on how risky the business is and how confident of my understanding of the business is. For Hersha, I use 11% because of the simple business model, steady recurring income, but a little concern of the general lodging industry (the company has lowered its guidance before, which may happen again later this year).
FTM CSOE yield: Forward twelve-month conservatively-speaking owner earnings (CSOE) yield. Owner earnings mean the earnings that the company can be used for dividend distribution, shares repurchase, acquisition, paying down debt, or reinvestment into the business. The numerator of CSOE yield, CSOE, is a conservative estimate of owner earnings. CSOE is used instead of the dividend because whatever is retained in the company after the dividend distribution, I believe the management can generate higher than my required return of the stock (11%) through shares repurchase, accretive acquisition or reinvestment. The denominator is the buy limit of the stock.
I use the lower end of the FFO guidance as a starting point to calculate CSOE and deduct 7% from it for share-based compensation. So CSOE is $2.38 * (1-7%) = $2.213.
Perpetual growth rate: I use 1% for conservative sake. I expect any growth will mainly come from smart portfolio recycling done by the management. Growth from inflation is not taken into consideration because my required return is inflation independent. I do not assume growth from accretive deals through capital raise because it relies on the market price of the stock, which is not reliable.
Putting it together, the calculation of buy limit (NYSE:B) is thus:
11% = $2.213/B + 1%
That gives $2.213 x 10 = $22.13.
Because the lodging market is facing headwinds, I will further give a 5% discount as a buffer, so the final buy limit should be $22.13 * (1-5%) = $21.02.
An alternative way to valuate Hersha is to use the cap rate with the formula:
enterprise value = operating income/cap rate.
I will use the numbers on p.22 of the investor presentation on 2016/09/14 as a starting point. The 2016 full-year estimate of adjusted EBITDA is $171 million at the low-end. Since I cannot find out items which may need adjustment, I simply take a 5% discount to approximate the operating income, thus $162.45 million.
On page 24 of the same presentation, we find that the enterprise value, excluding the equity part, is $1,323 million. The number of common shares outstanding plus the other units is about 45.1 million. I assume the cap rate is 7% (the company recently sold hotels at below 6% cap rate, so 7% is rather conservative). Putting it together, we need to solve for buy limit per share in:
$1,323,000 + B x 45,100 = $162,450/7%
Thus, calculating through cap rate gives the buy limit per share of $22.12. It is higher than the number $21.02 I calculated before. Again, for conservative sake, I use the lower number, $21.02. That is more than 10% higher than the market price today.
Sources
2016/09/14 investor presentation
Disclaimer: I am not a licensed investment adviser. As I have no knowledge of individual investor circumstances, readers are expected to complete their own due diligence before purchasing any stocks mentioned or recommended. This article is for my personal opinion sharing and for informational purposes only - any opinion expressed in this article and elsewhere on the internet is not a form of investment advice provided to you. I use information in my articles I believe to be correct at the time of writing them, which information may or may not be accurate and may or may not be up-to-date. I am not liable for any losses suffered by any party because of any information published on this article. Beware, past performance is not a guarantee of future performance.
Disclosure: I am/we are long HT.
I wrote this article myself, and it expresses my own opinions. I am not receiving compensation for it. I have no business relationship with any company whose stock is mentioned in this article.