I always get a little nervous when a stock runs up into an earnings report, especially if this is to a yearly or all-time high. This is the case for chip giant Intel (NASDAQ:INTC), which will report next Tuesday. While the recent rally is justified given the company's quarterly guidance hike, it does set the stock up for a little disappointment if the company does not follow through.
As you will see in the graphic below, estimates have certainly been on the rise lately. Analysts are just about at the company's Q3 revenue midpoint of $15.6 billion, and if Intel hits its marks, the non-GAAP EPS figure should easily be at or exceed estimates. The street is looking for a bit of follow through into Q4 and 2017. The fourth-quarter revenue average has jumped over $300 million since the guidance raise, while the 2017 number is up by over $1.1 billion.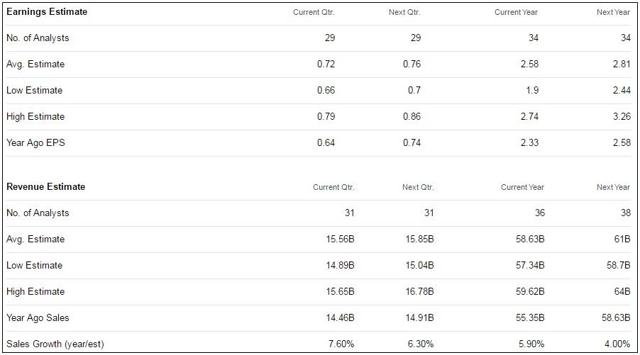 (Source: Yahoo Finance analyst estimates page)
What worries me a little is that the Street expects another $2.4 billion in revenue gains next year after about $3.3 billion this year. In 2016, Intel had the Altera purchase, which should deliver around half of the year's increase. Additionally, the pending sale of the security business could lead to some revenue being taken away in the second half of 2017. The company will certainly need the PC space to hold its own, while growth segments like the Data Center Group will need to shine with strong numbers.
The real progress, however, is expected to be made on the bottom line, with more than 20% non-GAAP EPS growth forecast for the two-year period. Earlier this year, Intel announced a restructuring program that was expected to save $750 million this year and reach a run rate of $1.4 billion in annual savings by the middle of 2017. I'll be interested to hear if management comments on this plan's progress during the conference call. For those looking for Intel to break out to the upside, progress on the bottom line is needed. By reducing expenses, hopefully the company can also improve its cash flow, which would allow for more dividends and buybacks.
Speaking of the buyback, I'm curious to see how many shares Intel repurchased during Q3, especially with the share price above $34 for a significant part of the quarter. The company is trying to get back to a net zero cash position after the Altera purchase. However, if management were confident in its future, share buybacks would be appreciated, especially in this low interest rate environment. Intel can buy back shares whose dividend yield is higher than its interest cost, realizing a cash flow savings. The company will most likely provide an update to its dividend at next month's Investor Meeting.
Intel shares enter next week's earnings report at the top end of their three-year range, as seen in the chart below. The company raised Q3 revenue guidance, thanks to strength in the PC space, and that seems to be backed up IDC's report this week. With the stock and street estimates on the rise, shares could finally approach the $40 level if the company shows some follow-through. For that to happen, Intel will need its growth areas like IoT and the Data Center Group to show the strong growth we've been waiting for.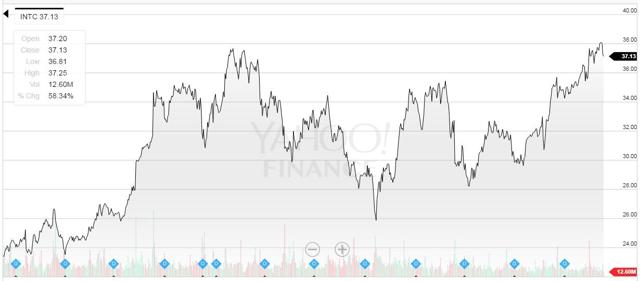 (Source: Yahoo Finance)
Disclosure: I/we have no positions in any stocks mentioned, and no plans to initiate any positions within the next 72 hours.
I wrote this article myself, and it expresses my own opinions. I am not receiving compensation for it (other than from Seeking Alpha). I have no business relationship with any company whose stock is mentioned in this article.
Additional disclosure: Investors are always reminded that before making any investment, you should do your own proper due diligence on any name directly or indirectly mentioned in this article. Investors should also consider seeking advice from a broker or financial adviser before making any investment decisions. Any material in this article should be considered general information, and not relied on as a formal investment recommendation.