By Columbia Threadneedle Investments Global Asset Allocation Team
Overall, we remain neutral - but the threat of temporary market tantrums has raised the bar on portfolio risk management.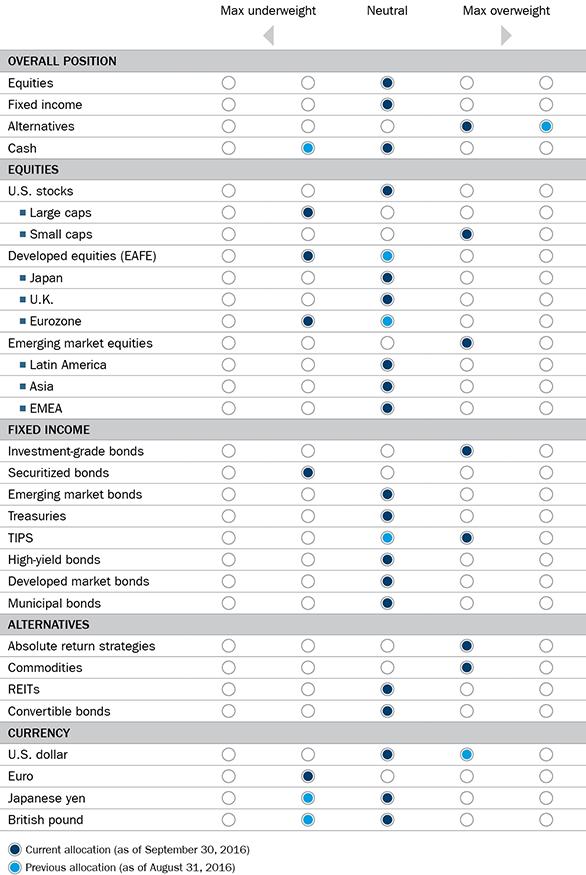 Our overall asset allocation position remains neutral with some scope for above-neutral equity beta. The trend of gradual appreciation in overall asset prices with temporary tantrum-style setbacks remains in place. The overarching framework for monetary policy appears to be undergoing a dovish overhaul - no rate move in September, a more gradual path implied by the Fed's dot plots and language suggesting that the concept of neutral has moved lower. Then again, last month's market tantrum revealed the insidious risk of simultaneous drawdown across asset classes that can result from even the smallest shift in a hawkish direction. The tantrum threat raises the bar on portfolio risk management. Explicit hedges, as well as surveillance of harbingers of elevated tantrum risk should be introduced to overall portfolio strategy.
Equity: Overall, we remain neutral. Full equity sensitivity remains appropriate, but last month's dovish adjustment by the Fed should keep the reflation theme intact. We expect some improvement in earnings over the balance of the year, resulting from a stable U.S. dollar exchange rate and recovering oil prices.
Within equity allocation: We do not have strong and consistent geographic preferences. We continue to prefer emerging markets over developed markets from a valuation standpoint. We remain moderately overweight emerging market equities, while we have reduced developed market equities from neutral to moderately underweight. We remain neutral U.S. equities, with small caps remaining moderately overweight following prolonged underperformance, model upgrades and the possibility of an economic and earnings trough.
Fixed income: Overall, we remain neutral. Duration tools remain neutral. The helpful portfolio construction dynamic of negative correlation to risk assets was interrupted by last month's tantrum, but in a low-growth, low-inflation environment, we expect this dynamic to reassert itself.
Within fixed-income allocation: A benign environment leaves us mostly neutral. While spreads remain tight, we do not detect an impulse for widening. We are modestly overweight investment-grade bonds and modestly underweight securitized bonds. High yield remains neutral after strong year-to-date performance. We remain neutral Treasuries, while we have increased TIPS to moderately overweight. We expect CPI inflation to move sharply higher in the coming months, and TIPS have a tendency to outperform when this occurs. We remain neutral non-U.S. government bonds. Evidence has strengthened that gilts are overpriced and may be a source of funding for overweighting other countries.
Alternatives: We are reducing our recommended allocation to alternatives to modest overweight. Overall, the concept of expanding our diversifying components remains irresistible, but the weak performance of alternatives during the September tantrum is troublesome, since our thesis relies upon an incremental diversification benefit from alternatives. We can still modify our tactics within alternatives to suit the special circumstances of today's market environment.
Within alternatives allocation: Commodities remain moderately overweight. Momentum and carry dynamics remain favorable, and commodities offer a dimension of diversification in our risk asset holdings. Absolute return strategies also remain moderately overweight. The efficacy of active, market-neutral and systematic strategies is struggling, possibly due to investor appetite for passive investments. To help with tantrum-specific risk management, we can add a long-volatility position either when pricing becomes favorable or in the context of a strategy with deliberate attention to managing carry cost.
Currency: For the Japanese yen and British pound, we have moved from moderately underweight to neutral. Currency tools provide a mixed message. A weaker U.S. dollar would be most compatible with our preference for emerging market equities and commodities, but an explicit weak dollar view might be redundant. Also, going long the U.S. dollar has been a useful component of a tantrum hedge strategy. Even so, we remain underweight the euro, as European assets are likely perceived as unattractive, with banks struggling across the region and political uncertainty rising in the fourth quarter.
Disclosure: None.
© 2016 Columbia Management Investment Advisers, LLC. All rights reserved.
With respect to mutual funds and Tri-Continental Corporation, investors should consider the investment objectives, risks, charges and expenses of a fund carefully before investing. To learn more about this and other important information about each fund, download a free prospectus. The prospectus should be read carefully before investing.
Investors should consider the investment objectives, risks, charges, and expenses of Columbia Seligman Premium Technology Growth Fund carefully before investing. To obtain the Fund's most recent periodic reports and other regulatory filings, contact your financial advisor or download reports here. These reports and other filings can also be found on the Securities and Exchange Commission's EDGAR Database. You should read these reports and other filings carefully before investing.
The views expressed are as of the date given, may change as market or other conditions change and may differ from views expressed by other Columbia Management Investment Advisers, LLC (CMIA) associates or affiliates. Actual investments or investment decisions made by CMIA and its affiliates, whether for its own account or on behalf of clients, may not necessarily reflect the views expressed. This information is not intended to provide investment advice and does not take into consideration individual investor circumstances. Investment decisions should always be made based on an investor's specific financial needs, objectives, goals, time horizon and risk tolerance. Asset classes described may not be suitable for all investors. Past performance does not guarantee future results, and no forecast should be considered a guarantee either. Since economic and market conditions change frequently, there can be no assurance that the trends described here will continue or that any forecasts are accurate.
Columbia Funds and Columbia Acorn Funds are distributed by Columbia Management Investment Distributors, Inc., member FINRA. Columbia Funds are managed by Columbia Management Investment Advisers, LLC and Columbia Acorn Funds are managed by Columbia Wanger Asset Management, LLC, a subsidiary of Columbia Management Investment Advisers, LLC.
Columbia Threadneedle Investments is the global brand name of the Columbia and Threadneedle group of companies.
NOT FDIC INSURED · No Bank Guarantee · May Lose Value