SPDR Gold Trust ETF (NYSE: GLD) has had a fantastic 2016, as safe haven buying has propelled valuations above the $130 mark on more than one occasion already this year. Short-term activity shows the stock scaled $119.82 on October 10 from the $102.89 mark that was posted on January 4.
So, even with all of the recent selling activity, the broader outlook shows a rise of 16 percent, which is something investors in most other asset classes likely envy at this stage. GLD aims to reflect the performance of the current market valuations in bullion in an entity that holds gold bars on behalf of investors. This is something that is often unfairly overlooked by gold bulls that prefer taking physical ownership of precious metals, but when we add in the fee reductions that come with investments in GLD, it becomes clear that there is still significant value in the position.
Chart Outlook: SPDR Gold Trust ETF 1-Year Performance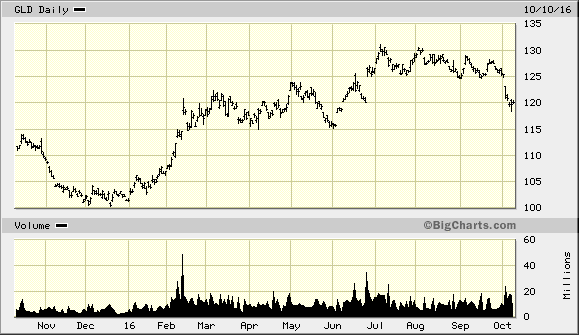 (Chart Source: Gold-Traders.com)
So, all the pessimism aside, it is a good idea to take stock of why markets have behaved the way they have. For most of this year, gold prices have mirrored the 16 percent in GLD because of economic concerns on various parts of the world - most notably, the UK's decision to leave EU and geopolitical tensions around the globe.
On the data front, the results are still somewhat mixed, as weakening labor markets and declining economic activity have overshadowed some of the gains that have been seen in broader growth trends. These factors were, perhaps, the main reason that the Federal Reserve has elected to hold back the rates, which has supported gold prices on the better-than-expected interest rate outlook.
According to data released by the World Gold Council, the first half of this year recorded an unprecedented demand in physical gold, which has prevented gold prices from experiencing any major declines and, in turn, supporting the GLD share prices. After the second half of 2016 began, these factors were exacerbated by the UK's decision to leave the European Union, as investors fled the riskier assets and moved to safe havens. To gain some perspective on the extent to which these events altered gold prices, it should be remembered that Brexit fueled rallies of more than $100 in a single day.
Above all, gold and global interest rates share an inverse correlation, and any direct move in rate hikes will negatively affect gold prices. But the real question here is the potential time frame of those negative effects. The decision to hold rates at the Federal Reserve last month supported the gold prices and propelled GLD beyond $130. So, it is relatively clear that we can expect further rallies if any more surprises are seen in these areas.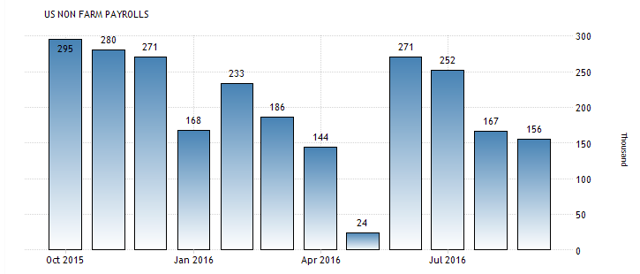 (Chart Source: Gold-Investors.org)
Since then, the data coming out of United States have been sufficiently strong, particularly in the job market. Add to this the fact that the 10-year bond yield has strengthened, which muddies the picture, as it indicates a potential rate hike in the month of December. To be sure, gold has lost a lot of its shine over the last couple of weeks (it has lost almost $100 from its recent peak), as we are now seeing a case where the stronger-than-expected jobs data from the United States is being viewed as a negative that is raising hopes for an upward revision in interest rates. The downward move in physical gold prices has pushed valuations in the SPDR Gold Trust ETF downward by almost 6 percent since September 23. So we are now entering potentially bullish territory for investors that are looking for better prices in GLD.
Though the rising expectation of rate hikes will keep a check on the gold prices (and in turn, the GLD valuation) in the near term, the current geopolitical tensions and dovish stance seen in other central banks will more than likely support prices. Look to buy GLD on the approach of $115.
Disclosure: I/we have no positions in any stocks mentioned, and no plans to initiate any positions within the next 72 hours.
I wrote this article myself, and it expresses my own opinions. I am not receiving compensation for it (other than from Seeking Alpha). I have no business relationship with any company whose stock is mentioned in this article.