Bank of America Corp. (NYSE: BAC) has seen strong upmoves in the post-summer months, and this has led some investors to suggest that the bull trends are overdone. But when we look at the stock more broadly, we can see that BAC is nearly flat on a YTD basis. This ultimately means that there is a disconnect between perception and reality, and these are some of the best opportunities for long-term investors who are willing to exercise patience and look for the proper positioning levels.
Chart View: Bank of America's 1-Year Performance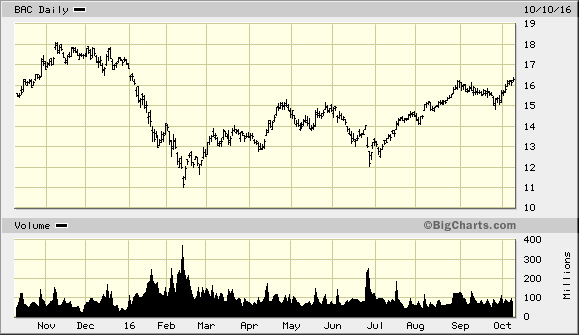 (Chart Source: Money Investors)
BAC has gained more than 46 percent from its February lows of $11.16 this year. The stock is showing a 52-week range of $10.99-18.09, and its current prices indicate that the company is valued at a 14 P/E multiple. This is well below some of its most commonly traded counterparts, so the relative value here is clear for those looking to gain exposure in the financial space.
After the Federal Reserve rate hike in December of last year, investors fled banking stocks as a whole, and BAC was also not spared. Up until the period ending in June of this year, the sector was performing sub-par due to concerns over global growth, Brexit, and fading interest rate expectations. But in this last quarter, things have moved rather rapidly and data is showing the economy to be on more sound footing, along with recent rises in oil markets that have further strengthened economic activity.
Falling jobless claims reported earlier this month have again raised the chances of a rate hike in the December Fed meeting. This is also reflected in the 10-year bond yields, which have moved to 1.73 percent (up almost 40 basis points from the prior lows). This indicates that the next rate hike by the Federal Reserve may be coming through by the end of the year, and these expectation will bode well for the banking sector as a whole.
This bullish potential has been reiterated in the recent upgrade from Jefferies, which has raised its target for Bank of America stock price to $19 (from the earlier target of $16.50). If this turns out to be true, it will mean that there is still a 17 percent upside in BAC, and this is even after the significant rallies that have been in place since June. This outlook continues be supported by the earnings performance in the company, as BAC posted revenues of $22.85 billion and profits of $4.23 billion for the quarter ending June this year.
This signifies a stable rise of 4 percent in revenue and 58 percent in profits compared to the previous quarter this year, and this was ultimately done in an environment that has not exactly been conducive to gains in the banking sector. The next round of changes at the Federal Reserve is likely to change this, and so we will likely see a more secure framework for entities like Bank of America to improve on their numbers in the quarters ahead. The analysts tracked by Yahoo Finance suggest the stock is likely to meet an estimated average target of $17.48, which also indicates an upward possibility of 7 percent in BAC. All of these recent developments will likely keep the stock in favor with the markets and sustain the momentum in ways that enable BAC to scale to new yearly highs near term.
Disclosure: I/we have no positions in any stocks mentioned, and no plans to initiate any positions within the next 72 hours.
I wrote this article myself, and it expresses my own opinions. I am not receiving compensation for it (other than from Seeking Alpha). I have no business relationship with any company whose stock is mentioned in this article.