Silver Standard Resources: Is It Time to Buy?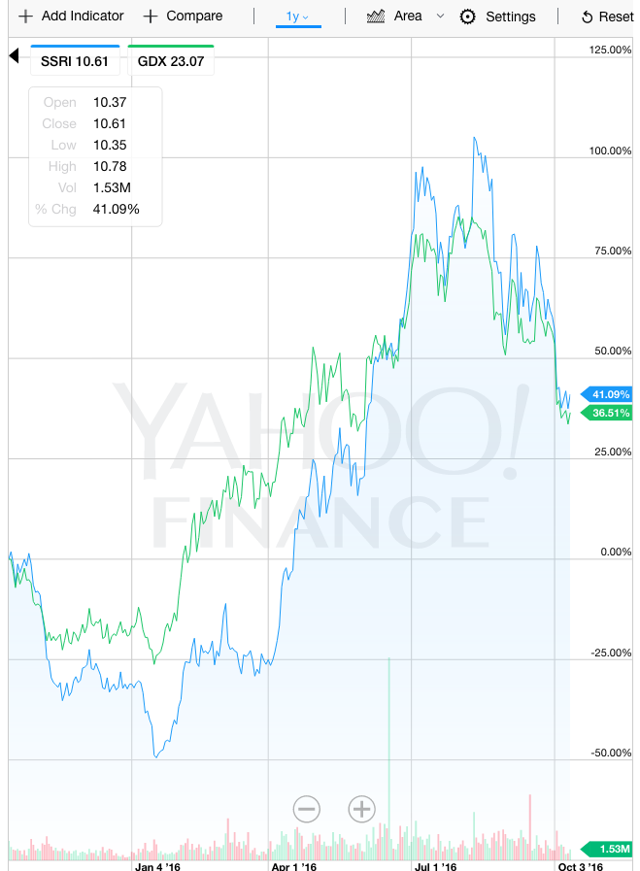 Silver Standard Resources has slightly outperformed the benchmark gold miners index (NYSEARCA:GDX) over the past year. Credit: Yahoo Finance
Silver Standard Resources (NASDAQ:SSRI) recently announced its third-quarter 2016 production results, as the company does before every quarterly earnings. The company set a number of production records, and I think there is a strong chance Silver Standard outperforms peers going forward, as I am expecting a solid earnings report, which is due next month. With shares recently selling off a bit from 52-week highs, I think it's a good time to buy shares, as I'll explain below.
For some background: this isn't my first time covering Silver Standard. Back in December of 2015, in an article I said I thought the stock would continue to outperform peers, given its strong asset base, solid balance sheet with a strong net cash position, and a recent smart acquisition. At the time, shares traded at just $5.49, and at one point were up 200%.
Then in a more recent article, I felt that investors sitting on big profits should consider locking in some of those profits - at the time, shares traded at $15. In my opinion, I felt investors should wait for a pullback to buy more, because I felt the long-term future was bright for Silver Standard.
So, has the story changed? And is it time to buy shares or sell? Well, the stock has sold off a bit since that last article, but Silver Standard continues to deliver solid production results, which leads me to believe a solid Q3 and Q4 earnings is coming.
In the past quarter, the company says it reported record quarterly production of 112,559 gold equivalent ounces. This was attributed to excellent performance at its Seabee Gold mine (20,142 ounces of gold produced; guidance of 70,000 to 73,000 ounces for 2016), record quarterly silver production at Pirquitas (3.04 million ounces produced; guidance of 9-10 million silver ounces for 2016), and gold production as expected at its Marigold mine (47,456 ounces produced; guidance between 200,000 to 210,000 gold ounces).
However, the company expects production to pick up at the Marigold mine as the construction of a new leach pad was completed on schedule and under budget at the end of the third quarter. The additional leach pad capacity and higher amounts of stacked ore should result in higher production in Q4.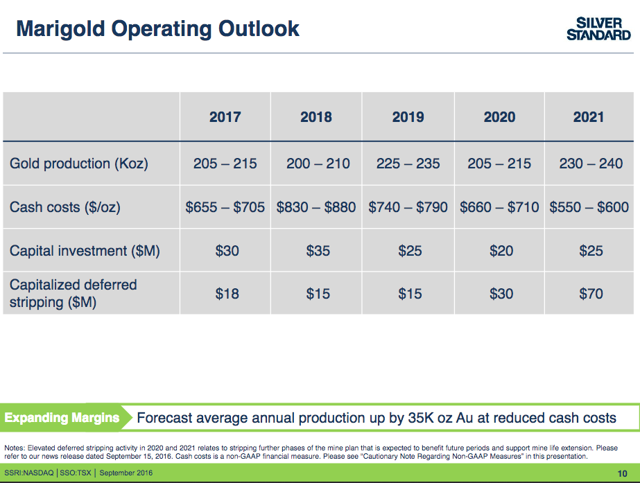 (Credit: Silver Standard Presentation)
According to Silver Standard's five-year outlook for Marigold, the company expects production to grow to 205,000 to 215,000 ounces of gold next year, with cash costs between $665-$705 per ounce. However, by 2021, the company expects production to increase to 230,000 to 240,000 ounces of gold with $550-$600 cash costs. This is a very important asset for Silver Standard, and it's nice to hear that the company has executed on its plan thus far.
On top of the strong production results, the balance sheet remains a core strength of the company, as it has cash and marketable securities of over $400 million, compared to $265 million in debt, according to its most recent September investor presentation.
I'm also very excited to see the future drill results from Silver Standard's Chinchillas Project, which is a silver-lead-zinc deposit located at its Pirquitas mine, along with underground drilling results at Pirquitas. The company says it has increased its 2016 budget to $9 million for advanced exploration and technical work, and will release a development decision in the fourth quarter of this year. With 88 million silver equivalent ounces in indicated resources (plus 14 million in inferred resources), this could really increase production and extend the mine life at Pirquitas.
In conclusion, I think Silver Standard's production results are strong and definitely a sign of good things to come in the future. Shares have sold off after hitting highs of $15-$16 per share back in August, but this is due mainly to a drop in gold and silver prices. Investors should keep an eye out for Q3 earnings, but I think the dip is a buying opportunity for investors looking to build or add to long-term positions.
Disclosure: I/we have no positions in any stocks mentioned, and no plans to initiate any positions within the next 72 hours.
I wrote this article myself, and it expresses my own opinions. I am not receiving compensation for it (other than from Seeking Alpha). I have no business relationship with any company whose stock is mentioned in this article.