​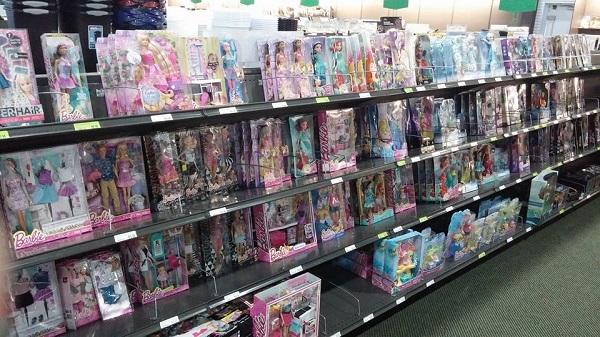 Not your typical electronics assortment
So I was at the Phoenix, Arizona branch of Fry's Electronics earlier this week, a specialty retailer of all manner of home electronics, with locations mainly in California and other parts of the south and Midwest. The business is similar to Best Buy (BBY), but with a larger focus on computer parts and DIY tools and other equipment. In essence, it's a fun place for nerds to shop at.
While I was there, I happened to notice that there's been some expansion in its toys section. Fry's has always had a small assortment of action figures and oddball things that primarily tie into video game relationships, but it looks like it is making an effort to add more variety for girls this year.
Mattel was apparently ready to answer that call to action
This isn't the first time I've seen Barbie appear in locations where I don't normally see her. The Kroger (KR) company operates a chain of grocery stores here in Phoenix that is also named "Fry's" (Not directly related businesses). I've also noticed various Barbie and Hot Wheels items popping up on the endcaps there, too.
I mentioned shortly before Christmas last year that Mattel (NASDAQ:MAT) has a "Razor and blades" model where it tries to get you to pick up the dolls cheaply, and then hook you for larger purchases like the Barbie Dream House. So when I see large displays like this, they make me very happy as an investor. As you can see in the photo, this isn't a small assortment of things. It has an entire Mattel aisle there at Fry's Electronics now, and something else that caught my attention over by the customer service desk: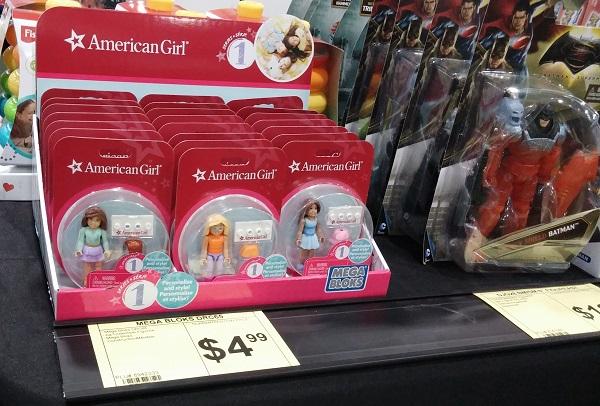 American Girl Mega Blok pieces
Barbie's #1 competition and Mattel's most recent major acquisition together in one, and selling at a pretty affordable price compared to her larger specialty cousin. Costco (COST) has also been bringing American Girl accessories to its stores. I happened to notice an American Girl horse accessory selling for slightly less than $50 there.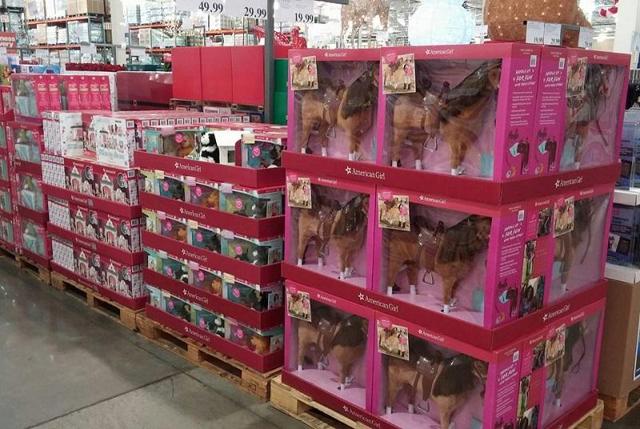 This sales method is known as product versioning
It just means selling similar goods at different prices to attract a different set of customers. This is probably not the best example to use now that Amazon (AMZN) exists, but if you've ever shopped for books in your life at Barnes & Noble (BKS) (I know, it's getting harder to find these), think of how an author releases a book in a hardbound version and then later releases the same book in paperback form or for a more up-to-date example, the E-Book form.
The customer would be receiving a similar or in some cases even an identical product, just in a different format. I am particular to hardbound books and am willing to pay a higher price for them. Other customers prefer to wait for alternatives.
That's exactly what's happening here
We have an American Girl store not far from where I live and while the dolls it sells there are extremely cool, they can run a person $600 out the door after picking up the accessories, lunch and a personal makeover for your daughter to go with it. Unfortunately, that's a bit outside of some people's budgets, but selling the American Girl brand this way allows Mattel to profit in volume. The price margin on blocks and tiny packages like this is also substantially higher per unit.
Move a lot of these small units and that translates to very nice profits on these, and they sell themselves on reputation alone. And for new customers to the brand, it gives Mattel the imprinting that makes these same customers recall the American Girl name when they get older and have their own kids.
So yes, I am staying long on Mattel
I think Mattel is doing exactly what it needs to be doing to get its recovery in place, and I think the 3rd and 4th quarters this year will be interesting. While absent dividend growth over the last few years, the stagnation in price is allowing new investors to catch a better than 5% current yield. This expanded brand presence should do good things for the bottom line moving forward. I rate Mattel a strong buy.
Don't forget to become a follower
Throughout 2015, Mattel was one of my most closely watched companies and is one of my largest portfolio holdings as well. I published a good half dozen articles on Mattel alone. I've got a more thorough analysis planned in the near future, so follow me for updates on that. Thanks for reading, and I look forward to serving you again soon.
Disclosure: I am/we are long MAT, COST.
I wrote this article myself, and it expresses my own opinions. I am not receiving compensation for it (other than from Seeking Alpha). I have no business relationship with any company whose stock is mentioned in this article.