Back in May, I recommended buying ArcelorMittal (NYSE:MT) when it was trading around $5.30. Take profit at around $6.32.
As the chart shows, while MT has rallied, global steel prices have fallen. I also expected iron ore and met coal prices to fall, but they have also rallied as Chinese demand increased, meaning that the "metal spread" - the profit from turning iron ore and met coal into steel have narrowed. Aussie miner Fortescue (OTCQX:FSUMF) (although perhaps talking its own book) believes the bulk of large supply of iron ore has already hit the market. If this is true, part of the bear case on iron ore reduces.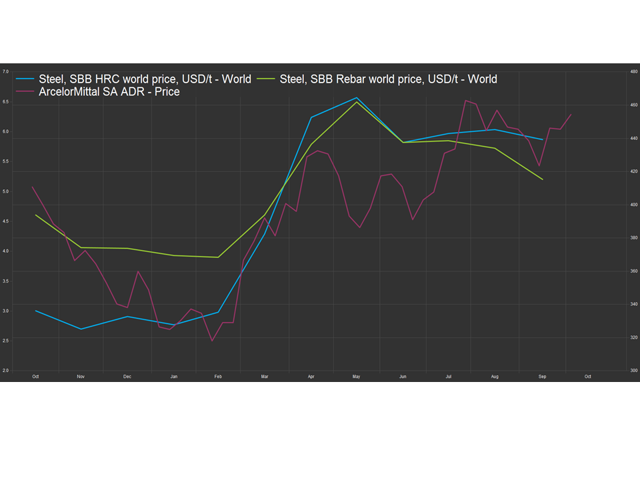 In my prior bullish thesis on MT, I wrote of potential Chinese consolidation of steel production, and longer term, I still believe this to be the case, but I have not seen any concrete evidence of it happening in a big way so far.
So I feel there is potentially risk in next month's earnings. Also since April, MT's main listing in Europe has rallied 32% when other European steel names have rallied about 20%. Portfolio managers will look to rotate into underperforming names in the hopes these lagging names will catch up.
World economic growth is sluggish, so the outlook for steel prices is not especially good. While I don't think MT is a short, I think upside here is limited. Europe is MT's largest market, and with all the political uncertainty, it doesn't bode well for European growth and fixed capital investment.
Back in May, MT was trading at EV/EBITDA of 6.2x, but now MT trades at about 7.5. Its 5-year average has been 6.7. So while not extremely expensive, MT is no longer obviously cheap.
There is a strong case for owning natural resource equities over the longer term, and I highly recommend reading GMO's latest white paper, An Investment Only a Mother Could Love: The Case for Natural Resource Equities by Lucas White and Jeremy Grantham. It explains why you should own commodity equities over commodities directly, as you catch the equity risk premium and earn higher returns.
But with MT having performed so well, and earnings season upon us, I feel it's time to take stock and follow the earnings releases and earnings calls to find cheaper and more attractive alternatives.
ArcelorMittal reports earnings on November 9th.
Disclosure: I/we have no positions in any stocks mentioned, and no plans to initiate any positions within the next 72 hours.
I wrote this article myself, and it expresses my own opinions. I am not receiving compensation for it (other than from Seeking Alpha). I have no business relationship with any company whose stock is mentioned in this article.