A few weeks back, Williams Cos. (NYSE:WMB) made changes to the Board of Directors apparently to appease activist Corvex Management. The good news is that the new additions to the board appear to add industry veterans rather than financial specialist inserted for the intent of selling the business.
The important investment thesis for Williams remains the growing demand for natural gas. As the media overly focuses on oil prices and ignores the market segment where this energy infrastructure company focuses, opportunity exists for investors.
Board Of Directors Fight
Heading towards the annual meeting in November, Williams added two key board members with three existing board members not standing for reelection. As well, the energy infrastructure company plans to nominate two more board members prior to the annual meeting in about a month.
The new additions are as follows:
Stephen Chazen - former president and CEO of Occidental Petroleum (NYSE:OXY)
Peter Ragauss - former CFO of Baker Hughes (BHI) and current board member of Apache (NYSE:APA)
Possibly the better news for long-term shareholders wanting Williams to focus on improving operations and paying consistently high dividends, Corvex Management will no longer solicit proxies for new directors. The avoidance of a proxy fight is good news for a company with tons of growth in the natural gas infrastructure segment wanting management focused on those opportunities.
The new constituted board is on pace to have seven new board members since half the board resigned following the failure of the Energy Transfer Equity (NYSE:ETE) deal.
The big unknown is whether this new board submits to the pressure of large shareholders like Corvex Management that wants Williams to pursue deals or will focus on remaining independent. Despite suggestions otherwise, the my previous article highlighted how the stock performs exceptionally as an independent company and collapsed while under the merger agreement.
Focus On Natural Gas
The trigger for Williams remains a strong natural gas market. With all of the focus on oil, the media has mostly ignored that natural gas prices are now above $3.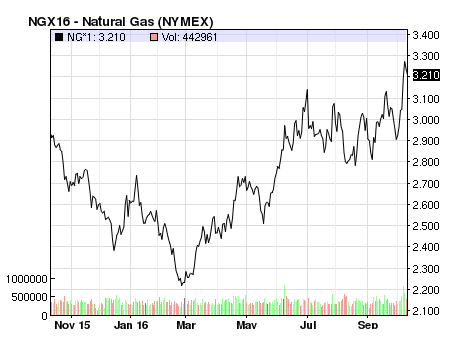 Higher prices support customers with struggling cash flows and will lead to increased production around the pipelines controlled by Williams. The approval of Cheniere Energy's (NYSEMKT:LNG) second liquefaction plant will further increase natural gas demand and the pipelines provided by Williams.
The company had identified LNG as a big part of the future demand growth potential for natural gas. Most of this growth will be supported by production in the Northeast by markets supported by the Transco pipeline.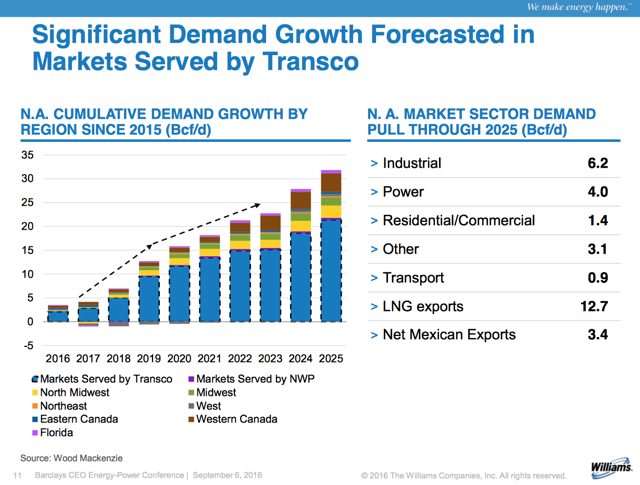 Source: Williams Cos. investor presentation
Takeaway
The key investor takeaway is that Williams is now positioned with a strong board with industry experience to steer the company into actual growing demand for delivering natural gas around the country, especially led by LNG demand. More importantly, the news suggests that Corvex will now leave the management team alone to focus on improving the business.
At $30, Williams offers an intriguing investment as the likelihood that the improving market will indeed lead to dividends normalizing around $2 per share equivalent to a 6.7% yield in the future.
Disclosure: I/we have no positions in any stocks mentioned, and no plans to initiate any positions within the next 72 hours.
I wrote this article myself, and it expresses my own opinions. I am not receiving compensation for it (other than from Seeking Alpha). I have no business relationship with any company whose stock is mentioned in this article.
Additional disclosure: The information contained herein is for informational purposes only. Nothing in this article should be taken as a solicitation to purchase or sell securities. Before buying or selling any stock you should do your own research and reach your own conclusion or consult a financial advisor. Investing includes risks, including loss of principal.