As a result of all the controversy surrounding Twitter's buyout (NYSE:TWTR), I listed the likely outcomes of who would buy the company while sharing my thoughts about the probability of a deal happening.
1) Disney (NYSE:DIS): I don't think Twitter is currently a good fit for Disney. Analysts assumed Disney would be a buyer for Twitter in order to make up for the current and expected loss in ESPN subscribers. But Twitter hasn't proved itself yet as a media company. Only 2 million people watched the game between the Buffalo Bills and New York Jets. That's a very low number comparing to Yahoo's 15 million, when it launched its first NFL game last year. A major company like Disney won't throw more than $15 billion on a 50-50 bet. Especially with a company that looses hundreds of millions every year and still facing slow user growth. I think that a partnership with Netflix will be a much clearer road for Disney.
2) Microsoft (NASDAQ:MSFT): No reason at all. Microsoft acquired LinkedIn due to the latter's strong presence in the business industry. Millions of resumes, integration of LinkedIn data into Microsoft Office, and increase Microsoft presence in Customer Relationship Management through LinkedIn Sales Navigator. Twitter can help a lot in increasing the CRM side of Microsoft but taking the cost/benefit of the transaction, Microsoft won't even think about making a deal especially after the price it paid for LinkedIn.
3) Carl Icahn buying a huge stake: I will give that outcome a 60% chance. Unlike Warren Buffet, George Soros, Peter Lynch and other old school investors, Icahn has a history in buying stakes in tech companies: Netflix, Yahoo, Apple, and Xerox. Twitter has a common characteristic of the previously mentioned companies, it has the elements of success but management is failing to unlock its value. With 333 MAU Twitter has the ability to make a successful turnaround, even if that means changing the whole business model. Abandoning business models that don't work is always an option, look at IBM. Since a board seat for Icahn might turn things around in the company, I think that Icahn might consider buying a huge stake in Twitter using options, like he did in Netflix.
4) Salesforce (NYSE:CRM) acquisition: I think there might be a chance, but there are obstacles. Salesforce is the world's #1 CRM Company. And with Twitter's data, it will distance itself from other competitors maintaining its current leading position in the CRM market. But the question is do Salesforce have the required financial power to buy Twitter? It does have, but that will require excessive stock dilution.
Salesforce is not a financially strong company, it don't have the cash to buy even half of Twitter. Its current ratio is at an unhealthy level (0.76), and it can't sell enough assets since 30% of its assets are intangible. That results in a deal to be funded by a combination of equity and debt. The table below illustrates what the financial condition of Salesforce would be after the deal.

* Assuming 20% reduction of SG&A and cost of revenue for Twitter as a result of synergies.
Assuming Salesforce will pay $15 billion for Twitter, even a combination of 20% debt and 80% equity will have a significant impact on its EBITDA, that's very dangerous for a company with a negative net income. This will leave Salesforce only option is to finance the deal all through equity, which will result in a dilution of 30%. That's why I don't think Salesforce is capable of buying Twitter, when the latter is trading at these levels. Salesforce needs Twitter to be valued less than $10 billion in order to be able to make a deal.
5) Oracle (NYSE:ORCL): I think that this company fits the best among all. Oracle needs Twitter as much as Salesforce do, but no comment ever said from Oracle management about Twitter. That what makes me feel that they are thinking seriously about it. Don't let anyone know, and the stock price won't jump enabling them to pay less. Oracle's CRM business is third in terms of revenue, and half of that of Salesforce. It is also losing market share to both companies, as seen below.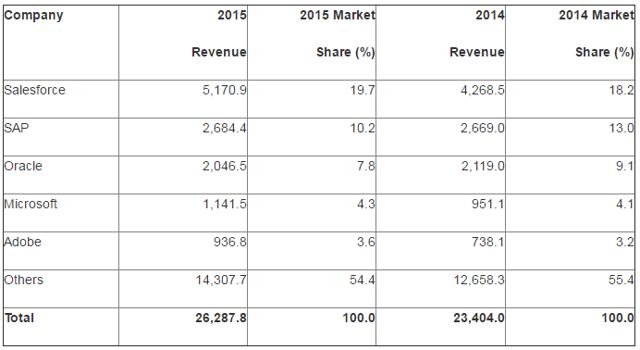 With Microsoft now buying LinkedIn and Salesforce in the front, Oracle needs Twitter to improve its CRM segment. Adding data of hundreds of millions of users to Oracle data center will much improve the accuracy of CRM software. In addition, as soon as Oracle buys Twitter business owners will feel more confident in Oracle's software and maybe even dump Salesforce CRM software.
Moreover, Oracle is a financially strong company with a 5 star rated balance sheet and a huge market cap that can absorb a company like Twitter without having implications on current stockholders.
6) Private Equity Buyout: I put a high probability on this outcome. Private equity has a history in taking public companies facing hardships, private. Silver Lake buyout of the computer technology company Dell is an example. Another scenario might be that the owner of 5% of Twitter, Prince Waleed Bin Talal, might partner with other deep pocketed business people in the Gulf in order to save his stake in the company. After all, more than 6% of his net worth is correlated to Twitter's stock price.
7) Facebook (NASDAQ:FB): There is a high probability for this outcome. Facebook is becoming more of a search engine for users than a place where people can interact and debate about different topics. The presidential election is an example. You see how Donald Trump, Hillary Clinton, or other high profile politicians like Paul Rayan focusing on making conversations on Twitter while neglecting Facebook. Even the media focuses on Tweets rather than statuses.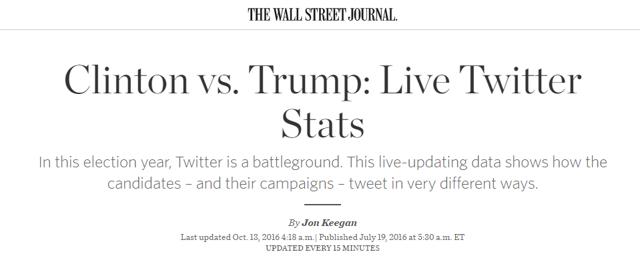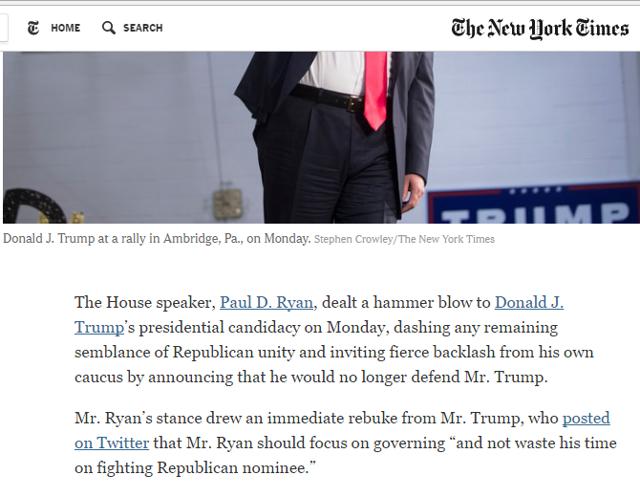 That's why I think Facebook will be pushed to buy Twitter. Facebook is in need to the real time news side of Twitter and the data side in order to increase Facebook's ads accuracy. People talk on Twitter, the more they talk the more data collected. After all, Facebook tried to acquire Twitter twice before.
Among all options, I think that Facebook and Oracle are the most likely to make an offer. They both need Twitter's integration into their business model, and both are capable on paying a hefty premium for the company without having major stock dilution.
Disclosure: I/we have no positions in any stocks mentioned, and no plans to initiate any positions within the next 72 hours.
I wrote this article myself, and it expresses my own opinions. I am not receiving compensation for it (other than from Seeking Alpha). I have no business relationship with any company whose stock is mentioned in this article.