If you were a big hedge fund or an activist investor, would you invest in a company that puts profits ahead of the lives of children? That would be a bad PR move; and whether or not this characterization of Valeant (NYSE:VRX) is accurate, the firm's name is being dragged through the mud and it will have negative effects on the value of the stock.
Valeant will need to issue a significant amount of new equity to escape its debt troubles. This becomes harder when the stock sells at a discount due to bad publicity. On top of this, Valeant faces problems that cannot be fixed by issuing more stock; these problems return to the forefront with the media's renewed attention on the company's behavior at the time of the Flint Water Crisis in 2014.
Calcium EDTA & Flint Michigan: The Case For Regulation
Michigan Peoples Tribune: "Flint residents outraged over poisoning"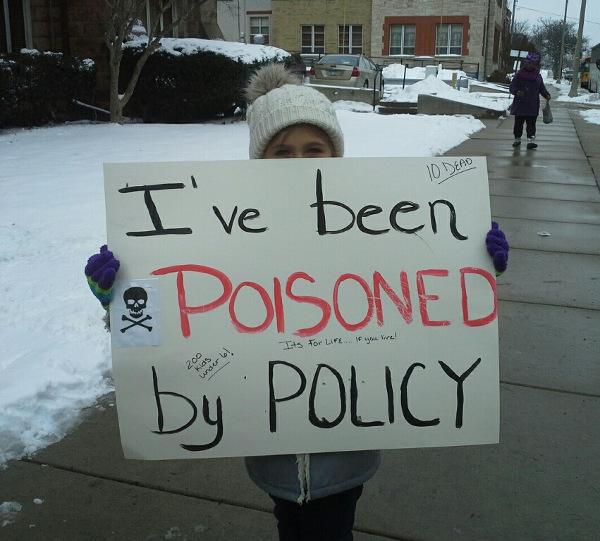 Lead poisoning in the U.S is a political issue, especially after the Flint Water Crisis in 2014. Lead poisoning primarily affects inner cities and minorities who are a major voting bloc in the United States. Valeant's behavior in 2014 is likely to bring the company back into the political spotlight, and not for a good reason.
According to Ed Silverman of Statnews Valeant has jacked up the price of Calcium EDTA (a lead poisoning treatment it acquired in its 2013 buyout of Medicis) by over 2,700 percent within a year. Valeant's move is reminiscent of Turing Pharmaceuticals' price increase of Daraprim from $13.50 to $750.
Martin Shkreli drew widespread attention and condemnation because of the speed of his price hike. Valeant's hike in Calcium EDTA was more slow and methodical; this is why it has escaped public attention until recently.
In Valeant's defense, the drug had logistical and ingredient supply problems that made production expensive. The company also claims that the prices are justified because according to a company representative,
The list price increases over the past several years have enabled us (Valeant) to provide to the consistent market availability of a product with high carrying costs and very limited purchase volume of 200 to 300 units per year.
However, when we look at the speed of the price hikes and consider the fact that supply issues were resolved long ago, it is hard to believe that anything other than profits motivated Valeant's behavior. Calcium EDTA originally sold for $950, by January 2014 Valeant increased the price to $7,116 - moving it to 26,927 in that same year (this is the same year of the Flint Water Crisis).
The drug still retails for this sky-high price, but how likely is this to continue? When we consider the current political climate and renewed media attention on this drug, it seems unlikely.
Catalysts.
1. Media attention and bad P/R on Calcium EDTA and Valeant's lesser known drugs will induce the company to reduce prices and offer higher discounts to hospitals. Both of these scenarios will hurt the company's future profitability and make it harder to pay down its debt.
2. Bad news will hurt the company's stock price (most likely the effects of the Calcium EDTA news will have hurt VRX before this article is even published). A lower share price will make it harder for Valeant to raise capital through equity issuance.
3. The calls for regulation in the pharmaceutical industry will grow stronger. Both Donald Trump and Hillary Clinton advocate regulation: Trump wants to allow Americans to import drugs from overseas, Clinton wants to reduce the generic window by three years.
Conclusion.
Valeant's behavior with Calcium EDTA hits too close to home regarding politics, and it is likely that we will see renewed calls for regulation along with a reactionary sell-off in VRX that will decrease the effectiveness of its equity issuance.
Media attention to Valeant's lesser-known drugs may induce the company to either drop prices or offer higher discounts to hospitals - not good for the bottom line, as many of Valeant's drugs are still selling for inflated prices - often over 1000 percent more than the price they sold for at the point of acquisition by Valeant.
The likelihood of regulation in the U.S pharmaceutical industry grows stronger by the day. Valeant is one of the firms in the greatest danger from regulation in the industry because of its high leverage.
The stock should be sold or shorted.
Disclosure: I am/we are short VRX.
I wrote this article myself, and it expresses my own opinions. I am not receiving compensation for it (other than from Seeking Alpha). I have no business relationship with any company whose stock is mentioned in this article.
Additional disclosure: I am short VRX with the expectation of a dip below 20.