It seems like yesterday that we looked at a new issue preferred stock issued by Public Storage (NYSE:PSA) and opined:
Bottom line: We are not buyers of the new Public Storage Series D preferred due to its low yield versus other REIT preferreds available.

Public Storage is a strong REIT with a fortress balance sheet, but we have to think the lower yield (and therefore longer duration) will come back to haunt investors.
We further explained that,
Preferred stock with a sub 5% rate makes us think that a new metric is in order - yield to forever. In order for this security to get called in 5 years, rates would have to be lower than they are today.

We hope, dear reader, that this is not the case, as it implies that growth is sub-par for another five years and all the king's horses and all the king's men (read central banks and QE) couldn't get the economy to grow again. Not a favorable prospect. Should we see rates move any higher, we don't see a scenario in which these ever get redeemed - these could be bought and held for generations (although we are not advocating that).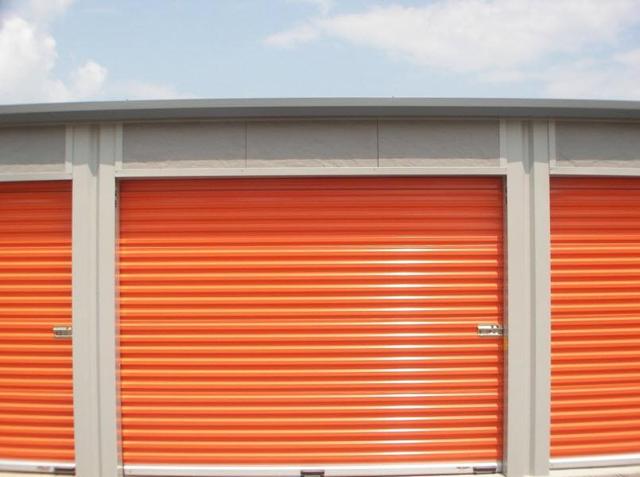 The Newest PSA Preferred
Then PSA issued a new preferred and set an all new low coupon for REIT preferred stocks - the PSA Series E 4.90% cumulative perpetual preferred. Needless to say, we were once again both impressed with PSA's ability to issue at a rate that low and somewhat chagrined that the rate environment has come to this.
Prospectus here.
The following table has the details of the outstanding Public Storage preferred stock:

As the table shows, PSA has been able refinance at lower rates as their preferreds have become callable over the last few years. Lower and lower rates are good for PSA, but don't help investors. The following table contains the current pricing data of the PSA preferred stock: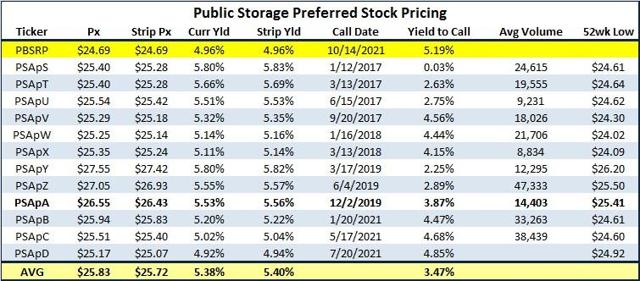 As the table shows, the new PSA Series E is trading at a discount, and is not the lowest yield in the complex. For par sensitive buyers, the new Series E could be compelling if choosing within the PSA preferred universe. For those investors looking at the PSA complex that are not par sensitive, we believe that the Series A is a better choice as it has a higher stripped yield and an acceptable yield-to-call.
Using the Series A to help determine value (given it has two years of history and is not rapidly approaching its redemption date), we see the following: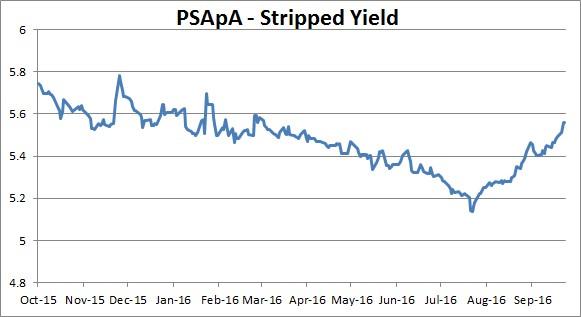 The stripped yield of the Series A has changed course since the downturn in the REIT market and yields have been heading back to levels we have not seen since earlier this year.
As the chart below shows, the yield on the PSApA has increased more (and faster) than the ten-year Treasury: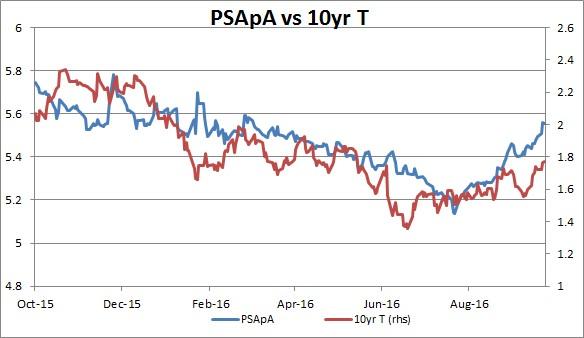 Shown on a spread basis, the Series A is on the cheap side: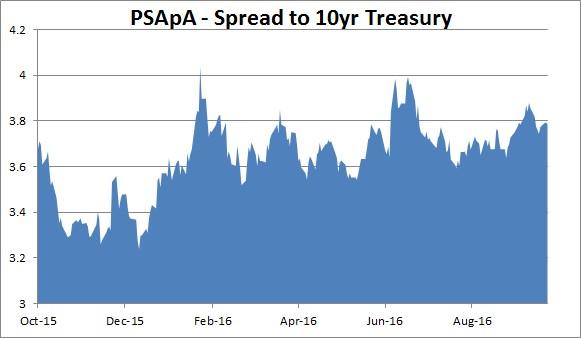 While we have stated the two preferred stocks we would choose within the Public Storage universe, there are more selections available to investors. The following table shows a variety of other preferred stock issues from higher rated REITs:

As well, the following charts show the above table graphically: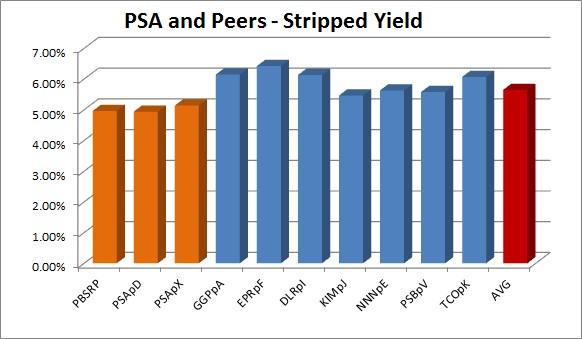 From a stripped yield standpoint, the above chart shows that the PSA preferred stocks have the lowest stripped yields of the peer group.
PSA preferreds also have some of the lowest dollar prices of the peer group (which obviously accompanies the lower yields):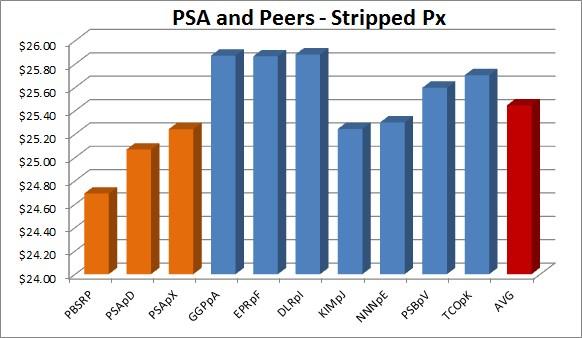 Finally, looking at the various preferreds from a yield-to-call basis, the PSA preferreds have a favorable yield-to-call profile versus peers (again, due to the lower prices):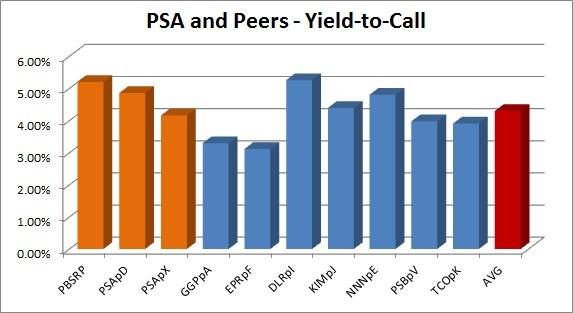 Bottom Line: The bottom line is that the preferred stock market is in a tricky spot, with higher prices and yields that are more susceptible to higher rates. While we don't expect rates to go significantly higher due to the moderate growth and inflation profile within the States, we are cognizant of the potential downside and have been attempting to balance stripped yield, yield-to-call, and prices when choosing preferred stocks.
With an eye to the multiple factors of valuation, we believe that the new PSA Series E preferred stock does not compensate investors sufficiently for the potential downside.
As a reminder, preferred stocks, like all yield focused investments, are subject to fluctuations in value based upon multiple factors, one of the largest of which is changes in interest rates.
See our latest article on National Storage Affiliates (NYSE:NSA) HERE.
Author's Note: Brad Thomas is a Wall Street writer and that means that he is not always right with his predictions or recommendations. That also applies to his grammar. Please excuse any typos and I assure you that he will do his best to correct any errors if they are overlooked.
Finally, this article is free, and the sole purpose for writing it is to assist with research (Thomas is the editor of a newsletter, Forbes Real Estate Investor) while also providing a forum for second-level thinking. If you have not followed him, please take five seconds and click his name above (top of the page).
Disclaimer: This article is intended to provide information to interested parties. As I have no knowledge of individual investor circumstances, goals, and/or portfolio concentration or diversification, readers are expected to complete their own due diligence before purchasing any stocks mentioned or recommended.
Disclosure: I am/we are long O, DLR, VTR, HTA , STAG, GPT, ROIC, HCN, OHI, LXP, KIM, WPC, DOC, EXR, MYCC, TCO, SKT, UBA, STWD, CONE, BRX, CLDT, HST, APTS, FPI, CORR, NHI, CCP, CTRE, WPG, KRG, SNR, LADR, PEB, BXMT, IRM, CIO, LTC, DEA, NSA, HASI, LTC.
I wrote this article myself, and it expresses my own opinions. I am not receiving compensation for it (other than from Seeking Alpha). I have no business relationship with any company whose stock is mentioned in this article.