Seadrill (NYSE: SDRL) has had an impressive rally in the last few days on the back of some positive news. First, OPEC and then John Fredriksen brought some much needed good news for the company. In my last article, I highlighted that the stock was not moving in tandem with the oil price anymore. The negatives surrounding the stock, mainly the huge debt levels, were weighing too heavily on the stock price and the investor sentiment. OPEC's decision to cut production was a significant change in the strategy implemented by the cartel in the last two years. This shift in strategy prompted the traders to believe that the desired results have been achieved and the price for oil will rise in the next few months.
Seadrill stock price had not responded to previous rebounds in the oil price. Instead, its correlation with oil prices was becoming negative. This clearly showed that the market was putting too much focus on the internal problems. It is understandable when the business is looking to restructure debt worth over $9 billion with little cash in hand. However, the OPEC decision led the market to believe that any rally coming from this production cut will be sustainable as a substantial portion of supply will be taken off the market. As a result, Seadrill recorded a sharp increase in stock price.
The second and probably more important catalyst was the news that John Fredriksen is looking to lend $1.2 billion to Seadrill. Keep in mind that this investment will come in the shape of loan rather than an equity investment. Seadrill's current cash balance of over $1 billion and this investment will be enough to cover a substantial portion of $3.5 billion which is due by the end of the next year. In addition to this, operating cash flows of around $1.7 billion should be enough to meet liquidity needs. However, as the management is looking to postpone all the maturities to 2020, we might not see outright payment of debt maturing in the next two years.
There are also questions that whether this investment will be enough. It is looking likely that the management will have to issue equity even if this investment is made. The debt maturities, liquidity and capital spending needs will not be covered by this cash alone. Current shareholders are looking at substantial dilution as the current market cap is extremely low and equity issue will have to be large for the company to raise meaningful cash balance. This puts the shareholders in a precarious position. Those shareholders who bought at around $40 are already looking at a loss of more than 90%. Any sort of dilution will almost wipe off their investments. Recent rally might have pleased those traders who got in at around $2, but the long-term shareholders will need a lot more from the stock to be pleased.
Seadrill bonds might prove to be a better investment at this moment. The company has a new fleet, cash flows are still healthy and the management has the support of the owner as shown by his willingness to put cash in the business. Seadrill has one bond maturing in less than a year and it is trading at around 45 cents on the dollar.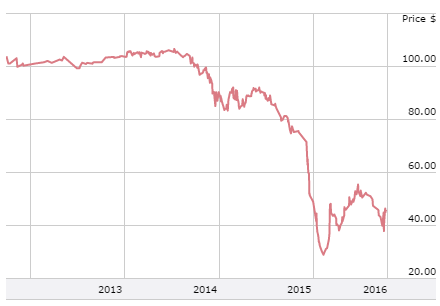 The chances of default are low due to the aforementioned cash balances and John Fredriksen investment. Also, the option of equity issue is still present. Seadrill's new fleet makes it an attractive option for the oil and gas companies and the management will not want to face default when the oil market has finally started to recover. The worst is over and this is the time Seadrill management has been waiting for. Over the next two years, oil companies will want to increase investment and Seadrill would want to get back to its previous level of operations through new contracts or upward revision of rates. Management will go for equity offering if they have to, in my opinion. Default is not an option for them at the moment. This means that the bond price should rise further. At current price, this bond is yielding more than 12% and there is an opportunity for capital gains as well. Bondholders will probably come out as winners from these restructuring efforts.
Shareholders with cost basis close to $40 have no choice but to hold onto their positions. The final results of restructuring will come out in December and the OPEC deal will also become clearer by then. Industry fundamentals are improving as the OPEC deal has fueled a positive sentiment. However, the offshore sector will have to wait for increased investment due to the cautious investment plans of oil and gas producers. Offshore investments will not be high on the list. If the restructuring goes according to the plan, there is a real chance of some recovery. However, this recovery might take some time if the equity issue is large. Nonetheless, waiting and seeing the results of restructuring is a better option than selling or taking a new position in Seadrill right now.
Disclosure: I/we have no positions in any stocks mentioned, and no plans to initiate any positions within the next 72 hours.
I wrote this article myself, and it expresses my own opinions. I am not receiving compensation for it (other than from Seeking Alpha). I have no business relationship with any company whose stock is mentioned in this article.